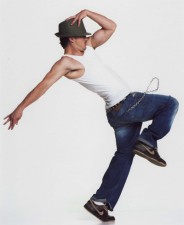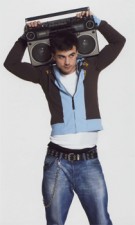 In the short amount of time Jimmy Federico has been in front of the camera as an actor and professional dancer in the entertainment industry. He has landed some of the most coveted roles in music videos, international tours, television campaigns and feature films.  DanceLife caught up with Jimmy to chat about the great experiences he has had as well as getting some tips for all the dancers out there.
At the very beginning of your career you danced for international artists including Pink, Christina Millian and Mandy Moore.  Explain how it was being a rookie in the industry and landing these amazing gigs.
Jimmy: Being on world tours with such well established artists such as Christina Milian, Mandy Moore and P!nk was an amazing feeling of accomplishment, being such a "rookie" in the dance faction of the entertainment industry.  I felt really worldly and excited for where my career was headed.
At what point of your career did you think to yourself, I have made it?
Jimmy: I felt I had made it when I had come home from my first break off of tour with Mandy Moore from the city Paris.  Arriving back to my home town and staying with my parents at the house I grew up in I stood in the mirror in my childhood room, looked in the mirror, and as the feeling of amazing triumph over came me, I raised my arms in joy with a tear rolling down my cheek, saying to myself, "I really, finally did it. I knew I would.  Thank-you God."  Even though I was living in at L.A at the time, looking at the mirror in the room I grew up in, at the place where all my dreams and aspirations started, is where it all really hit me, and that's a memory I will always have instilled in me for life.
The dance industry in America is fiercely competitive. As a dancer everyone has times when they need some extra cash. What's the one job that you would rather forget that you had to do to keep your head above water?
Jimmy: Fortunately for me once I came out to L.A I was blessed to work enough as a dancer in music videos, tours and commercials.  I made enough money to allow me the luxury not to have to get a side job for money. The struggle came before I moved out to LA when I worked as a busboy, saving money and commuting back and forth to LA for 3 months until I got my foot in the door.  I feel I paid my dues early on.  It is a 3 hour drive, one way from LA to where I grew up.  When I would attend auditions, get cut within a half an hour and then drive back home another 3 hours to my parents where I lived, and would do this upwards of 3 times a week, it was rough, but it was ultimately an easy part of the job because I wanted it so badly.
You are continually setting new goals and wanting more from life. Many dancers would like to move into acting as you have but don't know how to take that first step. What advice would you give these dancers about moving into acting?
Jimmy: Build your network, don't be afraid to go after your goals, respect who you are working for and who you are working with and don't burn bridges!  Contrary to how it may seem, LA is a "very small town!"
You have danced for the world's queen of pop 'Madonna' at the Grammy's. Tell us about the process you went through to get this job and what it was like working for one of the world's greatest artists?
Jimmy: I actually auditioned for one of the four dancer roles in Madonna's "Tell Me" cowboy themed video. The entire audition I fixed my eyes on Madonna's and the entire audition she watched me move and love the role.  The other men who were selected to dance in this video were built different than me so ultimately I didn't fit the role for the video.  That happens and I have learned not to take it personally because you cannot change your build, you can only show your best and hope that you have the look they are looking for.
Apparently Madonna liked my look enough to ask me to perform with her at the Grammy's that year.  That was really amazing to be able to share the stage with her.  I admire her talent and vision immensely.
As a dancer being on the road all the time it must be difficult at times to stay connected to the women in your life. What tips do you have for Aussie performers who are struggling with a long distance relationship?
Jimmy: That's a hard subject for a lot people. I think it comes down to who you are as person and what you really want in life. I have personally made it a point not to be in a relationship when I go on tour.  It's not fair to either person in the relationship.  A lot of dancers are very young, as I was when I was on tour. Working so hard to get to do what I was doing, that was all I allowed myself to care about. There will always be time in your life to be involved in a relationship. How many opportunities do you get to do what you love, travel the world and best of all get nicely paid for it?!  Plus…I loved meeting all the different beautiful women, especially the women in Australia. I had the opportunity to go there twice.  Sydney is one of my favourite places.  Everywhere I looked the women were beautiful.  The icing on the cake was their sexy accent.  Just thinking about it makes me want to jump on a Qantas flight right now and go chill on Bondi beach!
Tell us about the most intense audition you have gone to and did you get the job?
Jimmy: It was an audition for a music video for Coco Lee. It was a two day audition.  It was the second day of the audition and the choreographer was having us do the routine in different groups over and over again.  Dancers were being chosen on the spot vs waiting for a call back.  It was gruelling on our bodies but also on our psyches! Finally I realized I had to do something extra to clinch a spot in the video.  At the end of the routine when everyone else stopped the routine, I sled up to the choreographer and did a one handed stall right in front of his face. The vibe in the room exploded with enthusiasm and I was hired on the spot.
So what is next on the cards for Jimmy Federico? Maybe a trip to Australia?
Jimmy: I'm looking forward to do doing some acting roles this summer, hopefully action fighting flicks; I'm a wild dude!  But I would love the opportunity to make time to hit Australia again soon.  I sure miss all those steaming hot Aussie women!