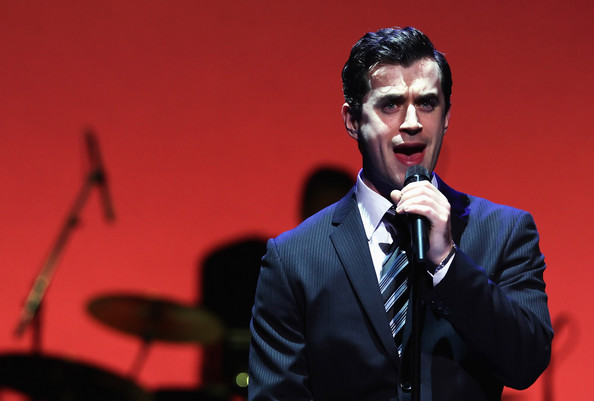 After a stellar run in Melbourne, the hit musical Jersey Boys is packing up and heading to Sydney.
Jersey Boys, the story of `60s pop group The Four Seasons, will close in Melbourne on July 25 after 453 performances to almost half a million people in just over one year.
It will open in the Harbour city on September 18 at the Theatre Royal.
The musical reveals how four boys from the wrong side of the tracks became one of the biggest American pop music sensations of all time.
Frankie Valli, Bob Gaudio, Tommy DeVito and Nick Massi wrote hit songs like Sherry, Big Girls Don't Cry, Rag Doll, Oh What a Night and Can't Take My Eyes Off You, and sold 175 million records worldwide, even before they had turned 30.
The four male leads in the Australian production of Jersey Boys say they feel like they've had a bit of the rockstar experience playing the The Four Seasons.
Every night after their Melbourne performances they are mobbed by fans at the stage door and regularly get recognised on the street.
"I think it's exceeded everybody's expectations," said Scott Johnson, who plays DeVito.
"People who come and see the show, they've seen it once, then they see it twice. We actually know people who have seen the show 20-odd times," added Stephen Mahy, who plays Gaudio.
"We had this one gentleman who has seen it 21 times.
"He's gone away now for a month but he's going to come back and get tickets. He just loves it."
After singing the Four Seasons songs countless time over the Melbourne run of the show, the actors say the show's appeal lies in the timelessness of the songs and the compelling story behind the music.
"There's just so much heart to the writing," said Bobby Fox, who plays Valli.
"Jersey Boys offers the story behind the music that people have been listening to for years … and people just relate to where they were at that time."
Worldwide the show has been seen by nine million people and has won four Tony Awards. The Melbourne production has received 10 nominations for the Victorian Green Room Awards.
Fox said he's looking forward to seeing another city singing to the tune of the Four Seasons.
"The show has an effect on the city that it's in, no matter where it is," he said.
"I'm really excited to see Sydney become Jersey Boy-ified."
SOURCE: NINE MSN