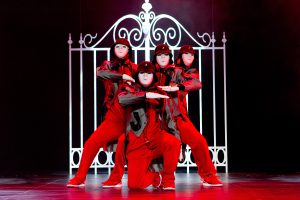 With the opening of their $20 million redeveloped theatre, Jupiters Hotel & Casino continues to up-the-ante for live entertainment welcoming Jabbawockeez as the new venue's first stage show.
Direct from Las Vegas, world famous dance crew Jabbawockeez present the critically acclaimed MÜS.I.C (muse-i-see), an entertainment experience like no other, true to its tagline LAUGH. CHEER. MOVE.
Far from a typical dance production, MÜS.I.C features a unique mix of freestyle movement and theatre, appealing to a wide audience with captivating characters, heart-felt themes, laugh-out-loud comedy, grand sets and costume changes, and a track list of songs to suit all ages.
We had a chance to catch up with some of the boys that make up the "Jabbawockeez" crew today and learnt a little bit more about their background. The boys have all been dancing their whole lives 'since they were little kids' according to production crew member 'Casey'. They come from all over the USA – Sacramento, Vegas, Phoenix, San Diego etc. One of the original founders, Gerry Kendall or G-I, was the crew's mentor and creator. Sadly he passed before his time but the boys always point to the heavens within every show to pay respect and 'shout out to G-I'.
Established in 2003 in San Diego, California, Jabbawockeez is the brainchild of "Three Muskee" who wanted to showcase freestyle dance. The name Jabbawockeez, coined by Joe Larot, was inspired by the fantastical monster from the Lewis Carroll nonsense poem Jabberwocky. The crew's signature white masks and gloves from Phil, Kevin, and Joe's performances as "Three Muskee" were adopted as the visual signature of the group.
The group currently consists of performers known by their street names of: SB, KB, PUNKEE, PHI, CHRIS-TYLE, B-TEK, TONY TRAN, and KID-RAINEN …
Jeff "Phi" Nguyen had this to say:
"We want you to experience Jabbawockeez as a group and not just follow or be fans of one individual person. There's no lead dancer in our crew. Our philosophy is that when you watch us perform, you have to watch us as a whole… When we put the masks on, it's not about who we are or where we came from. We're all one.
"The name of our show, MUS.I.C, is a play on and spin-off from the word 'MUSIC'. Our muse is MUSIC & DANCE! The main character, without giving too much away, is a janitor who is looking for his muse and throughout the 90 minute show filled with loads of dance and comedic aspects, he realizes that no matter what you want to do, you can find it and do it!
"This show is a full-on Vegas production. It appeals to all ages from kids right through 60-year olds and beyond. There is such a wide range of appeal – it is a show for all ages and all walks of life!"
I asked how the show has been received so far in Australia …
Phi: "Aussie audiences are LOVING IT! We are getting such amazing feedback, it's fantastic! We are delivering RAW talent, not just multimillion dollar sets for audiences to admire – we are giving grass-roots talent put together with cool movement to create laughter and an emotional roller-coaster for our audiences to connect with."
And have you had a chance to get any 'down time' yet, here in Oz to enjoy the Gold Coast?

Phi: "Not yet, but hopefully soon… we have been to Movieworld and Seaworld but we're looking forward to heading to Dreamworld shortly. We're keen for enjoying the beach life of Surfers Paradise, push-biking around and taking it a bit easier when things settle down a bit."

Thanks to Jupiters Hotel & Casino, Dancelife is giving you the chance to WIN two tickets to Jabbawockeez presents MÜS.I.C!
Tickets can also be booked through Ticketmaster at ticketmaster.com.au or by calling 1300 888 086 with dinner and show packages starting from an incredible $69.
The 90 minute MÜS.I.C show will appear in Jupiters Theatre for a strictly limited season until August 16th, with nightly performances Tuesday through Saturday at 7.30pm, Sunday Matinee at 4pm, Wednesday 1pm Matinees and a Saturday Matinee starting at 3pm.

So get ready to LAUGH. CHEER. MOVE with Jabbawockeez performing exclusively on Australia's newest stage at Jupiters Hotel & Casino – where the world comes to play!
Enter our competition to WIN DOUBLE PASSES TO THIS AMAZING SHOW @ JUPITERS HOTEL & CASINO ON THE GOLD COAST by emailing us at win@dancelife.com.au and telling us why you would LOVE to see the JABBAWOCKEEZ … please include your mobile phone and address details!