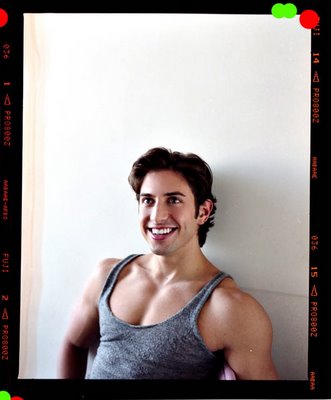 Nick Adams is Brodway's pin up boy. This handsome and talented performer has been in La Cage, Guys and Dolls, A Chorus Line, Chicago and The Pirate Queen.
DanceLife caught up with the triple threat performer during the preview performance of Priscilla Queen of the Desert on Broadway.
You are just about to embark on playing the role of Adam/Felecia in the debut of Priscilla Queen of the Desert on Broadway. How did this role find you?
The minute I watched the film I knew that I had to play this role. I wasnt familiar with the story until my agents called with an audition so I bought the DVD and read the script. I had a gut feeling that this was my part.
It was a long road to getting it. I was first cast to understudy the role well over a year ago. I was performing in the revival of La Cage when my agent called again and said they wanted me to come back in and re-audition for Adam. They had finalized the other two leads but hadn't found an Adam yet, so they literally brought back everyone in New York. About a month after that final callback, I got the call that I would be playing the role. It was well worth the wait.
Over the years you have been a part of many successful musical theatre shows. What key qualities do you have that make you so employable in a highly competitive industry?
Drive. Versatility. Training. I think what sets me apart is being a "triple threat". I'm also grateful and know that I am fortunate, so I make sure I am easy to work with.
You are known for not only your great performance skills but your very toned physique. What is one tip you could give our readers about achieving a healthier, leaner body?
Diet is key, but cardio isn't enough. Weight training has yielded the best results in terms of body transformation.
What was your biggest challenge during the rehearsal period for Priscilla and how did you overcome it?
Not judging myself for taking risks and making choices. I didn't want to get in my own way of really finding the character by taking chances with him. I had to stop being critical and just let myself play.
Where do you see yourself heading in 5 years time?
Onwards and upwards.
www.nickadams.biz
For tickets Priscilla on Broadway go HERE.