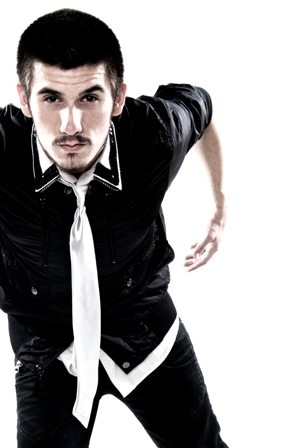 Matt Cady is the creator and choreographer for the world-renowned dance crew, Fanny Pak, who starred on MTV's America's Best Dance Crew, season 2. In 2008, Fanny Pak became the first dance crew to ever receive an award at the MTV Video Music Awards. More recently, the dance crew also filmed dance sequences for the new movie, Honey 2. Matt choreographed the music videos "Truly In Love" by Lil' Mama (feat. Fanny Pak), and "China Doll" by Natalise. He's choreographed live stage performances for artists such as Shoshana Bean, Ty, Natalise, and under the direction of Brian Friedman, Lauren Hildebrandt. He's also assisted choreographed on the kid's television show "Hip Hop Harry". His dancing credits include Missy Elliot, ABC Family's "Life of an American Teenager", Jessica Simpson, Finger 11, and Erin Hamilton. Matt is a sought after dance instructor, and teaches on the elite faculty of Monsters of Contemporary/Hip Hop Dance Convention, Triple Threat Dance Convention, Intrigue Dance Convention, The In10sive, RISE Dance Convention, and Fusion Dance Camp. In addition to traveling across the US and the world teaching in such places as Tokyo, Madrid, Barcelona, London and all over Canada, he also teaches in Los Angeles, regularly at Debbie Reynolds Dance Studio, EDGE Performing Arts Center, and Millennium Dance Complex.
DanceLife caught up with Matt while he was in Washington.
1. You sprouted into the public eye as being the creator and choreographer for the crew Fanny Pak who started in America's Best Dance Crew. What inspired you to create the crew?
Fanny Pak came about because of America's Best Dance Crew, actually! Before then, working as a choreographer in Los Angeles, I had a roster of about 30-40 dancers that I rotated between, depending on the project. When the call came to put a crew together for the show, you can imagine, I had quite the predicament! I had to cut down my usual line up of dancers down to only 7, including myself! I had a mini-audition in my head of all the dancers I had been working with and the final cast that is Fanny Pak is what came of it!
2. As a dancer you have performed with Missy Elliot and Jessica Simpson to name a few. What has been your most memorable moment as a dancer performing with an international artist?
My favorite would have to be the most recent as well! Fanny Pak currently shot a video for the French artist Yelle! The experience was so joyous and the production team was extremely open to any and all suggestions! In the opening of the video, the director had some of us carry in the band's equipment, as if we were stage hands, and then the band would promptly enter and start playing. I offered the idea of carrying on the singer as prop as well! She stood stiff while I heaved her in to place on her on platform, it was SO cool!
3. You have choreographed a number of different music video clips. How do you go about this projects opposed to live events?
Well, for live events, I think on a grander scale. Live events are typically in large theaters, so the staging of the choreography usually plays a key role! I want to make sure the over all aesthetic of the piece is effective, from the front row to the back row. With videos, though, the individual shots are priority. Effectiveness still playing a crucial in anything I do, I now have to think on a smaller scale (usually… again, the shot dictates what our focus is). The key though – be flexible!
4. Teaching dance is a big passion of yours. What is one of your tips for keeping your classes exciting and fresh?
Being on faculty for a couple different conventions, I would have to suggest that keeping an arsenal of dances will help alleviate the routine of things. Honestly, I don't ever fully know what I'm going to be teaching an hour or so before the class… but I do know it'll be one of my 15 or so dances that I circulate! I scope out the students beforehand, usually watching the class prior and from there, then decide what choreography would best suit them!
5. What advice would you give to Australian dancers wanting to move over to LA. Where would you suggest they start?
I would suggest coming to LA for a few months, maybe the summer, and dive in to classes! Once you've fallen in love with the talented individuals you'll encounter and whom you'll want to surround yourself with – go get your Visas! Then! Once you are established… stay focused! I see it far too often where dancers moving to LA forget why they came and get caught up in the "scene"… keep passionate + stay focused on the quality of your dancing, your ability to articulate it, and you'll grow, grow, grow!