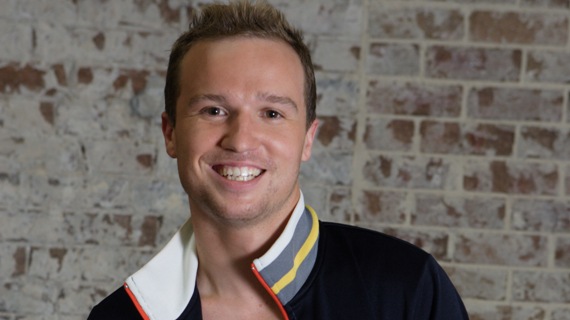 Recently we had the chance to sit down with the amazing Marko Panzic who has fast become one of Australia's most sought after choreographers after his debut as a top 20 dancer on So You Think You Can Dance in its first Australian series. Marko is constantly moving forward in his career and morphing from one creative position to another.  Consistently choreographing for Ricki Lee, Jessica Mauboy and Havanna Brown, Marko recently took on the challenge of Director, Choreographer and Performance Producer with 'The Voice'.
We asked him what that was like …
You recently choreographed for THE VOICE, how did you find that experience?
"It was really cool, it was hard work as it was moving into more of a performance producer role so there was a lot more office work so basically everything you saw on the program had to be put into an excel spreadsheet and given to the art department, to the producers, every different department to make each performance happen. It wasn't just choreography there was full treatment of what was on the screen, what screen positions, what the wardrobe was, where the band was set, so many different aspects and elements to it… but it was incredible because it took me and trained me in a whole different avenue than I thought I would ever be able to pursue. I feel like I grew so much!"
So your role was much more than choreographer?

"Yes definitely: Director, Choreographer and Performance Producer!
"It was great to feel that I was actually learning every day – I was thrown into this position that was quite intense. Someone being my age (28), being thrown into a producer role with all these people that I look up to, the amazing executive producers and talent on the show and then being told 'GO! In your hands, make it happen'. I had another incredible supervising producer Lee, and he and I made it all happen together. I love team work, I love creative people and I like to work with everyone because I feel a collaborative effort makes more epic productions. I learned so much more than I could ever imagine."
What were the stepping stones that led you to be offered that position?
"I don't even know how it happened… I was in Tokyo on Ricki-Lee's Tour and I received an email from Julie Ward the executive producer talking about the Performance Producer role. The next day I had to have a conference call in the hotel in Tokyo and I was so nervous because this is the position that I really have been wanting and the next step in my career. It was great though, we talked and found we were on the same level of artistry and creativity and then three weeks later I… Got the job!! My life went from this freelance kind of busy life to pretty much from 9am to 10pm at night, 7 days a week – it worked me to the bone. It was twelve weeks of absolute hard work!
"The first week I came, we had to put together 32 performances of creative briefs… in one week! And then the following week we had to do 24 but only 12 get performed. So we had to put so many performances together and then last minute be told you're choreographing 'Living La Vida Loca' and its in 4 days, GO! And it really just pushed me to a whole different direction, but it made me feel alive again. I had so much passion for it and it made me really enjoy what I wanted to do, even though I was working really hard. It trained me to think the more you work, the harder you work, everything pays off! I was really happy, I learned from all the people on the show way more than I could ever imagine. Now going into every job, I have a different approach because of the incredible people that put on THE VOICE.
"I think it's important for dancers in general to know the business side of dance and creativity. You have to think, 'how do I make dance or entertainment come through a TV screen to someone who doesn't understand dance? ' – you have to document it and show it in a way that the general public understands about dance. I loved getting educated about all of this on the show. I'm a firm believer of always pushing yourself and you should never get comfortable in thinking 'I'm the best, I can do this', because you never are in dance or in creativity. You are only as good as your last job and you have to keep fighting and pushing because it's a never ending fight in this field. I never thought I would be doing this at 28, I always thought maybe in 10 years time I  would love to be a producer on a show… but it was just a blessing!
What was the greatest highlight of the experience for you?
"I have to say my HIGHLIGHT of the voice was Ricky Martin 'Living La Vida Loca', because growing up when this song came out in 1999 or 2000, Ricky Martin was fierce. That was the most stressful thing being told to choreograph for such an iconic song, that everyone knows – I had to pull it off!! So that was a highlight, and it pushed me again because I had to get my dancers in there and I had to explore that genre, it was just this amazing spectacle, so that was a blessing as well!
"I loved working with Delta, she was really great to work with and her voice was so amazing and her energy was great. It was cool to do something different with her and get her dancing with me in the studio with her and work with her. Seal and Joel are awesome too, they are all really amazing people, which make it so joyous to come to work. It's funny, they are so just normal to be around, but really awesome people. Its great watching them mentor the singers was inspiring to me, they really love what they are doing, they are investing in it, and they really guide and help their artists. Walking into work and seeing Ricky Martin and shaking his hand "hey, how you going? Hi Five", I mean that's Ricky Martin! Me, a boy from Perth, I never thought I would end up here. That is why I will always give back, I will always teach, I will always adjudicate, I will still do everything because I want to inspire everyone and anyone that lives anywhere to do whatever they want. It is so important!"
You have come so far, what is your 'secret'?
"I feel I am so blessed to do what I do, I sometimes have to pinch myself and think 'how the hell am I doing what I'm doing?' I have worked so hard, but I just love it! And you have to remember yourself and for everyone 'you are blessed to do this, don't take it for granted'. At the end of the day, as a dancer you are not going to be a star, you are going to give your heart and soul to the dance world and to the artists and work with incredible people. But, if you do it from a real and honest place and love it, you will have a long career. You have to be thankful everyday that you get to do this as a career and get to inspire younger people to say 'I can do that as well'. Never sell yourself short! Anyone can do it, if you just believe in yourself! Sell yourself, work hard in your ambition, do it from a good place and be a team player! I love people giving me criticism and being a team player, whatever needs to happen I will make happen… And that's the mentality you have to have, you have to be able to work with everyone and anyone and always respect everyone!"
Marko Panzic is currently shooting Jessica Mauboy's next video clip! Stay tuned for more on Marko's already epic career!!