Australia's Very Own Legendary Parisian Showgirl
From Le Moulin Rouge to Cabaret de Paris …

For Marissa, it's all about charm
The longest serving star dancer at the famous Moulin Rouge nightclub in Paris is no less than an Aussie girl from Newcastle. Marissa Burgess headed to France at 17 to dance at Le Moulin Rouge where she performed as a lead for a record 16 years to become a legend in her own right. DanceLife spoke with Marissa Burgess about her Australian tour and how she is striving to assist young Australians in their pursuit of a career in performance.
Marissa also threw herself into the Paris lifestyle & fashion scene and worked days and nights as a freelance runway model for many prestigious brands of clothing like Dior and YSL. Photographed by celebrity photographer Herb Ritts with Naomi Campbell, Tatiana Patitz and Elle McPherson for Italian Vogue, Marissa also participated in the largest fashion show ever held, with 900 models in front of 100 000 spectators at the Eiffel Tower.
Meanwhile, at the Moulin Rouge, Marissa had swiftly risen to star status and had the privilege of performing alongside such greats as Ella Fitzgerald, Ray Charles, Mikhail Baryshnikov, Sir Elton John, Savion Glover, Donald O'Connor, Charles Aznavour, Jerry Lewis and many more. A royal performance before the Prince and Princess of Wales at the Savoy Hotel, London, was also a career highlight.
Her celebrity status was heightened during the run of Baz Luhrmann's film Moulin Rouge, when art was compared to life. During her career at the Moulin Rouge she starred in three multi-million dollar revues; Femmes, Femmes Femmes, Formidable and Feerie. The Guinness Book of Records recognized her achievement of becoming the longest serving performer with the Moulin Rouge in its 120 year history.
Marissa is now introducing Australian audiences to classic style Parisian showgirl class and glamour with her revue show – Cabaret de Paris.
I speak to Marissa shortly after a whirlwind media blitz in Sydney to promote her show at The Capitol Theatre. You can tell she loves the frenetic energy of being in the limelight and sharing her joy at being able to present her show to Australian audiences. She retired from the hectic life of a full time showgirl many years ago now, but she admits the energy of hanging out with cast members is something she misses and completely revels in it now.
Marissa trained in classical ballet with the equally legendary Tessa Maunder in Newcastle. This studio has the honour of producing some of the finest dancers of the era including 3 directors of The Australian Ballet. At 16 years of age, Marissa made her professional debut at Launceston Casino and Wrest Point Casinos in C'est si Bon. Immediately after this came a call from Paris, and Marissa headed to France to be part of the prestigious Bal du Moulin Rouge at the age of 17.
"I loved classical ballet and I definitely had to earn my stripes with the training – there was no getting out of that! I just felt like being a professional showgirl was more where my personality lie," Marissa said.
"I was only 16 when I got my first paid job on C'est si Bon and I actually don't recall how I got it. I was still very much a student and did what I was told. I'm guessing my dance teacher got me the job and had international contacts that knew I would be suited to working in the showgirl scene. My girlfriend and I went down to Tasmania to work and that year we met up with producers from le Moulin Rouge."
"I'm actually a really big junkie for costumes! And this job is where the best costumes are. You can't really compare anything else in the world to the cabaret costumes. That was a massive motivator for me."
Even though she was young when she left for France, she doesn't regret it and thinks others should take a risk today.
"Well I think people stay at home far too long these days! We had no Skype or Internet or mobile phones and I think it was probably more dangerous. But you go into a family environment when you join these companies no matter where they are, so I don't think there's a problem with kids going out into the world to pursue their careers. However, I do think they seem younger and less mature these days … I think life is the real teacher."
Cabaret de Paris features 15 performers in the revue style of showgirl entertainment, with Marissa as the star attraction. It mixes old-school showgirl glamour with aerial artists, pole dancers, circus acts, magicians, and of course the famous can-can dancers, in a lavish French cabaret show like no other. Audiences will be enthralled by the beauty of dancers, the magic of the music and the spectacular array of international guest artists.
"The producer and I have known each other a long time and it has always our passion to put on a showgirl show in Australia with me as the attraction, and finally we said 'Let's just do it!'. So we have gathered our favourite ideas and concepts and worked with Todd Patrick as choreographer to bring this show together. We've brought all our favourite notions of cabaret along with the amazing costumes  – which are very expensive! – so we have combined our efforts to make this happen."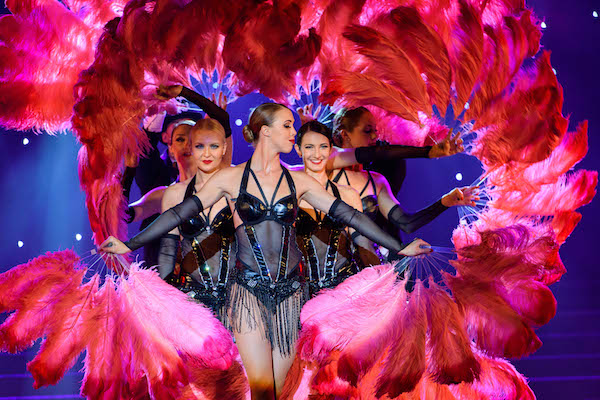 The show is as opulent and exclusive as any French revue should be.
"Revue is structured so that the dancers do most of the hard work on stage and then I do 5 or 6 numbers as the feature artist – it's a privileged role and each of my routines is different in style."
All the dancers in Cabaret de Paris are Australians including new stars Kim Hudman, Jane McPhee, Brianna Anderson, and Morgan Kenny. They are hand picked by Marissa as they are "the real deal" and even though it is difficult to pin them down between their other show contracts.
"Plus, showgirls have to tick so many more boxes than other dancers in ballet, musical theatre or contemporary styles. True showgirls have to be 'all that' and so much more.  It's extremely hard to find the right girls and we want to use girls who have overseas experience because we want  'fine wine' attitude."
"The type of show we are doing is very traditional and generic in a way, but we are presenting it in a different way. You can't exhaust the way you use costuming and dance in a show. I always want to do new material because there is no rule to glamour and being sassy with great costuming. In this show I've done some traditional things as well as new things; things I've always wanted to explore as well. For example, in our showgirl world we are not strippers but back-in-the-day there was a very elegant way of performing a slow, teasy strip. I've done similar things and seen it done at The Lido and by the older, sassy women … and that's what I love … showgirls get better with age! So I've been wanting to do this for a while. It's actually very coy and done with 'smoke and mirrors' and almost humorous, but there is so much elegance to the art."
Okay, so please don't compare what Marissa does with common stripping; but what does she think about the current resurgence of burlesque and the confronting style of it?
"I think it's a case of all artforms being re-hashed at the moment … just like old musicals being re-made in a slightly different way. Showgirl style is embedded in Paris culture form and there are all sorts of niches of this art form and burlesque is just one form of it. Burlesque isn't what I do, and there is some confusion, but burlesque has really come to the forefront now. True burlesque can be seen at The Crazy Horse in Paris with trained dancers who perform entirely nude. That's not what I do, not what showgirls do, but we do touch upon it in a humorous, elegant way."
"What we really do is 'revue,' and 'cabaret' is another genre again. Purists would say they are separate sectors! But what we are doing in our show Cabaret de Paris is combining all these styles along with an illusionist, singers and and dancers to put on a total Paris show experience for Australian audiences. The word cabaret is a loose title that covers everything, but the true cabaret artists of the world will probably protest that. 'Revue' isn't a word that resonates with a lot of people, even though that's actually what our show is."
"I think burlesque is back as a resurgence because women are more confidant now with who they are and they miss the glamour of the fifties. Now women make their own decisions in life and they choose glamour! They can flaunt it without being judged. You can be a feminist today and still choose glamour. Burlesque and the likes are a skill, a craft, a culture and something that we do the 'nth' degree in our show. The style has come full circle."
"It's all about charm."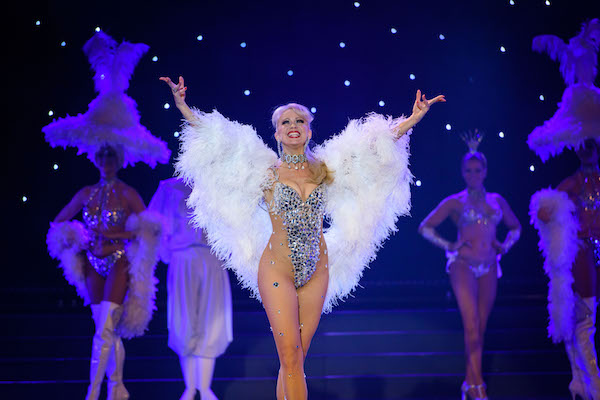 Her success and longevity in the industry can be attributed to Marissa's realisation that she had to be more than simply a dancer, so she set about becoming the consummate showgirl.
"I arrived in Paris a happily trained dancer but I always had a singer in me – not that people want to hear about your little singing ambition if you are a dancer!  I privately put myself through singing tuition over the space of five years and became classically trained. That was my sideline venture, knowing that one day my body would have to stop dancing. It was physically difficult getting through the life that I had at the Moulin Rouge and being able to sing was my way of being able to stay on stage. I wanted to become a singer so I did it myself."
"Things don't just fall into place. You really do have to make them happen. You have to push, have a vision and define your goals. And every single day has to be a step closer to your goals."
"I remember just hanging around waiting to get older as I knew all the principal dancers were more mature and experienced and I desperately wanted to be a principal dancer, so I was literally waiting to get older! It was excruciating for me as I knew I was well-trained and able to do the role but I couldn't see what the producers saw … that I was too young too understand what they wanted."
Marissa finally became a principal dancer at Le Moulin Rouge at the ripe old age of 20. She stayed on for 16 years cementing her place in its history, retiring and returning home in 2003. She proudly points out that this year marks her 30th year in show business.
"It was always going to be a long haul for me. I knew the best roles would come to me later rather than in my youth, so I dug my heels in and made it work with every opportunity I got."
These days Marissa likes to mentor younger girls in the industry. "I like to look after the up-and-coming showgirls by polishing and finishing them for professional work. Despite the fact you will see 200 people auditioning for a show every time, there are actually very few people in the line-up that are ticking all the boxes. And it's those few people I'm interested in working with on their way to their professional career."
So what exactly are the requirements to become an authentic Parisian showgirl I ask?
"The obvious one is height – minimum of 170cm but no taller than 188cm."
"They must to be ballerinas. This is something that is so overlooked. Dancers must be classically trained in ballet, and have to know how to model. I liken a showgirl to be a cross between a ballerina and a couture model."
"They must be flexible, which usually comes with ballet. If you are not flexible you become a liability. Plus, great hands and feet – again, ballerinas tend to have this feature from their training."
"You have to have an innate sensuality that is not forced."
"Of course, weight is a factor but it depends on the individual and showgirls cannot be either too thin or too 'ripped'. They need to be athletic as well as curvaceous; slender yet elegant; and I guess most ballet dancers tend to fit this build."
"When we do find our showgirls it is an elitist label and we make no apologies about that. It's opulent and high end."
"Then after we find the physical attributes we need to find the mental aspects that will fit the job – the boxes we can't define. Someone who will drag themselves off the sofa and go the other side of the world to live and breath a show for months and years on end often alone. That's a character trait that some have and others do not. There is no point pushing someone who has all the right physical and training attributes if they are not suited to the job. You need to be able to go through difficult things, as living in a foreign country is not easy."
"There are undefined boxes I look for in a person. I don't really do auditions, as it's more about the personality so I do social meetings. I can see in the first 5 seconds of a video what talent they have but I want to know them as a person. So I recommend you put your best stuff in the first five seconds of a show reel! I don't need to watch them endlessly dancing. What I do need to know is if they have the right mentality to be in a show."
"Plus they can't be shy about partial nudity and wearing a G-string. There is a degree of nudity and you need to be comfortable with that. You need to be a bit of a show-off, an extrovert and flamboyant to be a showgirl."
"I feel there is not enough performance-value in auditions and classes these days.  We staunchly practice performance-level rehearsals and that doesn't happen as much as it should. At the end of the day, some of the choreography is quite easy so you need to perform 'the blazers' out of it to the audience."
Once you have met all these requirement you may well be on your way to Paris! However, be prepared for a whole lot of physical maintenance if you want to become a showgirl. Marissa admits that the personal maintenance is gruelling.
"When you are living and breathing the lifestyle every day of your life the maintenance is just part of it although never-ending. But getting back on stage after some time is a struggle: the hair, nails, skin, weight, training … it's exhausting!! But once you're onstage you forget about it all."
"When you are older, it makes you realise how strenuous the lifestyle is when you are in a show continually … and how much your body endures in day to day life. For example: I remember coming back from a holiday and putting on the heels and costumes for the first time and realising how much everything hurts! The next day you feel positively battered and bruised. We walk out on stage looking amazing, but no one realizes how much pain and effort the dancers have to endure. Wearing the headpieces alone is painful with all the weight and pinning."
"And the reality is that a large percentage of what we do is grooming –  from the hair colouring to the body painting; it's a visual spectacular and we want people to think 'Wow! How did they get so perfect?!'"
"Showgirls have to be perfectionists."
I go back to Marissa's statement that showgirls must be classically trained in ballet as a prerequisite and ask her to explain why considering the dancing styles are very different.
"I like to think of it like this: You don't need to drive a Ferrari fast down the road to get to where you are going, but you sure look good driving it slowly."
"So, as a showgirl, what we do may or may not be difficult; but it has to be done by someone who can do the most difficult thing so as to make it look effortless. Everything needs to seem easy, graceful and nonchalant – from turn out and pointed feet to lovely arms to high kicks in heels or just standing there … everything has to be perfect. And only ballet dancers tend to have this quality especially due to their port de bras, arms and grace of the upper body carriage and ethereal nature, especially when performing topless. And you have to put your face forward first."
"It's all about the face, the hands and the eyes … on top of the feet. You must have beautiful feet. It's about the extremities really. The emotions come out of your core, your centre, but it's the beautiful extremities that make it something more to watch. Which is why I insist on the red nail polish to draw the eye to the hands."
What can people expect and why should they come and see Cabaret de Paris?
"People should come and see it because it's like nothing they will have seen before in Australia. They think they know what the will see, but they don't. They should come for the sake of curiosity and culture and take the risk. Once you get there it is not a risk. It is a beautiful journey to France full of eye candy!"
"Cabaret de Paris is the real deal with the quality of performers, the opulence, the costumes and the budget to do it right. Australians who have been theatregoers and think they have seen it all will be surprised with the show."
Her extraordinary life experience make Marissa Burgess a fascinating person to talk to. He tales could undoubtedly fill entire night's conversation! And she is far from retiring her showgirl lifestyle completely despite the physical rigours of having to present so beautifully on stage. In closing, she wanted to emphasise her focus now is on getting dancers employed.
"I want to make sure all dancers get the opportunity to work in their industry, which is really difficult in Australia given the sport is so strong and the dance work is so difficult to come by. My focus now is all about employment, which is why I am still dragging myself up on stage because I really want the girls to have the opportunity to work here and I want the Australian audience to absorb the culture and move ahead."
"I am so happy now to be offering mentoring to all manner of young performers whether they are aspiring Moulin Rouge showgirls, ballet dancers, or singers. My focus is helping people be better performers as I find so many people are now technically trained but lack performance quality. And generally you learn that on the job, but having that up front helps you win the audition. Performance is so overlooked and that's something I am able to help people with."
Cabaret de Paris




Perth

: His Majesty's Theatre – 24th and 25th of June – Book at Ticketek.com.au


Adelaide

: Her Majesty's Theatre – 29th and 30th of July- Book at Bass.net.


Gold Coast

: TBA – August 1st
Visit www.cabaretdeparis.com.au for all dates and booking details.