WIN TICKETS TO SEE THIS AMAZING SHOW!
… see below
INTERVIEW | Dantanio 'is' Michael Jackson in HIStory
World's Premier Michael Jackson Tribute Show to Tour Australia in June/July
DanceLife speaks with the star of the show – Dantanio – about how he brings the legend of Michael Jackson to life on stage.
Headlining HIStory is the world's premier Michael Jackson impersonator, Dantanio, who sensationally recreates pop history with a band of talented musicians, choreographed dancers, authentic costumes and brilliant effects.
Dantanio began singing and dancing at the age of nine and felt an affinity to Michael Jackson. His appreciation of Jackson's dancing evolved into obsessive practice as he taught himself to emulate every detail of the pop star's trademark dance styles.
Since then, he had had a diverse career in the entertainment industry including theatrical work, songwriting for contemporary pop stars and the release of two solo albums.
Dantanio is a skilled impersonator specialising in Michael Jackson and Sammy Davis Jr. and has travelled the world, including London, USA, South Africa, Bahrain and Kenya performing his acts.
The musical biography HIStory will journey through Michael Jackson's vast catalogue of work including his beginnings as a member of Jackson 5, his groundbreaking theatrics in the 80s and his evolution into the 21st century. In 2014 the coveted part of Michael Jackson opened up in one of the world's biggest tribute shows – The Michael Jackson HIStory Show – and Dantanio was scouted by the show's Director to fill the challenging role.
Coming  'full circle' from his beginnings as an inspired young MJ fan, Dantanio looks forward to honouring his idol with his role in The Michael Jackson HIStory Show.
WIN


DanceLife have double passes to give away to The Michael Jackson HIStory Show in Sydney, Melbourne, Canberra and Perth (see below for dates & details). To enter, please send your name, contact number and answer to win@dancelife.com.au with the subject line 'MJ Competition'. Entries close 1 week prior to the city's show date.
Q: What was the name of Michael Jackson's original music group?
ENTER NOW! GOOD LUCK!
___________________________________________________
Q:  You joined the show in 2015: Will this upcoming tour of Australia with HIStory be your first visit to Australia? And what can Australian audiences expect from the show?
A: Yes this will be my very first visit to Australia; which is very exciting to me. I love learning about different cultures so it's an experience for me. The show will give audiences the Michael Jackson experience, and the authenticity of the performance I hope will be remembered by everyone.
Q:  The show pays tribute to MJs entire life and career – do you have a favourite era or song? What do you enjoy performing most in the HIStory show?
A: The best era for me was Thriller (1984) and Bad (1988). I love Michael Jacksons ballads most of all, because of the emotion and meaning that comes when performing them.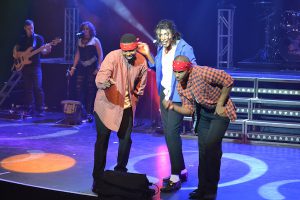 Q:  Why do you think you – a boy from South Africa – has had such an affinity with Michael Jackson for most of your life? What is your earliest MJ memory and what started you on this journey?
A: Oh wow! I would say the character traits we share is why I have such a connection with Michael Jackson, as well as a strong and deep love for music and performing and my views on people and the world from a young age. My earliest memory was at age 9 watching my older brother dancing to 'Billie Jean' in our lounge room on Saturday mornings till the sweat dripped onto his brows. It looked very exhilarating.
Q:  Now, 7 years after MJ's death, what do you think is so enduring about the story of Michael Jackson?
A: His total commitment to humanity; his discipline for music; and love for his fans. He really loved seeing their reaction when he came out with something new. He loved the fans.
Q:  What has been the most challenging aspect of portraying MJ in this show? … The singing, dancing or the character himself?
A: Every part of becoming Michael has been a challenge. When I studied martial arts I learned that in order to reach Mastery you must train every part of your body, and also the mind; Because the body always follows the mind. So I try to improve on all areas every day. Even his speech and mannerisms – I study it all.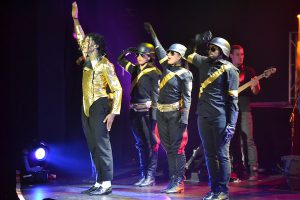 Q:  Have you had any formal dance training? Who is the show's choreographer and how have you managed the dance routines?
A: No I never had formal dance training, everything is self-taught. The show's choreographer is Clasina Van Grinsven. She is amazing and very dedicated to the principles of each routine and sequence. But it helps that I have been performing most of the routines since I was a child!
Q:  What's next for you? When is it time to stop being Michael Jackson, what do you plan on doing next with your career?
A: This is truly an ultimate dream come true for me. I would love to continue doing this show and tour the world with it for the next 3 years coming (if the Blessing allows it!).  I'd love to play Las Vegas and Japan. Then after, I plan to continue my song writing and maybe some movie scores, and run my studio and entertainment company. Then I will teach the moonwalk and retire at age 40!!
Visit www.mjhistoryshow.com for ticketing and further information.
_________________________________________________________________________________
| | | | |
| --- | --- | --- | --- |
| WHEN | LOCATION | VENUE | TICKETING |
| 8pm on 16th June | Brisbane | Queensland Performing Arts Centre – Concert Hall | www.qpac.com.au |
| 8pm on 17th June | Gold Coast | Jupiters Hotel & Casino | www.jupitersgoldcoast.com.au |
| 6pm on 21st June | Port Macquarie | The Glasshouse | www.glasshouse.org.au |
| 8pm on 22nd June | Newcastle | Civic Theatre | www.civictheatrenewcastle.com.au |
| 8pm on 24th June | Sydney | State Theatre | www.statetheatre.com.au |
| 7pm on 26th June | Canberra | The Playhouse | www.canberratheatrecentre.com.au |
| 8pm on 2nd July | Ballarat | Her Majesty's | www.hermaj.com |
| 8pm on 7th July | Frankston | Arts Centre | www.artscentre.frankston.vic.gov.au |
| 8pm on 12th July | Bendigo | Ulumbarra Theatre | www.thecapital.com.au |
| 8pm on 15th July | Melbourne | Her Majesty's Theatre | www. premier.ticketek.com.au |
| 8pm on 18th July | Adelaide | Festival Theatre | www.bass.net.au |
| 8pm on 22nd July | Bunbury | Stage One Theatre | www.bunburyentertainment.com |
| 8pm on 23rd July | Perth | Astor Theatre | www.astortheatreperth.com |
| 7pm on 24th July | Mandurah | Mandurah PAC | www.manpac.com.au |