Ashley Wallen's Charmed Life

Ashley is the choreographer on the new Australian production of GHOST The Musical opening in Adelaide this week.
By any measure of success in the entertainment industries, Ashley Wallen appears to have had a very charmed life.
Originally trained by Robert Sturrock on the Gold Coast, Queensland, Ashley got his big break at the age of 17 when he successfully auditioned as a dancer for Kylie Minogues's 'Intimate and Live' tour in 1998. He went on to tour further with Kylie in Europe as both a dancer and choreographer and made London his home. Ashley has since gone on to a successful career as a choreographer for leading artists like Madonna, Seal, Jessie J, Hugh Jackman and Black Eyed Peas as well as TV shows like X-Factor, movies Friends with Benefits and Moulin Rouge and numerous others.  Ashley has also choreographed award-winning commercials including the Evian roller babies, the T-Mobile flash mob in Liverpool St Station London and the largest flash mob ever staged on Oprah in 2010!
Recently, his work has extended to theatre, starting with The Hurly Burly Show, a burlesque show in London's West End and now GHOST the Musical. GHOST the Musical premiered in Manchester in 2011 before transferring to the UK's West End, New York's Broadway and onto tours of the US and Asia, and now premiering in Australia.
Ashley Wallen has recently been in Australia overseeing the choreography for the new production of GHOST the Musical which opens in Adelaide on 8th January at the Festival Theatre before moving on to Melbourne, Sydney and Perth.
GHOST is directed by Tony Award-winner Matthew Warchus who most recently brought Matilda to the Australian stage. Book and lyrics by Academy Award winner Bruce Joel Rubin, and original music and lyrics by Dave Stewart (Eurythmics) and Glen Ballard (Michael Jackson's Man in the Mirror, Alanis Morissette's Jagged Little Pill). The Australian cast features Rob Mills (Sam), Jemma Rix (Molly), Wendy Mae Brown (Oda Mae) and Alex Rathgeber (Carl).
DanceLife had the pleasure of interviewing Ashley Wallen before Christmas during the final stages of rehearsals of GHOST before its premiere on January 8th.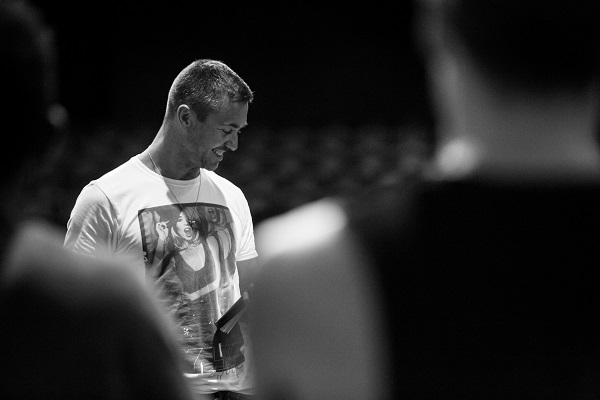 Q:   So how does a boy from the Gold Coast end up as one of world's most successful choreographers?
A:   It's funny when you put it like that! (laughing). I lived on the Gold Coast in Queensland and I started dance classes when I was about 11 because I used to dance around the house and mum finally took me to class. Then I trained with a guy called Robert Sturrock and he had the best training I have ever seen … (Shannon Holtzapffel also trained with Robert) … a lot of good dancers were taught by Robert. I never did any full-time training like exists today, there just wasn't any of that around back in my day.
Then I moved to Melbourne at 17 and it all really started there when I auditioned for the Kylie Minogue Australian tour. I was 17 years old. She only wanted 2 boys and I got it! That tour moved to London, and I got a bit of a taste for London, that was about 15 years ago. So I thought I'd give it a go in London for 3 months and I've stayed for 15 years!   That's my home now, but I miss Australia and the lifestyle and the people, but my work is in London and I love my work.
Q:  Were you surprised when you got that first break as a teenager with Kylie?
A:  Oh God yes! I was working as a dancer on TV shows in Melbourne at the time like In Melbourne Tonight … you know, like with the Tony Bartuccio dancers!  … I was 17 at the time and she only wanted 2 boys to go on tour. I remember being in my little Hyundai on Chapel St and having to pull over to take the call to learn that I'd got the job. It was a defining moment.
Q:  So, I have to ask … what was your first experience of GHOST? Had you seen the movie?
A:   It's actually quite embarrassing because when the movie GHOST first came out I was obsessed with it … I knew all the words and lines off by heart … and then later, meeting Bruce Rubin (screenwriter) I was so impressed and star struck! … I was young so I am forgiven … I absolutely loved the movie!
Q:   Reading your résumé reveals an amazing career – spanning work as a dancer to working on TV and movies and commercials – but how is working in musical theatre different – what unique challenges/advantages does theatre pose?
A:   I've worked a lot on TV and film so going to theatre is completely different. You can get away with certain things doing TV and film – having people in and out of shot of camera etc  – but doing live theatre is open – means your cast is always being seen on stage and the audience sees everything. You don't have the advantage of hiding things from shots – it's very exposed and that was a big challenge to start with. For example, if I was doing a music video I can have 3 people in frame to start, they walk off and wait for the next scene, etc … but obviously you can't get away with that in live theatre. And storytelling – you have to get the story across to the audience. It's been a big challenge but a great one.
The biggest advantage is the amount of rehearsal time you get in theatre. So much more time to workshops ideas and work things out, you even have the luxury of scrapping a whole number if it doesn't work. Whereas in most TV you get only one day to rehearse and pull stuff together.
Q:  Is this something you would like to pursue further?
A:   I'm obsessed with musicals. Everything I've done has always been based a little on the old MGM style musicals and Broadway style, so I definitely want to keep working in theatre in the future.
Q:  As a choreographer, tell me what it's like to work with actors and not just dancers as in a video clip or stage concert, especially as dancing may not be their forte?
A:  I've found it to be quite good actually. You approach the dances/routines in a different way … much more character based. You explain to the actors the story and why they are doing certain moves, and it comes across in their dancing. They've all been really great here in Australia for GHOST – Rob Mills is a great dancer! However, there isn't a whole lot of dancing for the lead characters of Molly and Sam.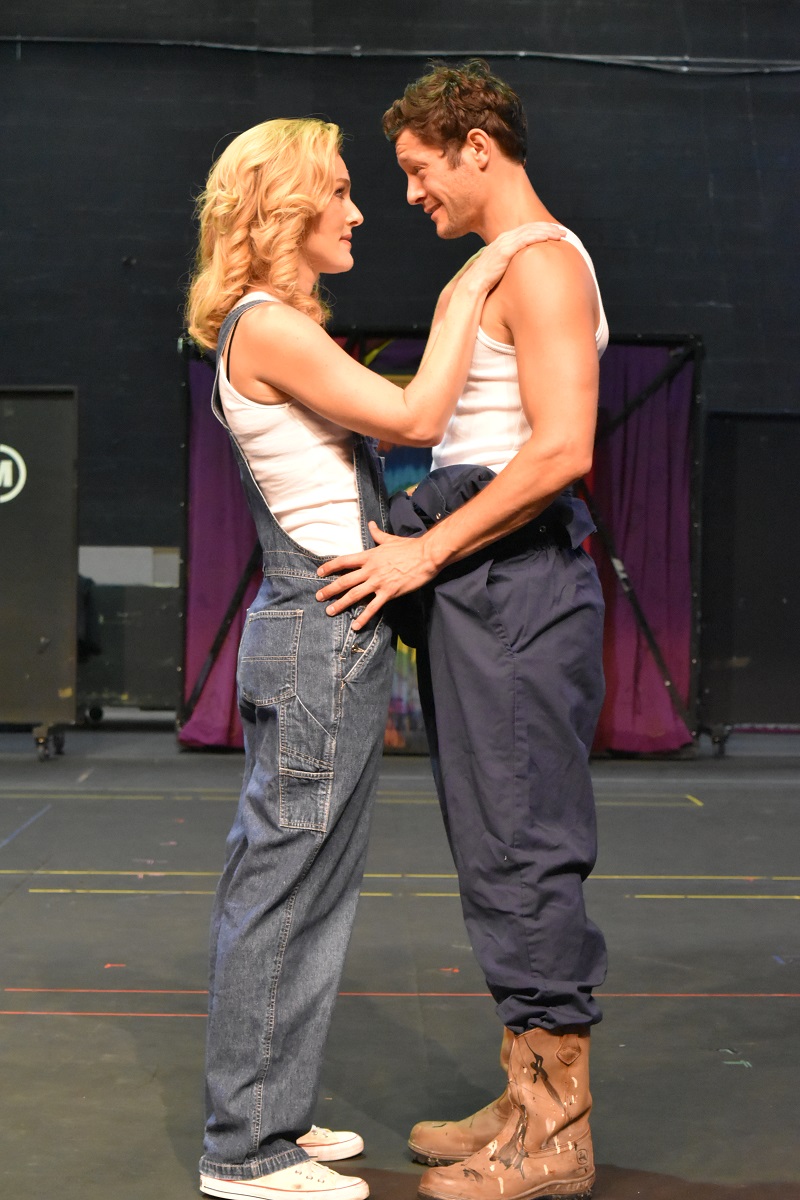 Q:  GHOST the Musical is quite different to the movie – firstly it's a musical! Describe the style of choreography and  How important is the dancing in the re-telling of the story on stage? How do you use dance to identify the various characters?
A:  Yes, the original movie isn't a musical and I've had people look at me strangely and ask where the dancing is. So obviously it has been reworked as a musical. There is quite a lot of dancing considering … based around the main four characters of Oda Mae, Molly, Sam and Carl … the ensemble plays a big part and the other main character – the fifth main character –  is the city of New York itself. The big ensemble numbers are set around the different energies of New York, its pace. Oda Mae has 2 big numbers as well.
It's contemporary in style. The music is modern pop – as Dave Stewart, from the Eurythmics, is one of the composers. Overall, it's commercial dancing but even I still add little bits of old style musical chore to my work in an updated way. Its modern but I have my 'MGM moments' too!
I use different styles of dance to tell the story of each character. Our first big dance number is themed around New York's Wall St so the dancers play with different speeds and energies going from slow motion to fast, rewind things. Then, when we get to the next scene all the characters are ghosts with their own individual characters and we based that on a New Orleans funeral procession, with a heavy, black feel. Then when we get to Oda Mae's parlour we have a big number called 'Believer' which is gospel in style with a few Beyonce moves thrown in!
Q: You first did GHOST in the UK when it debuted back in 2011. How did you come to work on the project initially and how does the Australian production compare?
A:  The set and style of GHOST is heavily based on several huge video screens. Matthew Warchus (director) always wanted the live dancing on stage replicated on the video screens. One of the directors I had been working with was involved in the original production in London and recommended me as the choreographer because I had had a lot of experience working with music videos and on TV/film. Matthew had watched a lot of my work like the huge Oprah flash-mob and liked my commercial approach.
It's been great for me to come home for this long and to work on a project of this scale at home. I've been so excited and the cast are one of the best I've worked with – especially for me, the Australian dancers are super clean with a great energy. I've really enjoyed it.
Q:  What's next for Ashley Wallen?
A:  Well I'm here over Christmas and the summer and will be attending the premiere in Adelaide in January. Then I'll be heading home to London. But recently I've been working on a TV series for US ABC called Galavant with Alan Menkin (Aladdin, Beauty and the Beast). It's a musical comedy and we shot that in the UK for four months last year and is airing in the US on Jan 3, so I will be doing a bit of promotional work for that, but then I am going on a big break.
Q:  What will bring you back to Australia again?
A:  I'll probably come back if Kylie tours again, as each time she performs here I come back for a few days with her. And being back here now for rehearsals, getting up and working each day has really made me think about living and working in Sydney. I love London but the weather wears thin over time there. I'd love to come back and work here again.
Q:  You've done so much in your career – can you name any highlights so far?
A:  I shot a huge commercial with Hugh Jackman a few years ago for Lipton Iced Tea. We shot it in Rio de Janero and it was probably one of my biggest thrills … working with Hugh! He does everything and I'm even working on a new film with him again soon. Of course, being involved with GHOST since its inception on the stage and over the past five years has also been a proud highlight for me.
The Oprah flash mob was probably the scariest thing I have ever done in my entire life! It was a big surprise for Oprah, she absolutely knew nothing about it until it went live, and we didn't know if it was even going to work. We rehearsed a little bit of it with the crowd that was there early but it was mostly up to chance. The audience got there quite early-on, so we had people run out among the audience to try to teach them the dance steps but we didn't know if it would work. If it hadn't worked I was going to run away and jump on a plane as fast as I could!
Q:  Can you offer up any advice to Australian dancers looking to make a successful career either here or abroad?
A:  Australian dancers have the best reputation for being hard-workers and being 'up' for everything. They are sharp and clean. In GHOST I've got a mix of talented dancers to work with from hip-hop to technical, but they all have a great energy on stage. In the UK we can always spot an Australian dancer – I guess it must be the training here.
Musical theatre has a particular requirement for the triple threats … singing, dancing, acting and you see some of the kids today who can do it all so well. It's so important for all three to be up to scratch. It's always good to have more to offer than just dancing. For commercial dancers my advice would be to do as many different kinds of classes as possible, don't just stick to your favourite style. In London, when you work, the people who only do hip-hop or only do jazz just don't get as much work… you've got to be more versatile. I used to just do as many classes as I could find and afford.
I often ask myself 'could I come back here and make a living?' and I think, now, 'yes I could!'. There are a lot more shows on TV like X-Factor, The Voice, etc. and more musical theatre. There is more work in Australia now, it's not like it used to be when you had to pack up and leave to work. So, yes, I think it is possible for Australian dancers to work both here and abroad.
Q: Are you still dancing?
A:  God no!! Actually that's a lie! Recently in the summer tour for Kylie in Europe one of the dancers dropped out and I did the show. The 90 minute show almost killed me though!
Q:  Lastly, why should Australians go see GHOST the Musical?
A:  It's a great show, but ultimately it's one of the best stories. It's a comedy, a drama and a beautiful love story. Even though it's a little sad you still leave the theatre feeling uplifted and in a good mood. And Mathew the director is amazing at bringing this story to life on stage – he's on another level.
GHOST THE MUSICAL


ADELAIDE – from  January 7th – 31st
Festival Theatre
Tickets Here
MELBOURNE- from 5th February
Regent Theatre
Tickets Here