ARE YOU AUDITIONING FOR UNIVERSAL STUDIOS JAPAN THIS WEEK OR NEXT?
Here at DanceLife we are always on the hunt to find the best tips from the very best people in the Industry to help you get the most out of your auditions!
Who better to ask what Universal Studios Japan's casting crew will be looking for over the coming weeks at Australian auditions, than Senior Vice President USJ, Mr Mike Davis!? Mike has been with Universal Studios for twelve years and prior to that worked extensively with Disney for just on 25 years, so he knows world-class theme park production and entertainment intimately and what to look for in aspiring new artists.
Mike is currently on the Gold Coast in readiness for the first leg of the USJ Audition Tour 2012. Auditions commence this week on the Gold Coast – 24th, 25th & 26th August, then head to Sydney for 28th & 29th August, before moving on to Melbourne 1st & 2nd September, and on to London, Toronto, NY, Orlando, Chicago, Vegas and Hollywood.
Australian Casting Director, Jaci Testro (Connect Entertainment) kindly co-ordinated our interview this afternoon – here is what Mike had to say…
Mike, our DanceLife readers are curious to know what the casting crew are particularly looking for this year and in general when you tour the country looking at singers, dancers, actors and stunt men & women – can you tell us a bit about what makes a Universal Studio star?
"Obviously we are always looking for extraordinary talent – artists that stand out from the crowd! Some of our shows require singers that can move well, or dancers that can sing, some require actors or face characters and of course then there are our shows requiring high level stunts such as the  Waterworld show. We are looking for artists with great talent, a great attitude and that understand that living abroad is not always the easiest thing but can be the most rewarding experience personally and professionally. Between eight and nine million people visit USJ per year and we provide world class entertainment in every show. Artists may be involved in up to five performances per day, so they quickly learn how to do a top show every time whether you are feeling great or terrible."
… So VERSATILITY is a key ingredient to working at USJ?

"We often find that we might contract an artist for a certain type of show in the beginning, but as time goes by we may conduct some internal auditions when something comes up and find some extraordinary levels of other talents in these performers. We truly find a treasure chest of talent in our artists! I think we provide the opportunity for artists to get great experiences and to grow and expand while surrounded by real talent. Universal Studios is such a great interactive place, you frequently go from one production to the next and many of our cast have enjoyed long-term expanding careers for many years with us. Our cast are housed in an apartment building with 160 apartments filled with artists from Australia, America, the UK, Canada, Ukraine, Eastern Europe and domestic Japanese who many not live near Osaka.  It is quite an eclectic mix and it's exciting to walk down the hallway and hear all the different languages!
What do you find in Australian auditionees that keeps you coming back year after year?
"I like to fish and we always catch great fish here! We are able to to find actors, dancers, singers, and world class stunt performers when we come to this country that will be great at so many genres. Particularly here on the Gold Coast there are some great stunt men and women!  Whereas in New York we know we will find great theatre actors; LA has a lot of TV, Movie and Commercial actors; Chicago has fashion models etc. We go to so many different regions that have a particular type of performer that are great at what they do, but in Australia we find an abundance of every classification of performer we are looking for so it's well worth our time and energy to come here."
You are a great supporter of Australian talent, can you give some examples of artists who have grown through the USJ experience?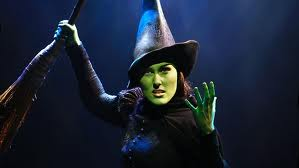 "Yes of course there are so many, but Jemma (Rix)* particularly comes to mind. Jemma didn't make the final cut of auditions the first year she came to see us but she worked on it, came back and was originally cast as the Bride of Frankenstein (in The Monster Rock and Roll Show at USJ). When I pushed for a mini-version of the Broadway Musical 'WICKED' to be produced at USJ (2006),  she was cast as Elphaba and we talked to the people in New York and she met and performed for Stephen Schwartz, Winnie Holzman and Marc Platt. As a direct result, Jemma was then cast for Elphaba in the Australian premiere of Wicked which opened in Melbourne and she has continued to tour with the show across Australia, Singapore and Korea. Jemma has now been playing the leading lady for over 4 years."
(*In 2011, Jemma Rix was nominated for a Helpmann Award for "Best Leading Actress in a Musical" for her portrayal as Elphaba in Wicked.)
If you haven't already registered to audition for Universal Studios Japan, head to the official site HERE!
Audition Schedule is as follows:
GOLD COAST –
Friday 24th August – Stunts
Saturday 25th August – Actors & Singers
Sunday 26th August – Dancers
SYDNEY –
Tuesday 28th August – Actors & Singers
Wednesday 29th August – Dancers & Stunts
MELBOURNE –
Saturday 1st September – Actors & Dancers
Sunday 2nd September – Singers & Stunts
Best of luck DanceLifers!
Cheers – Chris Duncan