Hot Talent Watch | Alex Dellaportas
21yr Old Dance Entrepreneur Takes Contemporary Show 'Ariadne' on Tour
Interview and article by Heather Clements
Alex Dellaportas founded youth dance company Spark Productions, based in Victoria's Mornington Peninsula, in 2016 at just 18 years old. Frustrated with the lack of practical opportunities for young people in the dance industry, Alex saw a need for a youth-run organisation where they could foster local talent, provide hands-on experience, and build a collaborative community of like-minded people passionate about dance and stage production. Three years on, Spark successfully tours with 30 dancers aged 7-25 and a full 40-piece professional orchestra. Behind the curtains, Spark is a place where kids run the company, produce the shows, and achieve great things working together.
Now in its third year, Spark Productions will next tour their new production of Ariadne, a 90 minute contemporary dance show accompanied by a full professional orchestra.  Ariadne is based on the popular Greek myth of Theseus and the Minotaur, told from the often forgotten perspective of the heroine. The piece is a modern take on a woman who misunderstands herself and the nature of humanity. Set to a live orchestra, the contemporary dance explores undertones of struggle, closure and acceptance, and teaches us that not all monsters should be conquered.
Her company operates with three set objectives that set them apart from others in the industry: Shows will be directed by young people; provide an opportunity for education; and mentor positive mental health outlets. She is proud to provide a safe, welcoming place for creative individuals to come together. We had the pleasure to speak to Alex about her passion project – Spark Productions.
***
Q: Tell me about your dance background. 
I began dancing at just two years old, doing mostly ballet, and then contemporary in high school and then I got interested in choreography. At school I was involved in Wakakirri and did a lot of choreography for that program.  I did Wakakirri for my school for the last two years I was there, and I was the choreographer of our two works. And the second one came first in Australia, but that process was the thing that made me think, "I love being in a theatre. This is what I want to do!"
I wouldn't say I'm a dancer. I'm only 21, turning 22 this year. So, it's all pretty new for me and I'm learning on the job. And I finished school when I was 18 and I basically just wanted to choreograph and make something of my own. I've always been quite ambitious, I tend to do things before I think about them!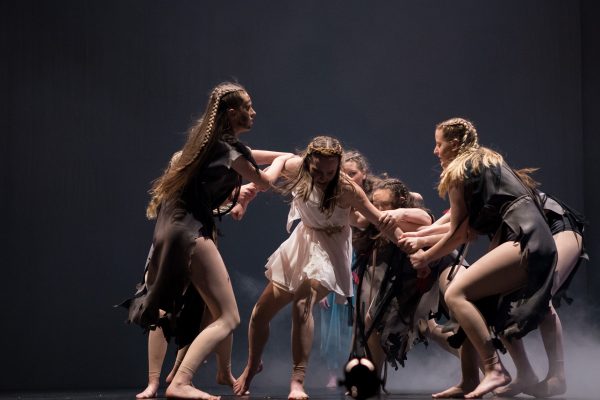 Q: How did you get to be where you are now with a company?
Studying dance at University didn't provide the experience that I was looking for. I wanted to get straight into the workforce but there was no opportunity for me, as a young person, to lead projects and learn on the job. It made sense to start a company where I could live my dreams and help others to realise their potential at the same time.
So, I put together a company, I did some auditions and then that's how Spark started. I just did a small version of The Nutcracker to start and we reset it during World War One. And we had Daniel Gaudiello, recently retired from The Australian Ballet, perform with us which was really cool. It was like a contemporary dance version. So, that's how I started Spark because I love choreographing.
The main point of this company is that youth are creating the works. On every major work that we do ⏤ because we do full-length contemporary works ⏤ the creative team are all young people. Yeah, that's the point of it! I've done a lot of research and we're the only company that lets young people really drive big productions. The young team are driving the story, the choreography, lighting design, costume design, any other design you can think of (laughs). And I don't think there's anything else really like it in the world.
Q: So tell me about the story of how you came to produce Ariadne.
Well it is based on the Greek story, and I am part Greek myself, so that's influenced me in adapting this story. I was really interested in Greek mythology, and I wanted to do something a bit different. My 'pop' mentioned the story of 'Theseus and the Minotaur' to me and I wasn't that interested at first, because it sounded a bit boring. So I looked into it a bit more, and then I found that the main character in the story was Ariadne. Basically, Theseus is this hero and he gets sent to this labyrinth with the Minotaur to save the children that are being sacrificed to the Minotaur. So, he goes across and Ariadne is the woman that he meets on the island. And she gives him this magic string to get in and out of the labyrinth safely. So, basically, she's the one that saves the day. And I saw that with my feminist eye and thought, 'That's the story right there!'.
After a while it developed into a bit of an exploration of her mental health. And it got a bit deeper in that we started relating the labyrinth to a person. And the Minotaur to the dark part of yourself that you hide away. And maybe it's a bit more complicated and hard to understand. And it got really deep and so, at the end of it, it became this really emotional story, which we hadn't really intended. But now, it's this beautiful journey of this woman who starts to believe in herself and has to pick herself up off the floor, because she's abandoned on this island by Theseus .. and it's really mental health focused.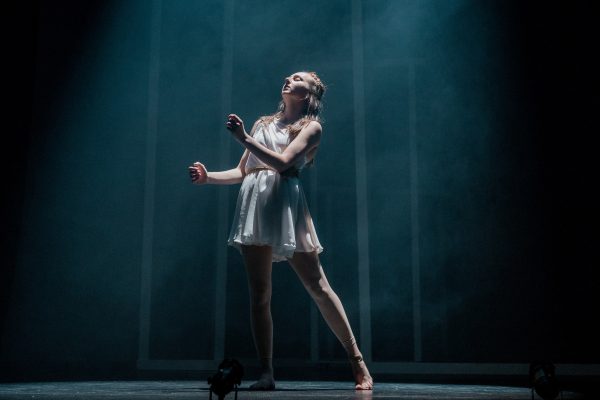 Q: Spark is a youth company development program, how does it work?
We audition and have kids that come in and do it for a year and then leave and do something else. But most of the kids, they're all from dance schools on the peninsula. And a lot of them do want to become professional dancers. We're trying to give them that experience and build up their stamina through lots of performances and introduce them to that world.
But the other part of Spark for us isn't really about transitioning them into arts careers. It's more about getting them to appreciate art. So, even if they leave when they're adults, maybe they start to go and see ballets, or they go and see dance works because they were a part of that, and they understand what goes into it. And they understand what you can learn from going to see these things and what you can feel. And they've learned how to express themselves and keep their creativity as well, because the kids are really involved in the choreography. They choreograph half the show, as a group.
Q: Where do you see Spark in the future? What is your ultimate aim?
My goal professionally for myself is to start a professional company that pays money, because I don't get paid for any of this! But I really want to see this company grow and keep going and become its own little universe, so that I don't have to always run it. And I love seeing it all come together, because we have all young people that run the company.  I'd love to see more young people step up and have a go at choreographing. The name Spark … it literally comes from this idea of trying new things until you find your spark and find your reason for living. And yeah, so I'm hoping that it grows, and we just fly by the seat of our pants in the meantime!
It's been so hard for me to get over the fact that I'm pretty young and most of the time honestly, I have no idea what I'm doing. Just making it up as I go. But my passion for it is so big that I just want to do it. And having adults tell me 'Oh you should it do this way',  I'm like, 'Yeah, also we could try it my way!'  I have a Different perspective.


ARIADNE by Spark Productions
Bunjil Place, Narre Warren ⏤ Thursday 23rd May
Ulumbarra Theatre in Bendigo ⏤ Thursday 30th May
Clocktower Centre, Moonee Ponds⏤ Thursday 6th June
National Theatre, St. Kilda ⏤ Friday 7th June
Bookings: www.sparkyouthdance.com.au/buy-ticket