Welcome to Boogie Wonderland!
VELVET:  The sell-out smash hit of the 2015 Adelaide Fringe is heading to the Brisbane Festival & Sydney Opera House.
Let Young Hearts Run Free, so don't miss this glamourous and seductive fusion of disco, dance, burlesque & circus!
VELVET completely redefines cabaret as a Disco Inferno that shocks, surprises and scintillates at every turn. Set in a glamourous nightclub, complete with a pulsating discotheque soundtrack, skilled performers present a dazzling show of combustible energy.
Director Craig Ilott has created a pitch-perfect world, pitting dazzling acrobatics against disco divas while seductive chanteuses channel Studio 54. Singer-songwriter Brendan Maclean heads the cast in this party like no other, alongside an international ensemble of circus, cabaret and music talent: New Orleans Burlesque Queen Perle Noire; dreamy muscle man Stephen Williams; hula-boy Craig Reid; acrobatic wunderkind Mirko Köckenberger; sizzling aerialist Emma Goh; sassy sirens Chaska Halliday and Rechelle Mansour; musical director Joe Accaria; and the legendary disco diva and ARIA Hall of Fame inductee Marcia Hines.
VELVET is a party and a show. It's a hedonistic experience for those who remember the world of disco, and those who are yet to discover it. VELVET is the hottest new show on the global festival circuit and it's for anyone who loves Coming Out and the chic life of Le-Freak. VELVET will be the hottest ticket in town!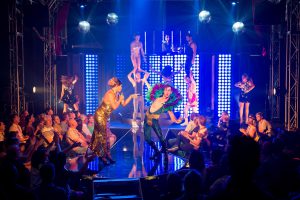 "Winner of the Adelaide Advertiser 'Best of Fringe 2015' and Bank of South Australia 'Pick of the Fringe 2015', VELVET captured the heart and soul of Fringe audiences like never seen before!"    The Australian
"It is a spectacular show. VELVET showcases performers who are nothing less than at the top of their game left the audience stunned and awestruck. A fantastic experience of sensory overload that got not only a standing but a boogying ovation." Dirt & Candy
"It's a discotheque extravaganza like I've never seen. From the second I entered the theatre it was clear something special was about to happen. The delicious sounds of DJ Joe Accaria greet you and make you feel like you're walking into New York's famous Studio 54. And from there it was a full 80 minutes of wonder… cabaret, acrobatics and burlesque embellished by an energy that drips through the audience. From the magic of Marcia to the unfolding talent of Brendan Maclean, every member of the cast shines in their own right. I could write about this show for days, but just know that I am burning to see it again!" Aspire Magazine
---
ORGANISED PANDEMONIUM presents VELVET
Brisbane Festival
Sept 16 – 26, 2105
Sydney Opera House
Oct 6 – Nov 1, 2015