Nexus Arts presents Utter: Stories Told by a Ghost, a Book and a Room
Illuminate Adelaide, July 22 & 23
Nexus Arts have announced two performances of the contemporary dance and music piece, Utter: Stories Told by a Ghost, A Book and a Room, by an ensemble of Adelaide artists led by Iran Sanadzadeh at Nexus Arts Venue on July 22 and 23, as the opening of the 2021 Nexus Live performance series and as part of Illuminate Adelaide.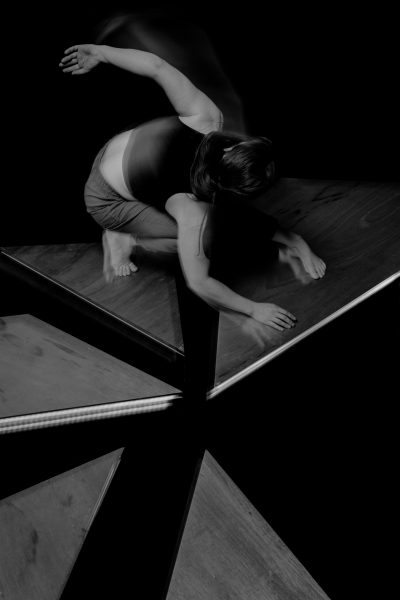 Utter: Stories Told by a Ghost, a Book and a Room marries technology, contemporary dance and new music to progress the legacy of Philippa Cullen, an Australian pioneering dancer whose set of pressure sensitive floors reimagined the relationship between movement and sound.
Using bespoke interactive electronic instruments, the performance draws new outlines for our relationship between sound, movement and light, continuing the work of Cullen whose prolific design and performance career was cut short by an untimely death at the age of 25.
Bringing together movement, sound, and a new lighting design from Chris Petridis, this performance asks unexpected questions about these intricate artistic relationships, which formed the artistic ethos of the pioneering Australian dancer challenging the relationship between movement and sound as a tool for artistic exploration and development.
This ground-breaking new show is the creation of Utter's Artistic Director, chief composer and performer, Iran Sanadzadeh.
Of the show, Sanadzadeh said that she is working to traverse the public's understanding surrounding the relationship between sound and movement while being loyal to the practice of Philippa Cullen.
"Philippa Cullen was such a pioneer and being able to build upon her work in creating something entirely new for audiences is an exciting step for me and this show," said Sanadzadeh.
Audiences can expect to experience a new form of interaction between sound and movement. This show is really close to our hearts and the fact that we get to perform it as part of Nexus Live after its hiatus, and as part of the first Illuminate Adelaide, is a really special feeling."
Along with Iran Sanadzadeh, Utter is performed by musicians Dylan Crismani, Derek Pascoe, and Sebastian Collen, and dancer and choreographer Cazna Brass.
UTTER: STORIES TOLD BY A GHOST, A BOOK AND A ROOM