WE.ARE Dance Project Premieres this Weekend
Choreography by Stephen Tannos | 5 Shows Only!
WE.ARE Dance Project, Australia's hot new not-for-profit commercial dance company, presents its premiere season FOUND this weekend at NIDA. Featuring dynamic choreography by renowned commercial choreographer Stephen Tannos (So You Think You Can Dance Australia, Dance Boss, The Dream Dance Company – Genesis) and a stellar cast of Sydney's most captivating, one-of-a-kind dancers, this incredible culmination of creative energy and talent ignites for its premiere in just hours.
We chatted to the central creators of WE.ARE Dance Project; Stephen Tannos (Creative Director and Choreographer), Cassie Bartho (Assistant Choreographer), and Co-Producers Lucas Newland and, our very own, Chris Duncan, for their final thoughts before the show's inaugural premiere.
***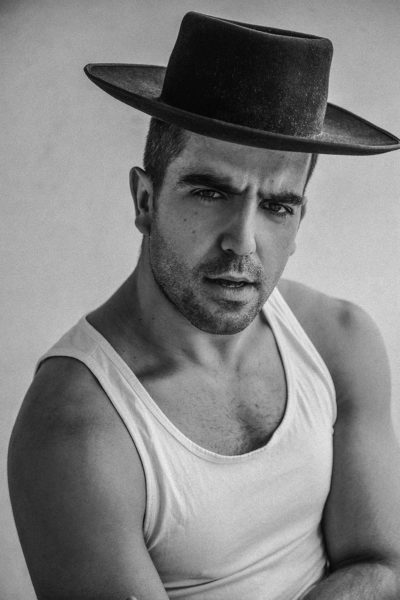 Stephen: I wanted to create something that had a universal relatability. Something that anyone from any walk of life could see some element of themselves or their circumstances in. I started to think about the word 'FOUND' and it's many different connotations. We are always looking for something, whether it be success, companionship, inner peace or just the idea of truly feeling like we belong.
This show asks the questions, what does it take to find something and what does it mean to be truly happy … Do we ever get there?
Ultimately, this show is the story of self-discovery seen through the lens of modern day society and the people living within it … how everyone's individual journeys have an effect on one another. We also find that we are all connected in some way, shape or form … and that we are all just trying our best to navigate this thing called 'LIFE'.
Stephen says he is revelling in this opportunity to finally put together a full piece of his own work with total creative control in FOUND,  amalgamating elements of his diverse body of work across his entire career.
Read our Previous Interview with Stephen about WE.ARE Dance project >> www.dancelife.com.au/what-does-it-mean-to-be-found/
***
Cassie: Being assistant to Stephen Tannos has honestly been an absolute dream come true. Being by his side over the past few weeks and getting a glimpse into his mind has been such an amazing learning experience for me.
From the way he hears music to the way he uniquely sees his story line and adapts it to a dancers body, to literally seeing his face light up with ideas and knowing I'm in for a treat with the next few words he says! I will leave this experience a much better choreographer than as I started and with a lot more knowledge under my belt, all thanks to him. I will be forever grateful.
Cassie says what she has been enjoying the most about the rehearsal process is "watching these incredibly talented humans move their bodies in inhuman ways. I leave the room more inspired everyday!"
***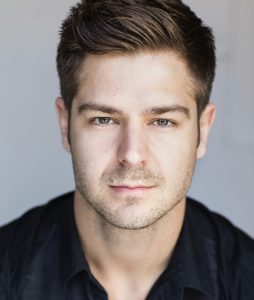 Lucas: This is a completely not-for-profit company with all earnings going back into building the company into a permanent fixture on the Australian Dance circuit and, hopefully, employing more performing artists, choreographers, lighting designers, costume designers, stage managers, sound engineers etc. We are aiming high, with looking to ultimately create work that is not only for the dance school industry, but for the general public as well.
It's been a wild ride and a huge learning experience for both myself and Chris Duncan in producing a show.
The cast are absolutely inspiring and the choreographer is creating ground-breaking work!
***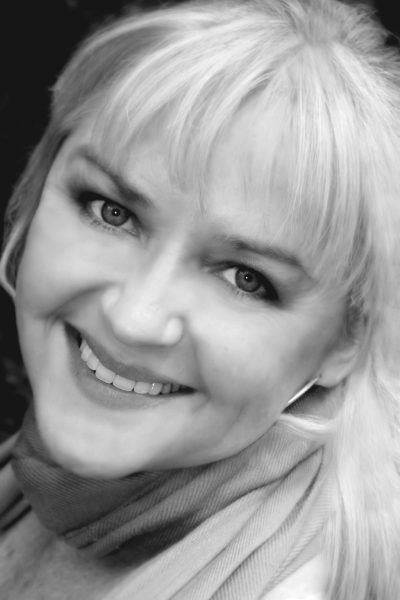 Chris: When I embarked on taking DanceLife Unite to a National level back in 2013, one of my goals that I shared with friends, family and industry colleagues was always to fund – or help fund – the creation of a dance or production company and ongoing work for the multitude of beautiful, intelligent, crazy-talented dancers that we as an incredible dance community train, mentor and support here in Australia, because I recognised the huge GAP in work availability for dancers here at home.
I will ALWAYS continue to support every endeavour that I possibly can through our DanceLife Australia network because that's what I am passionate about and that's what this industry is about … it's about supporting the DANCERS and the work that is available for them.
I am very honoured to be a part of this new company. THANKYOU to the beautiful people who love and have so much passion for this industry, as I do and are doing everything they can to nurture and support it. I can't wait to share this ongoing journey with you all!
***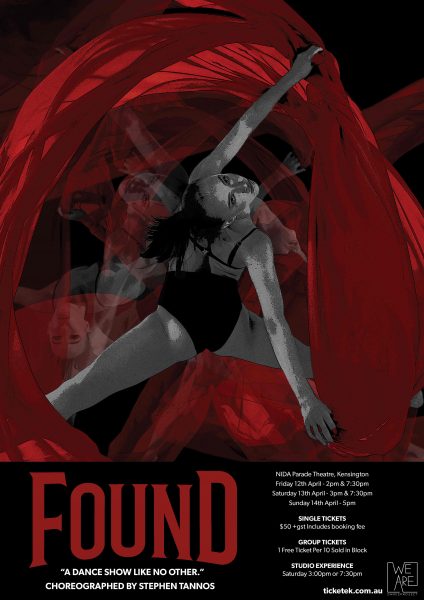 A final word from Lucas and Chris: We are so proud to be presenting our first show, with concept and choreography by the incredible Stephen Tannos. WE.ARE Dance Company, is a not-for-profit company born out of the need for more professional work opportunities for the countless, world class trained, Australian performing artists. This is only the beginning for WE.ARE  Dance Project as we will continuously strive for creative excellence and multiple work opportunities for performers.
Thank you for your support and enjoy the show!
The cast of this inaugural season are: (The Ladies) Lauren Seymour, Alex Miedzinski, Alysha Percy, Jaclyn Chambers, Lilly Jackson, Paris Cavanagh;(The Gents) Jake Edwards, Jordan Grant, Neale Whittaker, Ben Zammit, Callum Mooney. Read our previous article on the cast announcement.
FOUND by WE.ARE Dance Project
Friday 12th April – 2pm & 7:30pm (Limited tickets remaining for 7.30pm show)
Saturday 13th April – 3pm & 7:30pm (Limited tickets remaining for 7.30pm show)
Sunday 14th April – 5pm – SOLD OUT
Parade Theatre, NIDA, Kensington
Matinee performances: Buy one ticket get one free!! (Friday 2pm, Saturday 3pm).
Single Tickets: $50 (+gst) including booking fee // Group: 1 free ticket per 10 sold in a block
Studio Experience: Saturday 3pm or 7:30pm // 40 tickets or more get 4 comp tickets // Meet and Greet Selected Cast and Choreographer after the show // 45minute Private Class with a cast or choreographer to learn a section of the show // Limited spots available.
High School Groups: Friday 2pm show only // 40 tickets or more get 4 comp tickets // Q&A after show with selected cast and choreographer