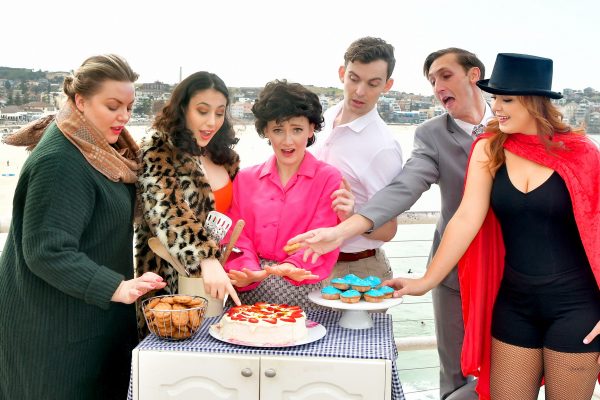 Sydney Premiere of Margaret Fulton: Queen of the Dessert
New Musical Honours Aussie Cooking Legend – 10 Shows Only!
Australian cooking and food icon Margaret Fulton will be honoured in her hometown of Sydney with the staging of the musical comedy Margaret Fulton: Queen of the Dessert at the Bondi Pavilion Theatre from October 12 – 27 by Bondi Theatre Company.
Margaret Fulton is famous for selling 1.5 million cook books and teaching Australians how to cook. However, what is not so well known is her bohemian life in The Rocks, escapes from 'decorative, elegant and useless men' and her struggles as a single mother.
The production written by Doug Macleod (Comedy writer) and Yuri Worontschak (AFI Award winning composer) was critically acclaimed at its premiere in Melbourne – described as "hilarious, sassy and rousing" by the Herald-Sun, "a banquet of entertainment" by Stage Whispers Magazine and "ninety minutes of delectable enjoyment" by Simon Parris.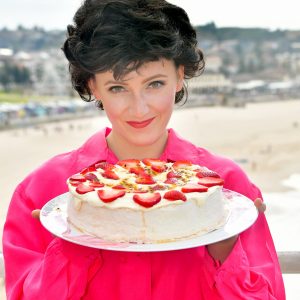 The musical is based on the biography of Margaret Fulton 'I Sang for my Supper.' Margaret, now aged 93, received a standing ovation when she attended a performance of the original season and is delighted the production will be seen in Sydney.
"I always dreamed of being a Bluebell dancer, but unfortunately my legs did not make the grade, so I took up cooking instead," she said.
"Now my dreams have come true with the gorgeous Manon (Gunderson-Briggs) and cast taking on my life in a way I might have done, if I had the pins!"
Playing Margaret Fulton in the Bondi Theatre Company production is Manon Gunderson-Briggs, fresh from starring in the Hayes Theatre production of Cry Baby and before that as one of the Bridesmaids in Muriel's Wedding the Musical.
"I am so excited to playing the iconic and incredibly intelligent Margaret Fulton," Manon said.
Remaining cast are Clare McCallum Rebecca Spicer, Alexander Morgan, Brett O'Neill and Jasmine Sands.
This production is directed by Ruth Fingret, with choreography by Emma Jarman and musical direction by Mary Lennon.
The Bondi Theatre Company (in its second year) is an independent theatre company hosting a season of Musical, Cabaret, Children's Theatre and Shakespeare at the Bondi P,avilion Theatre during October. Margaret Fulton: Queen of the Dessert is produced by David Spicer Productions.
"Our team has been working closely with the fabulously talented Doug Macleod and Yuri Worontschak to make the musical even more enjoyable than the original season which starred Amy Lehpamer," said David Spicer.
The production coincides with the 50th anniversary release of the original Margaret Fulton cook book published by Hardie Grant in 1968.
www.bonditheatrecompany.com.au
Margaret Fulton: Queen of the Dessert
October 12 – 27 | Bondi Pavilion Theatre
Fri 12th and Sat 13th October @ 7pm
Wed 17th October @11am (followed by guest VIP Q & A)
Fri 19th and  Sat 20th October @ 7pm
Sun 21st October @ 2pm
Wed 24th October @ 11am (Babies welcome session)
Thur 25th and Fri 26th October @ 7pm
Sat 27th October @ 8:30pm