AUDITION
Casting Female Lead in Cirque du Soleil Show in Orlando, Florida, USA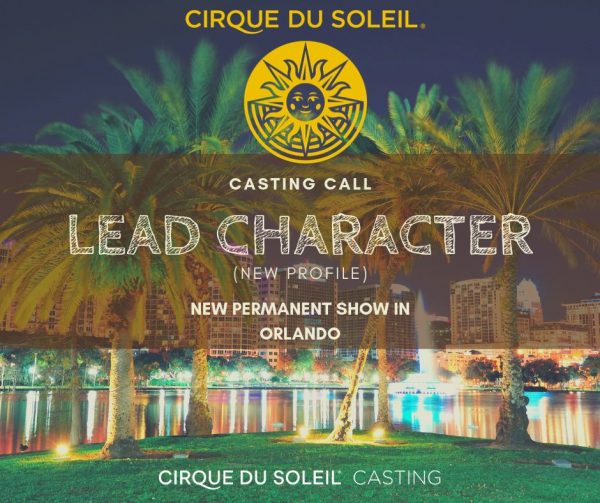 Internationally renowned circus and physical performance art company, Cirque du Soleil, are looking for an adult female circus artist or dancer with strong acting abilities to portrait a young lead character of 12 year old for their new resident show in Orlando, FL, USA.  
Submission deadline: Sunday, February 24, 2019.
Character's traits:
Caucasian female (creator's requirement)
Around 12 years of age
Height: approximately 1m52 (5 feet)
Weight: approximately 45 kg (100 lbs.)
Slim figure
Personality: sparkling; authentic innocence.
Requirements:
Ability to portray character's traits
Professional background in circus or dance
Solid stage experience
Very good acting skills
Available for a minimum of 2 years starting September, 2019
18 years old or older by September, 2019
Other skills in performing arts or sports an asset (ex.: physical theater, gymnastics, etc.)
If you meet the requirements above, please submit your application, including:
Your CV/résumé (describe your training and professional experience in performing arts; include your height, weight, date of birth, citizenship, etc.)
2 photos (one headshot and one full-body photo)
A maximum one-minute presentation to the camera in English: tell us your name, age, city of residence and of origin, background, and your reasons for wanting to join Cirque du Soleil
1 video (maximum 5 minutes) of your performance on stage or in a studio
Optional: 1 video about any other relevant skill that you may have (3 minutes).
Important information:
All complete profiles (including a resumé/CV, photos and video demo) will be evaluated by a talent scout from the Casting team.
Only selected candidates will be contacted.
General terms and conditions of applying online:
The profile information of candidates will be used by Cirque du Soleil and its partners.
The material submitted by candidates will not be returned and may be destroyed by the Casting team.
By applying online, candidates who submit their material via links to demo videos agree that Casting will extract material from these links if necessary to add it to the candidate's profile.
In addition to this casting call, applications may be considered for one or more roles in all of our other current shows and upcoming creations.