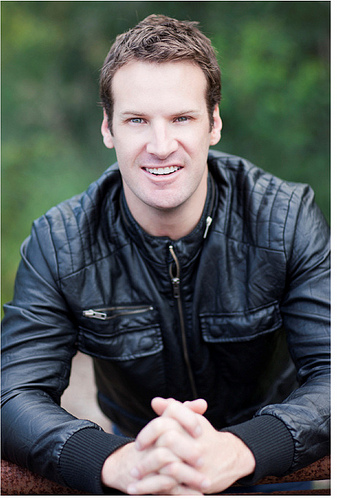 Australian born Joshua Horner grew up in the town of Wyong on the New South Wales, Central Coast. He began dancing at the age of 6 as a means to improve his Asthma and since then has not stopped dancing.
DanceLife caught up with Josh while working in LA with Disney.
At age 12 your parents travelled with you to Sydney so that you could train with David Atkins. How important was your parents support in making you the dancer you are today?
Without my parents support I most certainly would not be where I am today. It was a 100km drive from Wyong for Dad after work, we left school at 3:25pm and made it for 5:30pm private lessons and group classes. I ended up having dinner in the car, which I know this is bad but it was a sad selection of McDonalds, KFC and Pizza Hut. There was just no time for Mum and Dad to cook at home, we were in the car, but the training paid off. I worked hard to make it all worth our while. I think a lot of it was because mum and dad could see my dedication and determination to be the best that I could be so that also helped them decide to sacrifice a lot of their time to help me achieve my goals. Love ya Mum and Dad 🙂
You graduated with an Advanced Diploma in Dance at The Australian Ballet School in Melbourne. What are your thoughts on full time training for dancers after school?
Good question, firstly school is so important. I went to year 10 at Wyong High School then at the Australian Ballet School I continued years 11 and 12 as it was incorporated into the curriculum. To become a dancer is such a magical gamble. You have no idea of how your body might change from the ages of 14-18, plus people do simply burn out. Full time training pretty much is a survival of the fittest. It either will make you or break you. It's not just physically tiring but also mentally. You must get good grades as you will have to use your brain and personality in other areas of life, not just dance. I've taught at some places that have full time dance training and you can see the ones that will have a dance career. Others have that glaze or what I call 'the emo disease or flappers' where they are more concerned how their hair looks before a turn combo then actually nailing the combo itself. I would only suggest the serious 'players' commit to fulltime, the 'flappers' can sometimes bring down the talented ones or hold back the group in general. Can I slot in that I graduated with 'Honours' for my Advance Diploma in Dance .. ha
5.5 years you spent with the Australian Ballet where in 2003 you won an Australian Dance Award for "Most Outstanding Performance in a Stage Musical" for your performance in "Tivoli". How did this role and award change your life?
TIVOLI was Amazing. Greame Murphy and Janet Vernon I simply adore and I must say I had awesome coaching from Brett Morgan as well. TIVOLI basically broke me out of the 'ballet bubble'. It was a musical and I was the jazziest ballet dancer in the company at that time. I found the place I adored most. I grew up as an all rounder doing all styles of dance. The role of 'Jack' was just perfect for me and I had a blast bringing him to life. It combined everything I loved, technical dancing and partnering, acting and well, being centre of attention ! I knew this was the perfect transition for me to move into Musical Theatre. The award was also greatly recognised when petitioning for my Green Card. Its pretty cool to share an award with industry greats like Caroline O'Conner and Hugh Jackman to name a few.
After your time with the Ballet you decided to follow your dream of being a musical theatre star. How hard was this decision after being the leading man at the Australian Ballet?
Honestly, I couldn't wait to get out of there. I can say that now having left many years ago. The ballet was such a wonderful career start for me. The wide variety of ballets and contemporary works by local and international choreographers were great to perform, however the casting politics could sometimes drive you up the wall. I was stuck in a place where I was seen as a strong reliable partner, well reviewed performer, and solid performer. Everyone wants to rise up those ranks and for me the climb was slow. I was always cast in high ranking roles however it seemed I was never going to actually be named that rank. I had a bigger name than some of the principals and for me the white tights seemed way to boring. I had stars in my eyes so I got outta there, and never looked back.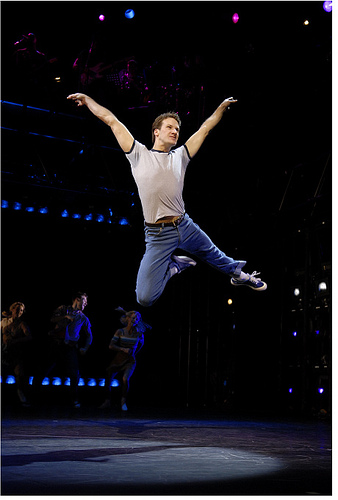 Since your move to musical theatre you have been cast in Dirty Dancing, Guys and Dolls and Billy Elliot. What has been the most valuable lesson you have learnt about surviving in the industry?
Planning! I feel choosing the right show that is right for you. Its tricky because you will either suit a show or not. Don't let Casting Directors steer you off in a belief that you weren't good enough, I get excited by knock backs as I get so determined to shine above someones opinion. Singing lessons too, oh dear did that frighten the you know what out of me having to sing for a panel, oh and FYI everyone on Broadway can belt their faces off. Im lucky that I was a strong technical dancer. I feel my ballet training and knowing exactly how to partner a girl gave me the edge in getting the lead in Twyla Tharp's Movin' Out in LONDON. That was a hard core dance musical, but my technique got me through it. A big thing I learnt also was that when you sign up for a musical, be prepared as it's so different performing the same show 8 shows a week for over a year compared to a ballet season of Swan Lake that would run for 24 shows tops. Oh and I suggest don't do a tour in the UK.
You currently live in the USA where you are working for Disney on a number of projects. Your most recent choreography project was 'World of Color' at Disney's Californian Adventure. Can you tell us how Disney found you for this job?
It was a combination of fate, planning and networking. Long Story Short, when I was 19, I met a couple in NY at a function. They said, what do you want to do after ballet. I said, be the Entertainment Director for a huge company like Disney. Their reply, 'oh we have friends that work there'. Days later I had an email waiting for me and I started an email thread with these Disney people that lasted a year. 10 years later I had remained in contact with these people and basically with one phone call I packed up my bags from Billy Elliot in NY and moved to LA and the ball went rolling from there. With a dream to achieve, a smoking hot resume and solid professional experience behind me, I performed a piece for 50 Disney Executives with my partner from 'Tivoli' Katherine Griffiths (now Brown) and the rest is History in the Making. Im onto my third project now choreographing Disneyland's new Parade called 'Soundsational' and I'm loving it so much.
For more information about Josh see his website www.joshuahorner.com