DirtyFeet Expands The Right Foot Program with Inclusion Action Plan or Dancers of All Abilities
Free Event | Saturday 2 November
Innovative Sydney organisation, DirtyFeet, is set to launch their Inclusion Action Plan as result of their very popular, accessible and inclusive dance workshops, The Right Foot.
Now in its 8th year, this year, the workshop series culminates in a performance at Monkey Baa Theatre and will mark the release of the DirtyFeet's Inclusion Action Plan titled Every Body Dancing.
The initiative will be officially launched at the 2019 Right Foot performance show to celebrate the achievements of artists with and without disability after the culmination of 4 creative contemporary dance workshops, led by Riana Head-Toussaint and Brianna Kell, with the support of the DirtyFeet team. Read more about The Right Foot program here. 
Every Body Dancing has been written in consultation from the community and dancers who have participated in The Right Foot workshops. These workshops and the DirtyFeet programs have been pivotal in changing the lives of participants and increasing their opportunities to work professionally as artists.
Participant Holly Craig says of the workshops, "I owe a lot to DirtyFeet and The Right Foot… it was kind of a life changing experience for me…if I am still able to do this thing (dance) which I unequivocally thought in my head 'I could never do this again', then maybe I can really do anything…"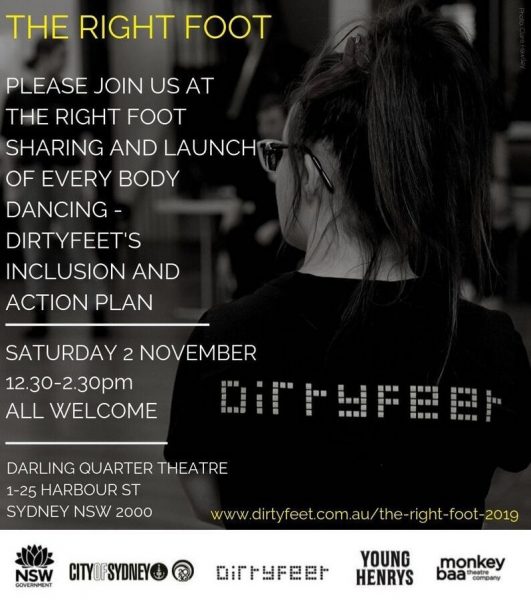 The Right Foot has run annually since 2012 and grown in popularity allowing participants, with and without disability, to improve their technical and performance skills. The participation of dancers with disability in these workshops has since filtered through the organisation's programs and the action plan has been a goal of the Board to formally mark DirtyFeet's commitment to inclusive dance practice.
Kerrie Burgess Chair of DirtyFeet says, "Developing an Inclusion Action Plan has been a key goal for the Board and DirtyFeet team. It consolidates our current and planned actions to provide integrated dance opportunities. The Plan demonstrates DirtyFeet's commitment to supporting dancers with disability. As a board member, I have personally seen the positive effect DirtyFeet's programs have had on participants well-being and careers, and through the Plan we aim to increase this positive impact."
DirtyFeet is a not-for-profit contemporary dance organisation based in Sydney, currently in its 12th year of supporting independent dance artists and promoting community engagement in the arts.
dirtyfeet.com.au/the-right-foot-2019
THE RIGHT FOOT 2019 PRESENTATION plus Every Body Dancing Launch
Saturday 2 November, 12.30pm – 2.30pm
Monkey Baa
ARA Darling Quarter Theatre, Terrace 3, 1-25 Harbour St, Sydney
Access: Accessible building
Auslan Interpretation available by request
Audio Description available by request
Cost: FREE, RSVP essential

RSVP:
melinda@dirtyfeet.com.au