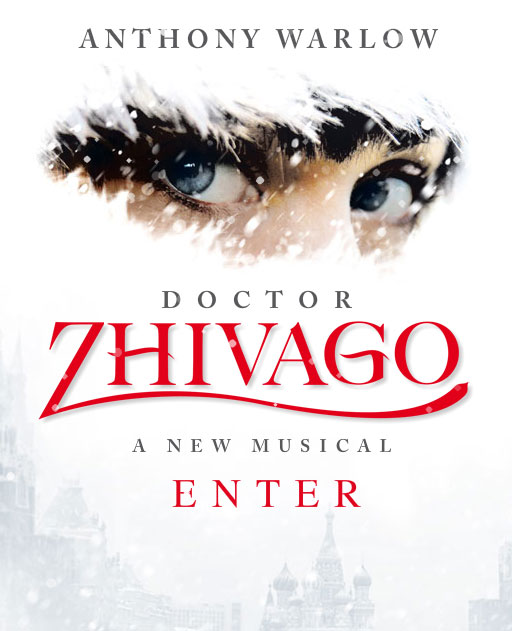 In 2011, Sydney will host the Premiere of a new musical DOCTOR ZHIVAGO, starring acclaimed musical star Anthony Warlow and produced by John Frost, for an exclusive eight week engagement at the Lyric Theatre, Star City. The Sydney season will be followed by a season at Her Majesty's Theatre, Melbourne from April 9.
Joining Anthony Warlow as the ardent young Doctor Yurii Zhivago will be Lucy Maunder as the alluring Lara, and Taneel Van Zyl in the role of his wife Tonia. Martin Crewes plays political radical Pasha Antipov, Bartholomew John is Viktor Komarovsky, and in the roles of Alexander and Anna are Peter Carroll and Trisha Noble.
Based on the famous novel by Boris Pasternak, DOCTOR ZHIVAGO hit the big screen in 1965 as an epic, drama romance by David Lean and created a star of Omar Sharif in the title role. The film remained popular for decades, and as of 2010 was the eighth highest grossing film of all time. Now this epic tale comes to the stage as a powerful and moving musical.
"After the famous film version what remains exciting about this iconic novel is its personal story of love, loss and dreams. The stage intensifies the personality of this story with the musical focusing on the people at its centre," John Frost said.
One of the most breathtaking love stories ever told, DOCTOR ZHIVAGO will be directed by Broadway's Des McAnuff (Jersey Boys, Tommy), with music composed by Lucy Simon, lyrics by Michael Korie and Amy Powers, and book by Michael Weller.
In the early 90's composer Lucy Simon was in Australia attending rehearsals for her hit musical, also a famous novel, The Secret Garden. As she watched Anthony Warlow engagingly portray the tortured Archie, she said to producer John Frost, "There is my Zhivago." Simon claims, "Anthony commands a stage, a rare leading man – he gets behind the character and with that unique voice enriches the story being told. I knew in my heart that here was the man to tell this love story."
With its lush, unforgettable melodies, lavish costumes and sets suspenseful story, and internationally renowned Anthony Warlow in the title role, this Premiere of DOCTOR ZHIVAGO introduces the world to a bold new musical in the grand tradition.