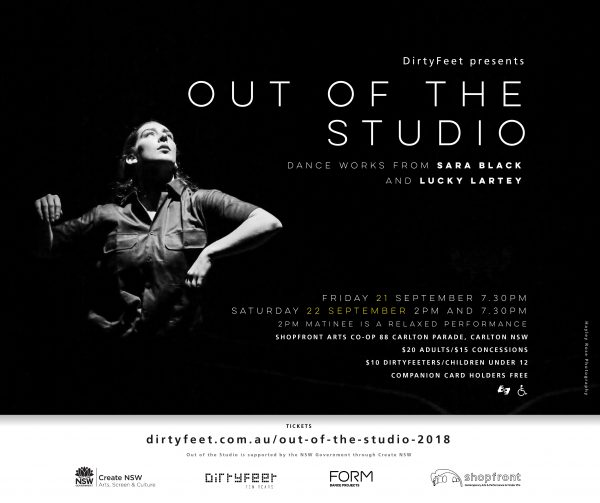 Sara Black & Lucky Lartey Announced as Choreographers
Fifth Season of Out of The Studio Program for Emerging Artists
DirtyFeet have announced Sara Black and Lucky Lartey as choreographers for the upcoming Out of the Studio season. They will present their new choreographic development by sharing to audiences in September.
Currently in the fifth year of the program, Out of the Studio is a creative development opportunity for emerging choreographers to develop new ideas and a platform to present a new work to audiences in a theatre context. It is a platform for artists to and dancers to get their work out in front of audiences.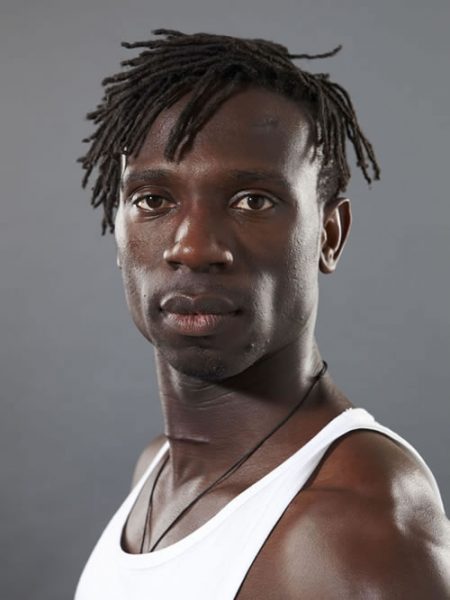 Director of DirtyFeet, Anthea Doropoulos, says "Sara and Lucky are interesting artists in themselves so I am excited to see what they will create. With a brilliant cast of talented Sydney dancers I think the audience will be in for some stellar performances and high quality new dance works."
Lucky Lartey's investigation titled Full Circle investigates the long standing relationship and history between hip hop culture and African oral traditions, exploring how hip hop culture has travelled full circle back to Africa.
Lucky says "I wanted to create a work that highlighted the tradition of storytelling in West Africa and how it was used to pass on and share knowledge. How this tradition was then adapted by hip hop culture as a tool for survival and a way of giving a voice to marginalised youth."
Helpmann Award winning artist, Sara Black, will be exploring our heart-beat, pulse, and life source in a closely interwoven partnership of sound and movement. "From three weeks after fertilisation to death we have a beat that sits within us, for most it is a constant presence, until it simply, stops."
"At a six-week scan I saw the fast, flickering movement of my babies heart beat for the first time. That evolving rhythm would be a relative constant for the rest of his life. His body was not yet fully formed, but his beat had begun. This has inspired my research for this project."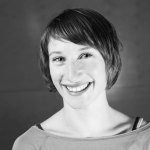 Lucky is a Sydney-based dancer and choreographer, originally from Ghana. Lucky's work draws on his traditional culture of rhythm and dance as well as his understanding of contemporary movement practices and looks for ways to negotiate what it means to draw on a rich history of traditional dance while innovating within a contemporary context. Lucky is a dancer and choreographer at the forefront of exploring intercultural dance practices as part of the contemporary dance space as well as contributing to an ongoing dialogue regarding intercultural dance practice and its meaning in Australia and internationally.
Sara has worked as a choreographer, performer, teacher and collaborator in Australia and internationally. Companies she has worked with include Punchdrunk (UK), Protein Dance (UK), The Australian Ballet, Lucy Guerin Inc, NYID and Chunky Move along with many local and international independent artists. In 2008 she was awarded a Helpmann Award for best performer in a dance/physical theatre piece and has since been nominated for two Green Room awards in the same category.
OUT OF THE STUDIO | DirtyFeet
Shopfront Arts Co-Op, 88 Carlton Pde, Carlton NSW
Friday 21st Sept @ 7:30pm
Saturday 22nd Septe @ 2pm & 7:30pm
Tickets: www.dirtyfeet.com.au/out-of-the-studio-2018