Applications for DirtyFeet's 2019 Choreographic Lab Now Open
Attention Emerging Choreographers
CLOSES 4th MARCH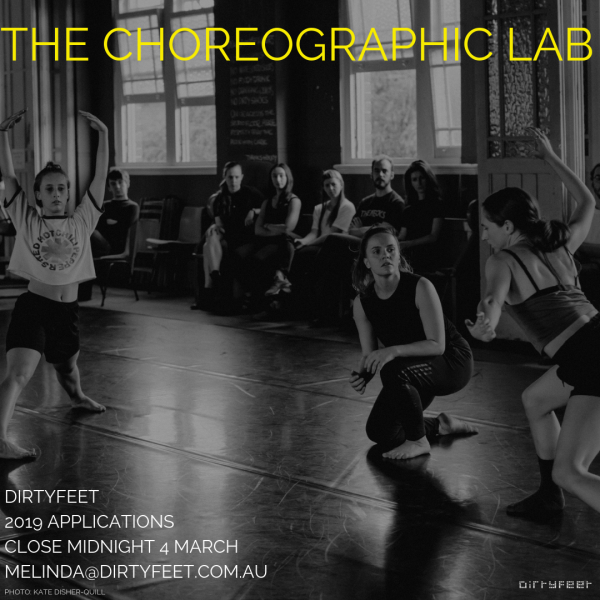 The Choreographic Lab provides a safe environment where early career professionals can come together to explore their creative practice. The Lab builds relationships between artists, facilitates the development of methodology and skills, and can be the first steps towards the creation of new work.
DirtyFeet provides:
2 weeks of studio space at ReadyMade Works, Ultimo NSW;
A NSW-based mentor to offer guidance;
Professional photographic documentation;
Basic film documentation of your showing;
A small studio sharing hosted by DirtyFeet on the final Friday of your Lab, 5 – 6pm;
Any number of dance artists via an expression of interest process:
Administration and management support.
Guidelines/selection criteria:
The program is aimed at early career choreographers (in their first 5 years of practice);
The project should be based in contemporary dance practices, and can include collaborations with other disciplines;
The project can be at any stage of development, but preference is given to research or the creation of new work;
The artists involved should be NSW-based artists, or artists who have a demonstrated practice in NSW.
Applications must be received by midnight Monday 4 March 2019. 


Please note there is only one round of submissions for the 2019 Choreographic Lab.