32 Bowden Street

, Alexandria,

New South Wales, Australia

2015
Village Nation
Online or Private Auditions only for 2021
Certificate IV in Dance   CUA40113
Diploma of Musical Theatre   CUA50213
Diploma of Dance (Elite Performance)   CUA50113
Certificate IV in Dance Teaching & Management   CUA40313
Village Nation College    Years 5-12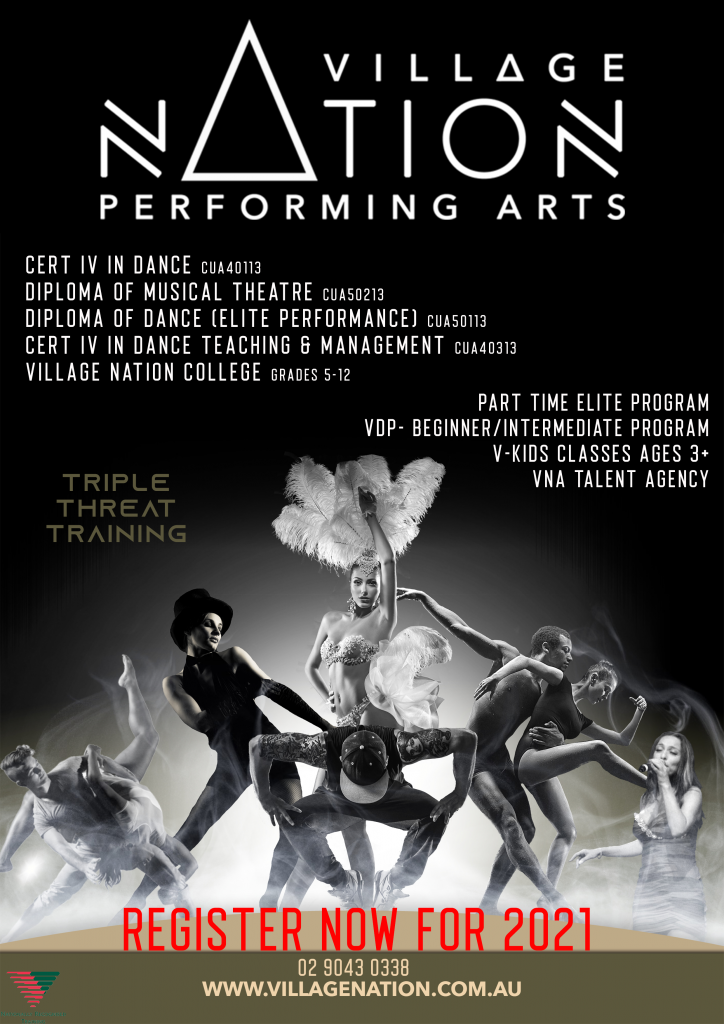 At Village Nation we provide our students with the best all rounded education to prepare them fully for a professional career in the performing arts industry. Our Full Time courses are the perfect training course for those looking to expand their skills in all styles of the performing arts.
Our aim is to provide the best performance training and experience, coupled with a strong focus on mental and spiritual wellbeing to ensure each student is adequately prepared for the rigours of the performing arts Industry.
Throughout the year you will work with Australia's most prestigious and experienced industry specialists, as well as the best up-and-coming choreographers. In addition to the best training available, through our widespread industry connections the students get frequent performance opportunities at large scale events Village Nation currently operates from a state-of-the-art studio in Alexandria, with all 7 studios custom-built with sprung Harlequin floors, mirrors, sound systems, and audio/visual equipment.
The campus is well serviced by public transport, with bus and train services, and Green Square station is only a short 8 min walk. Students are eligible to apply for Concession Opal Cards. Students in the full-time course may apply for Youth Allowance, Austudy and Abstudy.
SUBJECTS: Develop Dance Partnering Technique; Develop expertise in jazz dance technique; Develop expertise in street jazz technique; Develop expertise in dance performance technique; Develop expertise in ballet technique; Develop expertise in contemporary dance technique; Develop expertise in tap dance technique; Develop Self as Artist; Develop choreography skills; Create and perform dance pieces; Refine movement skills for performance; Rehearse technique for performance; Develop expertise in musical theatre; Apply movement and behavioural principles to physical conditioning; Contribute to the organisation of productions; Facilitate inclusion for people with a disabilities; Operation application software packages; Apply legal and ethical instructional skills; Provide first aid; Design and develop learning programs; Assess competence; Plan assessment activities and processes.
TEACHERS: Jacqui Howard, Briden Starr, Marko Panzic, Leah Howard , Stephen Tannos, Lauren Seymour, Robbie Kmetoni, Lauren Elton, Sophie Holloway, Matt Lee, James Barry, Blake John Wood, Sonja Middelbosch, Mitch Wynter, Ana Maria Belo, Jayde Westaby, Amy Campbell, Wayne Aspinal, Lisa Graham-Wilson, and many more.
"Words could never describe how much I enjoy dancing Full time at Village Nation. I look forward to a new day every morning, where I am allowed to be myself, share my love and passion for dance with my friends, and grow in many ways that I thought weren't possible. It is a safe place, a place where I can show up as me and be present. A space where you can just dance, open your heart and gain such special knowledge from the industries best. There is no competition, you are supported as an individual, and nurtured to be the best version of yourself. I am forever grateful for my time at Village Nation. My only regret is that I didn't join sooner."  – Soraya Zapata