New Zealand School of Dance
New Zealand School of Dance
PO Box 7146

, Wellington,

Wellington, New Zealand

6242
New Zealand School of Dance
New Zealand Diploma in Dance Performance (2 years)
New Zealand School of Dance Diploma in Dance Performance (1 additional year of study)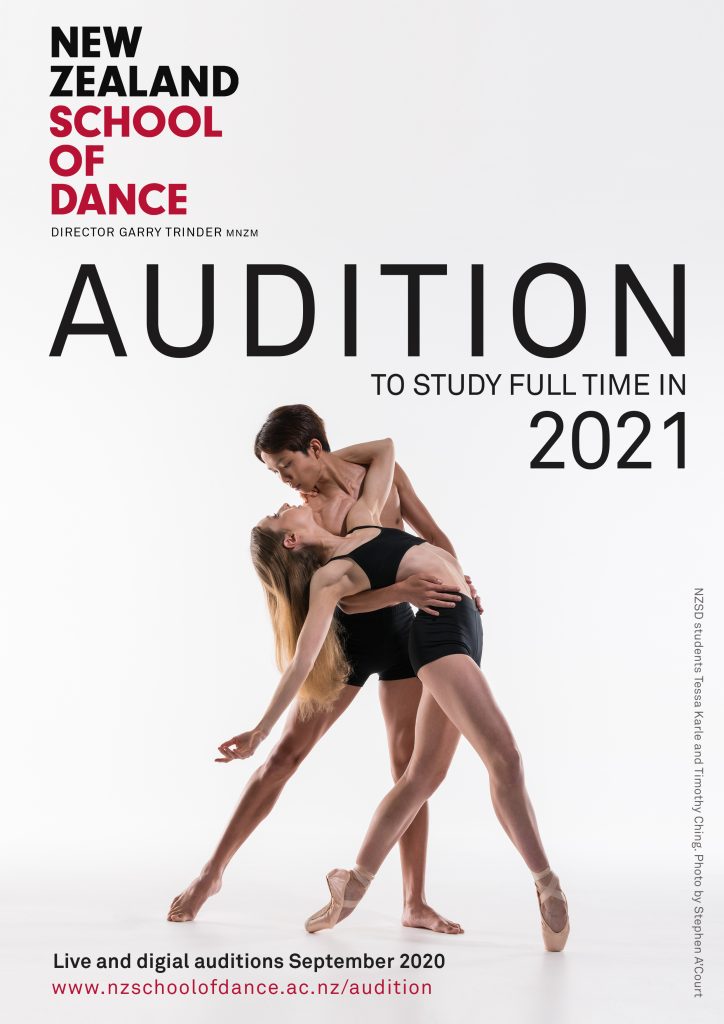 The full-time tertiary programmes offered by the New Zealand School of Dance (NZSD) are aimed at developing the qualities essential for professional dancers: strong technique, musicality, coordination and dedication to the art form. Students major in either classical ballet or contemporary dance, whilst maintaining a strong foundation in their minor discipline.
The NZSD has an outstanding faculty of dance teaching staff. Guest tutors from around the world and specialists in anatomy, dance history, sports medicine, nutrition, physiotherapy, strength and conditioning, yoga and Pilates round out the holistic training.
Facilities include nine fully equipped studios (including Harlequin sprung floors), a 160-seat theatre, design and costume workshops, lighting and AV studios, student common room, student computers and Wi-Fi and New Zealand's foremost performing arts library.
The NZSD is the Official School of the Royal New Zealand Ballet. Excellent secondment opportunities are available through the School's relationships with leading ballet and contemporary dance companies around the world.
NZSD has between 85 and 100 full-time students and also runs aspirational programmes for younger dancers. NZSD is funded by the Ministry of Education through the Tertiary Education Commission and is registered with the NZ Qualifications Authority (NZQA).
The classical programme consists of classical ballet technique, contemporary dance technique, pas de deux, classical variations, pointe and yoga. Separate men's classes focus on the physical strength of male dancing with particular emphasis on elevation, pirouettes and batterie.
The contemporary programme consists of contemporary dance technique, classical ballet technique, contemporary repertoire, partnering, yoga and improvisation.
Performance opportunities include Choreographic Season, Graduation Season and secondments with leading dance companies in New Zealand and abroad.
Teachers include: Garry Trinder (Director & Head of Classical Ballet), Paula Steeds-Huston (Head of Contemporary Dance), Christine Gunn, Qi Huan, Victoria Colombus, Daniel Jaber, Nadine Tyson, Turid Revfeim, Sarah Fitzsimons and Gina Andrews plus international guest teachers throughout the year
Pathways: An Online Q&A Event with School Director
Date: 19 Jul | 2 Aug
Watch it here: https://www.youtube.com/watch?v=hVxKhNDC2yU&feature=youtu.be
Dancers and their parents / guardians participated in this interactive webinar with School Director Garry Trinder, Head of Contemporary Paula Steeds-Huston and Head of Associates Christine Gunn. Find out what it takes to apply, audition and become a student of the New Zealand School of Dance 
Digital Auditions
Date: 18 September, 2020
Where: https://www.nzschoolofdance.ac.nz/audition
Applicants who are unable to travel to Wellington due to current COVID-19 travel restrictions are invited to join our Digital Audition
Wellington Auditions
Date: 26 September, 2020
Venue: Te Whaea: National Dance & Drama Centre
11 Hutchison Road, Newtown, Wellington 6021, New Zealand
"The training I received at the New Zealand School of Dance was world class, and to this day the institution continues to successfully remain abreast of international developments and trends within conservatoire dance education. I am deeply proud of my association with NZSD." Raewyn Hill – NZSD contemporary dance graduate, now Artistic Director, Co:3 Australia Contemporary Dance Company
"The New Zealand School of Dance is known for producing technically strong, versatile and creative dancers and choreographers. It's clear to see – by the vast number of graduates forging inspiring careers in New Zealand and internationally – that there is something very special about this place."  Loughlan Prior – NZSD classical ballet graduate, now Choreographer in Residence, Royal New Zealand Ballet