National College of Dance
National College of Dance
151 Young Road

, Lambton,

New South Wales, Australia

2299
National College of Dance
AUDITION: On application or via Video application

prior to November 30th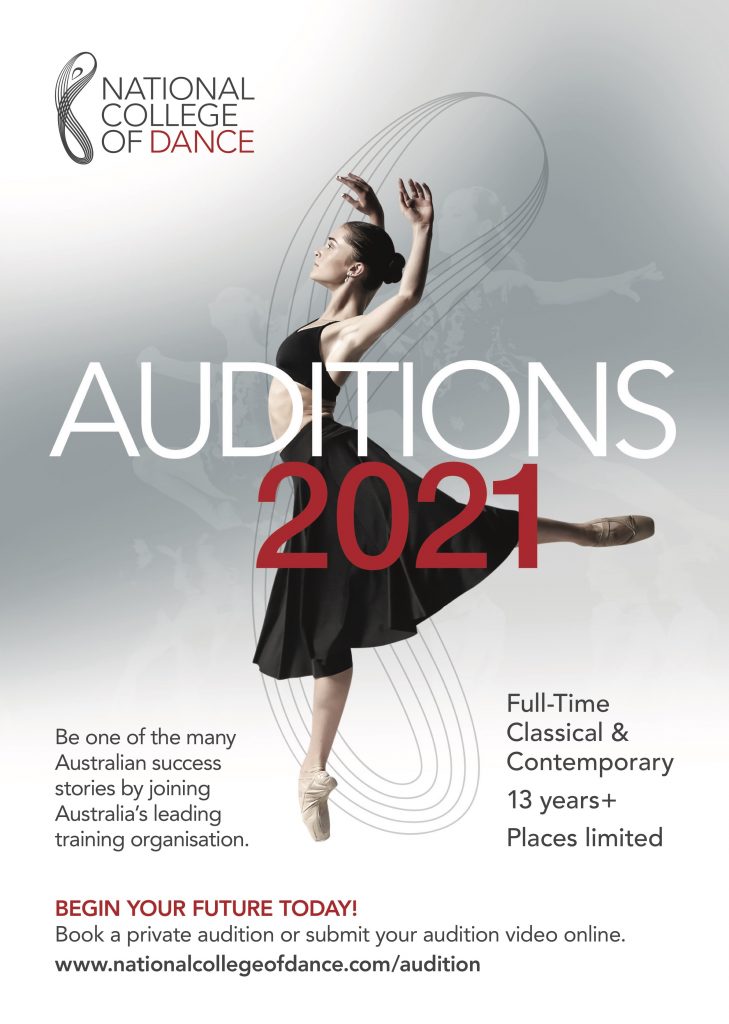 Certificate III in Dance
Certificate IV in Dance
Certificate IV in Dance Teaching and Management
Diploma of Dance (Elite Performance)
Certificate IV in Music Industry (Classical)
Diploma of Music Industry (Classical)
With outstanding results year after year, the National College of Dance (NCD) training programs have students who are performing in all genres all over the world.  Our courses are streamed to ensure you get the most advanced individualised training in the genre that you are most interested in being employed. Our training in all streams have an emphasis on classical and contemporary technique. NCD students are technical, versatile and highly sought after when completing their training. Our teachers and mentors all have the common goal of developing each dancer to a level capable to pursue their dreams. With over a decade of experience as a Registered Training Organisation, each student leaves with a nationally recognised qualification giving them future options after a successful career in dance.
NCD also offers extra support in preparing students for auditions through regular in-house audition classes, Career Planning sessions, Audition video and photo portfolios and many guest artists and workshops. We also have an Alumni forum with the opportunity to link and remain in contact with many NCD past students located all over the world. NCD is also located in one of Australia's most dynamic coastal towns. 
Career Outcomes for Dance Programs: Dance at a pre-professional level in preparation to become a professional dancer in a classical, contemporary or commercial based company.
Career Outcomes for Dance Teaching Programs: Individuals updating their skills and knowledge in dance teaching techniques who wish to work professionally at a teacher at a private institution within the dance industry in their chosen genre.
Career Outcomes for Music Industry Programs: Individuals updating their skills and knowledge in music techniques & performance who wish to work professionally within the music industry
Each stream has individualised course content specifically designed to provide students the highest level of training material available
Dance Programs: All streams complete units in Classical Ballet, Contemporary Dance, Choreography, Anatomy, Nutrition, Body Conditioning, Career Planning, Performance and Audition Preparation, Partnering, Repertoire and Private Coaching. Units selected in each of the Certificate and Diploma courses are a reflection of NCD's focus in preparing students for a professional career in dance for their chosen stream.
Dance Teaching Programs:   Monitor and manage a small business operation, plan and organise dance classes, apply safe dance teaching methods, provide first aid, contribute to organisation of productions, develop and design learning programs, explore relationship between music and dance, promote physical and emotional wellbeing of children, incorporation anatomy and nutriction principles, teach basic dance technique in chose genre, teach classical ballet dance technique.
Music Industry Programs: preparation and performance of music as a soloist, ensemble member, improvisation skills, sound production and the music business.
Course Teachers: Brett Morgan (Artisitic Director) Elise Frawley, Timothy Gordon, Jake Burden, Debbie Ellis Linnert, Emma Burden, Zoe Jones
"I have been a student with the National College of Dance for the past 8 years. It is the most welcoming friendly environment, all the kids are very talented and are like a second family. Brett Morgan and his team have helped me fulfil my aspirations of being a dancer. All the staff are extremely knowledgeable, nurturing and as teachers they not only help you grow as a dancer but also as people." ⏤ Grace Humphris (2019 Graduate, 2019 Prix De Lausanne entrant, 2018 Sydney Eisteddfod Scholarship finalist, Accepted on scholarship to Dutch Nationale Ballet School)