One of Australia's most successful Musicals of all time – HOT SHOE SHUFFLE – is coming back to the stage for a limited season to celebrate it's 21st Anniversary!
Before Tap Dogs and The Boy From Oz, Hot Shoe Shuffle brought audiences to their feet with hot, fast paced Tap dancing and big band hits of the 1940's. The brainchild of legendary Australian song and dance man David Atkins, Hot Shoe' was expertly co-choreographed by Atkins and Tap Dogs' Dein Perry. Hot Shoe Shuffle was the first Australian musical to succeed both at home and internationally and is one of the longest running multi-award winning musicals ever to be produced in Australia.
Some reviews from the original production include: 'Some of the most exhilarating dancing ever to shake a theatre floor' (Sun-Herald Melbourne) and 'Fantastic, flashy & infectious, a celebration of song & dance' (Evening Standard – London).
David Atkins is arguably one of Australia's dance and musical theatre legends. Having set the tone of excellence as a performer in his early career with stage and film roles in productions such as Cats, A Chorus Line, Grease and Squizzy Taylor, David quickly took the reigns as Choreographer, Director, and Producer of exceptional Australian stage shows such as Dancin' Man, Dynamite, Dancin' Dynamite and the award-winning Hot Shoe Shuffle which helped secure David's Order of Australia Medal in 2003 for services to the entertainment industry. David's exceptional skills led to roles artistically designing and producing spectacular live events such as the Sydney 2000 Olympic Games Opening and Closing Ceremonies, Vancouver 2010 Olympic Winter Games, Shanghai 2010 World Expo … and the list goes on.
We had a chance to chat to David at yesterday's Hot Shoe Shuffle Anniversary Tour launch at Sydney's Lyric Theatre where the new cast was unveiled:
DEXTER – David Atkins (as above)
APRIL – Jaz Flowers (Hairspray, Fame, Cabaret, The Voice)
SPRING – Bobby Fox (Riverdance, Mamma Mia, Leader of the Pack, We will Rock You, Jersey Boys)
The Tap Brothers – SLAP – Morgan Junor-Larwood, BUCK – Rob Mallett (WAAPA), WING – Mitchell Hicks, TIP – Alexander Kermond, TAP – Max Patterson, SLIDE – Mason Schaube

We asked David "What are your expectations for HSS this time around"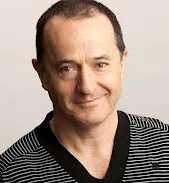 "Well to be honest, we really just want to celebrate the show again and so we are doing short seasons – it's only playing four and a bit weeks in each city – but we felt we couldn't just let the 21st anniversary of the show pass without marking it. We thought we might do a concert version and then we thought 'what the hell, let's just do it again'. I'm really glad we did because we're having a great time putting it back together!"
So you have a great rapport with all of your cast members?
"There's so much chemistry and the show's always been about the people on stage and their skills.  It's really to celebrate great dancers – great tap dancers – and great songs so its a classic quintessential song and dance show and I think it's been a while since that sort of show has been around"
What can you tell me about the new cast – what are you enjoying most about working with them.
"One of the things that's interesting is that because of what we did with Hot Shoe Shuffle and of what Dein (Perry) went on to do with Tap Dogs, the standard in tapping has just gone through the roof. I mean the standard in skill sets that we saw in the auditions was really amazing.  So I guess the bar has been lifted a lot – one of the great things about doing the auditions and seeing these guys was their level of dance and also the fact that there are genuinely more TRIPLE THREATS around. You know when we did the original casting, some of the guys had never sung a note or spoken a word on stage – they were dancers that we actually had to groom! Here it's a different story. These guys really have some serious 'chops' in terms of their voices and their acting skills. So I think that's all going to combine to give us a really powerhouse performance"
We highly recommend you book to see this exhilarating show and witness the genius that is David Atkins and Dein Perry in collaboration with some Australia's newest shining stars!
HOT SHOE SHUFFLE opens in May …  see all details below or at…
Brisbane from 4th May- BUY TICKETS NOW HERE

Sydney from 6th July – WAIT LIST TO BUY TICKETS UNTIL 25 FEBRUARY HERE

Melbourne from 10th August – WAIT LIST TO BUY TICKETS UNTIL 2 MARCH HERE
See you there!