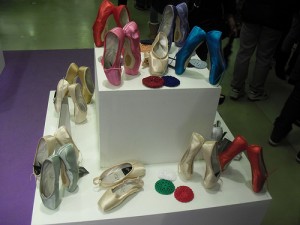 Toni Ambrogetti is from Newcastle, NSW and is currently living in Florence Italy completing a trainee year with Kaos Balleto Di Firenze. While she's there Toni is also studying a Bachelor in Communications. Last week in Florence there was the big annual dance festival "Danza In Fiera" held at the old fortress here in the centre of Florence as part of Carnivale. The festival brought the dance community from all over Italy together with exhibitions, classes, performances, auditions, special guests (such as one of this years guests Carla Fracci) and more. Here is Toni's experience at the festival.
Like Dorothy's travels from a black and white Kansas to the colourful enticing world of OZ, stepping from the street through the historical gates of the Fortress in Florence, Italy was intriguing and only a preview of what was to come.
Italy's annual dance festival Danza in Fiery, the biggest dance exhibition in the world, was held the last weekend of February and the middle Carnivale time. The festival combined 12 areas housing performances, competitions, free lessons, displays, and all the major brands of dance.
The festival exhibited all styles of dance with representatives from Teatro alla La Scala, Italy's most prestigious ballet company, to international ballroom dance stars with their glittering costumes and a symmetrical hemlines to hip-hop and whacking classes being presented by LA imports.
An innovative performance from emerging contemporary company MMCompany really demonstrated the level of contemporary dance being created in Italy today. An all male piece, starring last years favorite dancer from Italian performing arts reality show Amici, had the house packed and left the audience members wanting more and aspiring professionals heading straight to MMCompany's booth for more information on their pre professional coaching project.
Free lessons were held in all styles by the countries most desired teachers giving individuals a chance to show their stuff and learn from the best. The studio area also held daily auditions for contracts in TV programs, international touring, professional schools, and musical productions, which enticed thousands of young aspiring dancers to the festival over its 4 day duration.
The commercial floor housed booths from all major dance brands, discount dance wear, Pilates and dance fitness equipment and a interactive pro point booth with trained professionals showing captivated dancers and their parents what their feet could Pointe like if only they had the Italian designed Pro Point machine.
The festival succeeded its previous attendance totals and re inspired all it's visitors especially after the elating speech delivered by one of ballets greats Carla Fracci. The International Expression competition providing scholarships for major international schools such as Teatro Alla Scala, The Ailey School of New York, Boston Ballet and the Jacqueline Kennedy Onassis School at American Ballet Theatre, to name a few, make it a must attend for any budding young dancer.