The Scungebags present Maggot
New Zealand's Hottest Clowning Trio will Perform Award Winning Show at Sydney Fringe Festival
The Scungebags, who are quickly earning a reputation for presenting off the wall, gender bending clowning, are set to return to Sydney with their lightning-paced, rollicking show Maggot.
Off the back of a red hot season at Adelaide's queer, indie theatre hub, RAJOPOLIS, and directed by Australian cult clown director Kimberley Twiner (PO PO MO CO and The Travelling Sisters), New Zealand's most subversive female clown trio will take over the Old 505 Theatre in Newtown for three wild nights with their totally bonkers show.
The trio were awarded the Adelaide Tour Ready Award at the New Zealand Fringe Festival 2017 and this year won the Sydney Tour Ready Award and Outstanding Ensemble.
Get your skates on, hike your tutus up, and take in the deep stench of uber-zany, frantically random, counter-culture sketch.
Founder, Angela Fouhy, says "We like pushing boundaries from the familiar into the absurd and finding humour in the strangest corners. Sometimes things get really weird".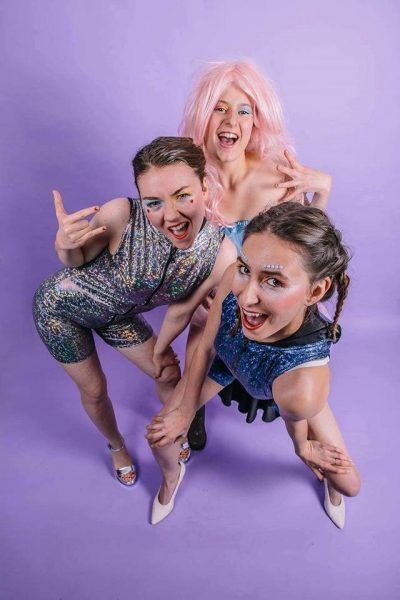 The Scungebags are Elle Wootton, Angela Fouhy and Freya Finch. Elle, Freya, and Angela share performance experience across film, stage, and share training credit with John Bolton, Philippe Gaulier and Giovanni Fusetti.
Reviewers have already picked up on the Spice Girl and Ab Fab-esque references in the show, and one compared it to John Waters exclaiming it "has more than a little bit of John Waters in its DNA" (Theatrescenes).
"Had me laughing for days" – Pantograph Punch
"Seriously Skilful" – The Advertiser ****1/2.
Maggot | The Scungebags
27 – 29 September, 8:30pm
Old 505 Theatre, 5 Eliza Street Newtown NSW 2042
Bookings: sydneyfringe.com/buy-tickets/