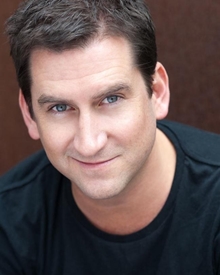 CHRIS HORSEY GETS RUTHLESS WITH NEW SHOW (PLUS INSIDE HIS CHICAGO AUDITION WITH FOSSE LEGEND ANN REINKING)
By Maryann Wright
Chris Horsey is a familiar and much loved face in the Australian musical theatre industry. A consummate performer in his own right with credits spanning from musical classics like West Side Story, Chicago and Guys and Dolls to specialised tap shows Hot Shoe Shuffle, Tap Dogs and The Tap Pack, his CV is long and varied. This is before any of his distinguished work as a choreographer comes into play. As a choreographer, Horsey has styled everything from corporate events to concerts and musicals. Next month alone he has three shows he has choreographed on Australian stages – Everybody Loves Lucy at The Hayes Theatre, Swing on This at the Adelaide Cabaret Festival, and what brings Chris to Dancelife to talk about today, Ruthless! The Musical at The Seymour Centre.
Ruthless! is a musical farce written by Marvin Laird and Joel Paley starring the who's who of Australian musical theatre – Katrina Retallick, Geraldine Turner, Meredith O'Reilly and Margi de Ferranti. Parodying the likes of Gypsy, All About Eve and The Women, this all-female musical produced by new Independent Theatre Company The Theatre Division is set to have audience members rollicking with laughter when it runs from June 19 to July 5 at The Seymour Centre in Sydney.
While on a break from rehearsals, Horsey spoke to me about the show and his career.
Ruthless! for you as choreographer is…?
Delicious. The characters are so evil yet we love them and there's so much to play with physically. Each character has their own form of ruthlessness, which makes for a colourful style palette. We're essentially playing opposites – outside they're so sweet but inside so evil.
Ruthless! parodies film classics All About Eve, The Bad Seed and The Women. Has this old-Hollywood style influenced your choreography?
The show itself is set in an ambiguous time period with both modern and historic references so similarly I've developed an ambiguous style. More than anything, the choreography is informed by character acting and the story. It isn't about 'dance steps' but rather about serving the script.
You are working with a stellar cast filled with Australian legends. What has that been like?
A gift. Experienced actors bring their wealth of experience. I've learned so much from Geraldine Turner. Last week we choreographed one of her big numbers in the show "I Hate Musicals" and she came into that rehearsal room with such strong ideas about the number. You have to be open as a choreographer and in that instance my job was to give her options and make sure it looks right while injecting some of my own flavour here and there.
What is "your flavour"?
I do a lot of comedy work and this musical is a farce so it's a happy marriage. Director Lisa Freshwater wanted me present for all the scenework of Ruthless! so that I could sprinkle vaudevillian physical humour everywhere.
Did you always want to be a choreographer?
I was always fascinated with the idea of sculpting humans and as early teen I was obsessed with choreography and the infinite possibility of movement. Back then I could only use my body as a way to choreograph and I just stuck at it and always remembered to keep learning.
If we rewind back a few years. Ann Reinking. What was it like working with royalty?
It was 1998 and I'd just finished a USA tour of Tap Dogs. I was in a hotel in Times Square when my agent called saying they had got me an audition for the musical Chicago the next day. I rushed out and watched the show on Broadway that night and came with all my luggage to the audition the next day to catch a flight home to Sydney straight after. The audition was a one-on-one session with Ann Reinking. I learned a lot of my communication style as a choreographer from her. It was the most amazing experience. She asked me what I could do on the floor. I showed her some break dance moves. Then she said 'Ok, when do that move again, try this'. She took what I was best at and worked with my own unique style. Auditions are usually a lot more formal but this was the most incredible thing. I got the job and what I wore to my audition even ended up being my costume in the show. I had already sent all my clothes home so for my audition I only had Diesel pleather pants, a black turtleneck skivvy, a wallet with chain clippings from the back to front pocket and blonde hair (that I hadn't dyed back yet). When we started rehearsals in Australia they'd made a replica of those clothes for my character and when I saw Chicago two years later in London there was a guy dressed exactly like that, too – wallet chain, blonde hair and all!
What does the next 10 years hold for you?
Continuing to perform in cameo roles in theatre, television and film. Most prominently, though, I'm creating own tap show. I've had interest from overseas producers for it, especially during a trip to LA and NYC in October last year with my wife Lucy Durack. Just like Tap Dogs and The Tap Pack both revitalised interest in tap and updated the genre for that generation, I want my show to do that for our generation.
What advice do you have for young, aspiring performers and choreographers?
Diversify. Be good at as many genres as you can. Do your homework. Be familiar with lots of shows and styles.
How can we get tickets to Ruthless! The Musical?
Call 02 9351 7940 or book online at http://www.seymourcentre.com/events/event/ruthless/

About Maryann Wright
Maryann Wright has a BA in Media and Communications, Performance Studies and Politics from The University of Sydney. She has worked as a print, online, radio and television journalist in newsrooms around the world including news.com.au, The Guardian, The Korea Herald, The Liverpool Leader, Girlfriend Magazine, The TODAY Show, MusicalTalk and Koori Radio.
As a performer, Maryann just finished workshopping new Australian musical Heart of a Dog in Canberra as part of The Street Theatre's HIVE program. She graduated Brent Street Studios in 2013 with a Diploma of Musical Theatre. While there she played Little Becky Two-Shoes in Urinetown, directed by Neil Gooding. Also in 2013, Maryann played Frieda in the critically acclaimed Australian premiere of CARRIE with Squabbalogic, and was a semi-finalist in the Rob Guest Endowment Award. She was previously part of the Young Actor's Ensemble at the Australian Theatre for Young People and has studied voice with Jeremy Powell for many years. Maryann was a grand finalist in the 2012 Australian Cabaret Showcase and part of the Top 20 of Short + Sweet Cabaret this year under the direction of Kate Gaul.
As a contributor to DanceLife Maryann brings her passion for writing and musicals together to educate, entertain and share the love of performance.
www.maryannwright.com.au.