DirtyFeet Announces Recipients of 2020 Choreographic Lab
Program for Aspiring Dance Creators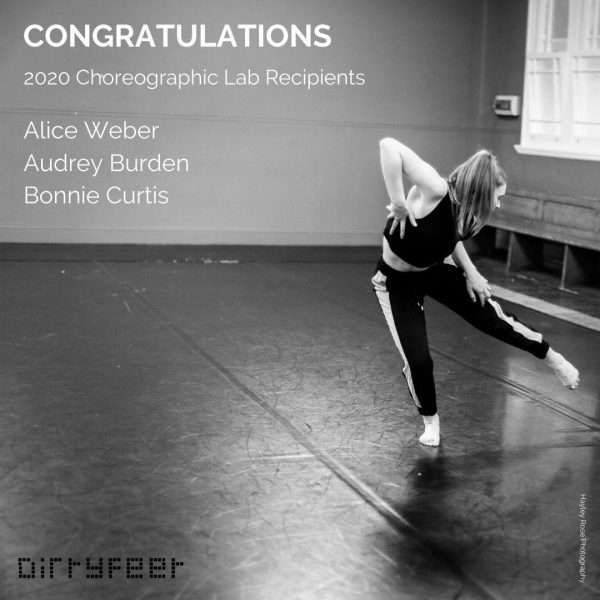 Congratulations to the three recipients of this year's Choreographic Lab scholarships with DirtyFeet: Alice Weber, Audrey Burden and Bonnie Curtis.
The Choreographic Lab provides a safe environment where emerging choreographers and dancers can come together to explore their creative practice. The Lab builds relationships between artists, facilitates the development of methodology and skills, and can be the first steps towards the creation of new work or continued research. It is aimed at early career choreographers (in their first 5 years of practice) in contemporary dance.
Each of the recipients receive: 2 weeks of studio space at ReadyMade Works; a NSW-based mentor to offer guidance; professional photographic documentation; basic film documentation of your showing; a small studio sharing hosted by DirtyFeet on the final Friday of the Lab; any number of dance artists to work with via an expression of interest process; and administration and management support.
Alice Weber's work will employ a choreographic practice that explores the desire and disembodiment in everyday contemporary regiments. Rather than remedying, the process follows the inconsistencies of being bodily to absurd ends, highlighting that even in the most rigid structures, desire is always overflowing. It will be open to artists with and without disability.
Audrey Burden states that her work will look at parenting. In the darkness of bedrooms around the globe, parents are performing a unique and intimate dance. This duet will be danced by an adult, informed by the baby in their arms, and will explore the movement qualities that comfort and lull our smallest humans to sleep. What is the choreography of comfort?
Bonnie Curtis will explore the physicality and experiences of the individual body. This choreographic lab will be used to research and dissect the limitations placed on our bodies by society and the individual. People of all genders, cultural backgrounds and diverse physical training methods are encouraged to apply. Open to artists with and without disability.
Opportunities for dancers to take part in these Choreographic Labs will be announced soon by DirtyFeet. Follow DirtyFeet on Facebook for updates.