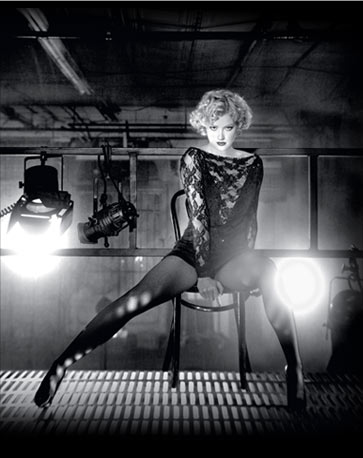 Written by Tonya Turner – Courier Mail
It's official. I have full blown Chicago fever. Don't be surprised if you see me walking around Brisbane holding my arms behind my back swaying my hands from left to right as I walk the "Chicago walk". What can I say? Chicago is a knock-out show. It opened last night at the Lyric Theatre ahead of preview shows which started Thursday.
Chicago is sexy, slick, sharp and sophisticated – everything and more than I expected. The casting is spot on with the incredibly fit Caroline O'Connor playing Velma to perfection (eat your heart out Catherine Zeta Jones) and Sharon Millerchip brilliant in the role of Roxie Hart. She had the crowd bent over with laughter playing the role with the perfect mix of humour and sassiness. And Damien Bermingham stole our hearts as Amos, aka Mr Cellophane. The ensemble is unbelievably sexy – men and women alike – dressed in revealing costumes and performing with all their heart and talent. They were electric, committed, wonderful.
I couldn't imagine a better cast on Broadway.
Gina Riley is a perfect choice for Mama Morton, although I suspect after a few more shows she'll get more comfortable in the role and loosen up on stage a little more (it's her first time on stage in 10 years). She's got the voice, the presence, the talent, all she needs now is the confidence that'll build with a few more runs. I've gotta say, I wasn't 100 per cent on her black suit costume – I thought they could have gone for something more daring and less corporate looking.
Craig McLachlan does a fine version of corrupt and slick lawyer Billy Flynn. I thought his best moment was in the ventriloquist act "We Both Reached for the Gun."
It was the perfect show to open the newly renovated Lyric Theatre which looked a million (or 34) bucks. I found the bar and toilet lines reasonable and the whole centre a lot more inviting, especially with the new bar and cafe downstairs. You can feel the change of energy in and around the place – it was buzzing.
As for the after-party, it was as good as they get. After the show invitees were asked to stick around to be led to the "secret location." Producer John Frost made a short and sweet speech before we were led out the back to the glammed up loading dock and backstage. A red carpet, large candelbras, red feathers, a massive chandelier, a very cool bar and a pianist playing show tunes set a stunning scene. The cast mingled with the guests, the champagne was flowing, the nibbles were delish – a fabulous night all round!