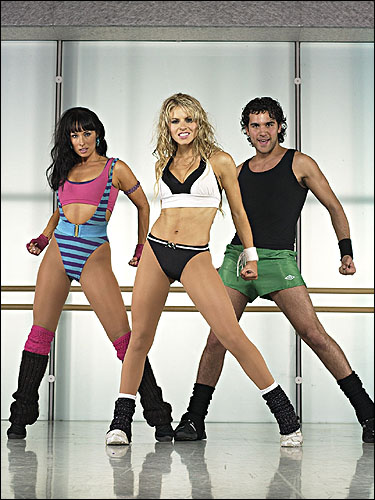 It's great to see Aussies doing so well overseas! Born and raised in Sydney, Berry is a former cheerleader with the Cronulla Sharks rugby league team. Now in the UK Deanne is killing it!
The single "Call on Me" by Eric Prydz was released in 2004 and is a looped-sample of the 1982/1987 song "Valerie" by Steve Winwood. The video, created and choreographed by Berry, features an aerobics class of 1980s style leotard-clad women and a sole man (played by Juan Pablo Di Pace), led by Berry as aerobics instructor, performing a series of sexually suggestive gym routines.
In June 2007, Deanne appeared on The Sun's page 3, posing topless for the first and only time in her career.
In 2006, Berry once again appeared alongside fellow "Call on Me" cast mate Juan Pablo Di Pace in the video for The Hughes Corporation remix of Irene Cara's song "What a Feeling".
Deanne has also appeared as choreographer and lead in some work out videos of the 'Pump it up' series from 'Ministry of Sound', e.g. 'The Ultimate Dance Workout' and 'Burn it. Lose it.', and in her own workout video with ClubLand called 'Work it Out', released around christmas 2008 as a high energy work out with some great tunes.
15 June 2009 sees Deanne joining Mr Motivator on GMTV for a month to help launch the summer bikini diet. "I'm very excited about working with Mr Motivator and I can't wait to bring some healthy sunshine to Britain." Deanne was quoted as saying.
CONGRATS DEANNE! We are proud of you!