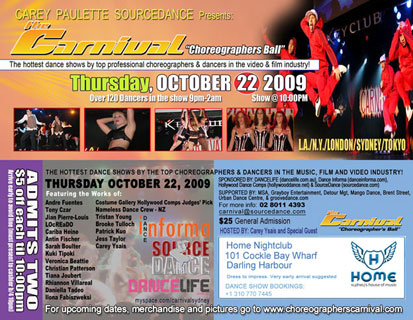 Direct from Los Angeles to Sydney…..Sydney CARNIVAL 3 will be staged on Thursday, October 22 at the HOME Night Club on Darling Harbour. This twice yearly event is brought to Sydney straight out of Hollywood where Carnival is the most prestigious monthly dance event held at the Key Club, directed and produced by the founder, Carey Ysais.
Sydney Carnival 3 promises to be a fabulous show with a huge amount of choreographers showcasing their work!
Tickets for the show are available at the door for those 18 years and older.
Doors open at 9:00pm.
Tickets are $25 each at the door.
Visit www.sourcedance.com.au to receive your discount coupon. $20 entry before 10am!