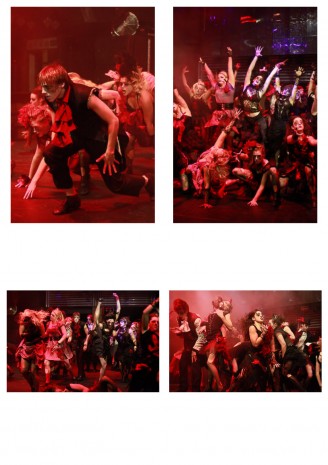 Dancers from every corner of the globe travel to Los Angeles to try and make it in the biz, and their first stop when they get there is CARNIVAL at the Key Club. CARNIVAL, the longest running dance show in Los Angeles has expanded to London, New York, and Sydney. The show spans genres with routines in every possible style of dance. Dance lovers and experts, spectators and showstoppers pack the club to be a part of this star-studded event!
The LA Based CARNIVAL is returning to SYDNEY on April 22 at the Home Night Club! You will not want to miss out on this incredible show.
Choreographers coming to Sydney direct from LA include Tony Czar, Britney's CIRCUS Assistant Choreographer & New Kids Assistant Choreographer and Kennis, who has worked with P Diddy, Ludacris, LL Cool J, Juelz Santana, BlackStreet, R Kelly, and Snoop Dogg. The show will be directed by Carnival owner – Carey Ysais.
Participants from the SourceDance Workshop Series will have the opportunity to be selected to perform in a piece by one of the LA Choreographers for this show. The Sydney SourceDance Workshops will be held at UDC Studios on Saturday, April 17. If you have not registered – you need to do so immediately as space is filling up in the workshops. Rehearsals will follow on April 19, 20 & 21.
You can go to this link to register on line: http://www.sourcedance.com/olrp/confirm.htm
In addtion to the choreography by the LA choreographers, some of Sydney's most noted choreographers and crews will have pieces in the show including Veronica Beattie, Ben Veitch, Stephen Tannos, Nufirm, Sheru, Deja Crew, Hollabak Crew, Jonathan Homsey, Melanie Hitchcock, Too Much Bun, Meeko, Daryl Morante, Alvin DC, Rhiannon, Spaghetti Sunrise, Cass Smith, Joel Rasmussen, Legs Ltd & Sisqo. In addition one of New Zealand's top crews will be coming over to perform – Triple 8 Funk and singer Chis Sobello will be singing her hit song, So Lonely.
The event is sponsored by: DanceLife, Dance Informa, Hollywood Dance Comps and SOURCEDANCE. Support by: MSA, Grayboy Ent., Mango Dance, Brent Street, Urban Dance Centre and groovedance.com.
For more information:
Contact
teri@sourcedance.com
(02) 8011 4393
Tickets for the show are available at the door and it you arrive by 9:00pm, ticket price is only $20.