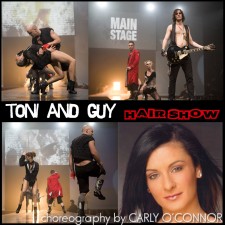 It's incredible how talented Australian's are. Not only have we produced amazing dancers that can be seen dancing all over the world we have amazing choreographers ranging in ages that are bringing unique pieces of work to the world stage. Clint caught up with Carly O'Connor who had just completed choreographing the Toni & Guy Show for Hair Expo 2008. Carly explains how she got the gig and the preparation that went into such a big show.
Q. You have just choreographed for the 2008 Hair Expo Awards Nights. Tell us how you got the gig?
Yes! I have been doing shows now for Toni & Guy for 2 years. I started by doing a small show for the Bondi Beach salon, the MD for Toni & Guy Australia saw my work and I've been directing and choreographing their shows since. This was our biggest show to date!
Q. How did you select the dancers that danced for you? What do you look for when casting dancers in a show?
I have worked with these dancers in the past, and was really happy with them and their professionalism. I knew this cast were perfect for this job. I look for a variety of looks amongst the cast, dance ability of course, and professionalism – being on time for all rehearsals etc.
Q. Explain to us the preparation process for choreographing such a big event.
The preparation starts 3 to 4 months prior to the event. Beginning with what direction the client wants the show to go in, with hair, what the envision the feel should be. I then put a collection of ideas and themes together to pitch to them at our next meeting. Once they have chosen which one they like, I set about choosing music and having it all edited with my sound technician, getting quotes for talent and in turn booking. Everything rolls from there, there is a lot of pre production work and meetings – it's a long process!
Q. There are many young dancers who want to be choreographers. What qualities does a choreographer have to have to be successful and continually working in the industry?
I think it's important to stay up to date with what's going on all over the world, in the entertainment world, and fashion and music. To know what edgy ideas you can have to make your show exciting and as new age as possible. To have a strong sense of your own choreography style is important. To be easy to work with for clients and talent. To be confident and calm is a major plus!
Q. What do you think it is about your choreography that captivates the audience? What are your attributes as a chorographer?
I think my choreography is quite stylised. It's important that your style can be recognised as your own. I try to keep my choreography moving with what's out there at the moment. I always keep my eyes open for new ways to move. Then play around with how to incorporate that into my style and make it my own.
Q. Where do you see yourself in 10 years time?
Who knows! I'm really enjoying this transition to the directing/choreographing side of the industry from being a dancer. So hopefully I'll be at the level of the people that I work for and admire now.
For more information on Carly please contact her representation Grayboy on 02 8399 3366 or agency@grayboyentertainment.com.
DanceLife is always looking out for great interview and article ideas. If you are doing something fantastic please email us info@dancelife.com.au. We would love to hear from you!