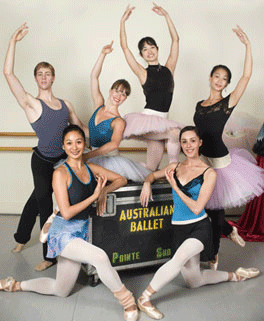 The Australian Ballet's Artistic Director David McAllister has announced the nominees for the 2010 Telstra Ballet Dancer Award.
Amy Harris (Ballarat, Victoria), Ty King-Wall (Waihi, New Zealand), Miwako Kubota (Okinawa, Japan), Natasha Kusen (Sydney, NSW), Dana Stephensen (Brisbane, QLD) and Vivienne Wong (Sydney, NSW) are set to embark on an extraordinary journey.
Now in its eighth year, the Telstra Ballet Dancer Award is the highest accolade of its kind available to an Australian ballet dancer.
By the end of 2010, one of these talented individuals will join the ranks of previous winners who have gone on to lead The Australian Ballet.
Conceived in 2003 to support the aspirations of The Australian Ballet's dancers, the Telstra Ballet Dancer Award encourages excellence across all aspects of ballet.
The winner is awarded a $20,000 cash prize, provided by Telstra. The ever-popular People's Choice Award, worth $5,000 cash, will go to the dancer who receives the most public votes in 2010.
This year's nominees were nominated by The Australian Ballet's artistic staff, previous winners of the award and Principal Artists.
Each will be judged on the artistic quality of their work over the course of a full performance year. They will also be judged on perceived potential, personal development and their support of other dancers.
Last year, in a clean sweep, Newcastle darling Stephanie Williams won the coveted award and the People's Choice Award in front of a capacity crowd at the Sydney Opera House. (Amber Scott, currently a Senior Artist with The Australian Ballet, is the only other person to win both Awards, doing so in 2004).
To vote for your favourite dancer, simply SMS their first name to 0439 BALLET (0439 225 538) or visit www.beinvolved.com.au
The search is officially on for Australia's favourite ballet dancer!