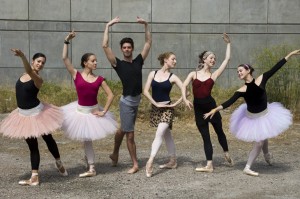 Each year The Australian Ballet's 68 dancers are given hundreds of opportunities to shine as the company performs across the country, creates new ballets, and restages the great classics. And each year the Telstra Ballet Dancer Award singles out six young dancers whose passion, dedication, artistic excellence and that elusive something special mark them as rising stars to watch.
The 2009 nominees were announced on Wednesday 18 February in the studios of The Australian Ballet. Andrew Killian, recently promoted to the demanding rank of senior artist, has the distinction of being this year's only male nominee amongst five ballerinas. He will compete for the generous $20,000 prize provided by Telstra alongside Leanne Stojmenov, also just promoted to senior artist; Juliet Burnett, who made her mark in the title role of 2008's Semele; Laura Tong, a favourite of Bodytorque choreographers; second-time nominee Robyn Hendricks; and Stephanie Williams, who has stepped out in a variety of principal roles in her two short years with the company.
The winner of both the Telstra Ballet Dancer Award and the $5,000 People's Choice Award will be announced this September.
Visit beinvolved.com.au to read more about the nominees, watch clips of them dancing, and vote in the People's Choice Award for your chance to win a fantastic ballet prize.
Last year, Western Australia's Kevin Jackson took out the coveted award. A record-breaking 72,000 votes were cast last year, with Victorian Amy Harris receiving the highest number.