Dubai Parks & Resorts' First Australian Auditions
The production team for the all-new Dubai Parks and Resorts – due to open in October 2016 – held auditions in Melbourne and Sydney in February in their search for outstanding performers of all styles. DanceLife went along to the last day of the Sydney auditions and spoke to Abhishek Mathur, Director of Entertainment at Dubai Parks and Resorts.


The brand-new, huge entertainment and holiday precinct being debuted later this year will feature 4 theme parks and 2 world class hotels: LegoLand and LegoLand Water Park, Bollywood Park, Motiongate Park, Riverside Park and Lapita Hotel. The entertainment will be one of the main draw cards to this new destination and the team are holding auditions worldwide in casting Singers, Dancers, Actors, Character Actors, Bollywood Singers and Dancers, Bollywood Actors, Stilt Performers, Specialty Acts, Musicians, Trampoline/Hip Hop Dancers and much more!
Dubai Parks and Resorts (DPR) are looking at hiring approximately 400 performers for the entire resort including singers, actors, street artists acrobats, dancers and even Bollywood-styled performers. They are holding auditions at several locations around the world to find the best performers.

Abhishek Mathur explained why they have come to Australia, "On our team we have some very experienced individuals who have worked for other theme parks – like Universal Studios Singapore, Orlando Disney and Norwegian Cruise Lines – and they have always included Sydney and Melbourne on their audition lists for both the incredible talent here and its proximity to Dubai."
"The shows for the resort are all pretty much developed already so we know exactly what we are looking for casting. We have a big Bollywood-themed Broadway style musical which is a 2.5 hr show; a stunt show; street entertainment; shows that are based on movie themes and characters … like Madagascar and How to Train Your Dragon … And, of course we will have costumed-characters in the parks as street entertainment. The entertainment will be taking place everywhere across the parks and resort – for instance, in the Bollywood shows we've got shows that will feature on top of trains and various other outdoor stages," said Abhishek Mathur.
Successful applicants will be offered contracts for a 13-month duration and the package covers all accommodation and living expenses including food, medical insurance, international airfares, and travel to and from venues.
"It's a very comfortable package for the successful artists, plus there are no taxes in Dubai which is another incentive. And Dubai is a very safe city – one of the big destinations on the planet presently. I think there are many factors that will draw people to us.  The living conditions are like any other first world country so in that sense it is a comfortable life."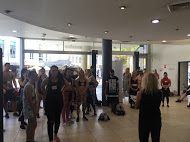 DPR Auditions Team spent two days in both Melbourne and Sydney in February watching hundreds of hopeful performers throughout the audition process; and they have been more than impressed with the Australian applicants.
"Both cities have brought out some incredible talent of all genres … singers, dancers, musicians, acrobats, aerialists, even hulu hoopers! You have some very creative people. Overall, the quality and standard of performers is very high which is obviously proven by the fact that many Australians are chosen by the big cruise lines and theme parks around the world. And they're all so young!," said Mathur. "It's incredible to see how much passion there is for the Performing Arts in this country."
"We've been to cities in the Middle East, obviously Dubai, also Bombay, Delhi, Calcutta, and were off to London next … but I think we are going to find a lot of our talent from here. And Aussies are so nice! I think that has a lot to do with the environment here; it's a friendly and open society and I think that really speaks to who Australians are with their spirit of adventure. And that resonates well with us."
Mathur is keen to emphasise that this new resort represents ongoing work for Australian artists. "I think what is great is that these new parks are permanent venues. It's not a one-off gig or concert series … there are multiple venues that will continue to require performing artists and I hope it's a destination that Australian performers and visitors will want to come to year after year."
"Once we open in October our strategy will be to see how the performers fare over time. They will get tired and need to go home once fatigue sets in, and there will be people who drop out for various reasons, and that will mean we will need to replenish our cast. So, we will either come back out to Australia to hold further auditions or at least put the call out for people to submit their applications online."

"Right now, we are new and unknown. Hopefully in a year there is enough buzz for performers to want to be with us and stay. The auditions have been great so far and our team is working well together to put on a fabulous experience," concluded Mathur.
To follow the developments and auditions at Dubai Parks and Resorts visit www.dprauditions.com & www.dubaiparksandresorts.com


www.facebook.com/DubaiParksandResorts/