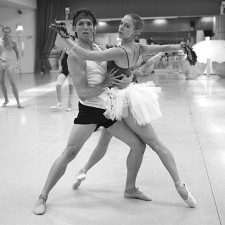 You may have seen Leanne Stojmenov and Robert Curran from the Australian Ballet perform a pas de deux from Stanton Welch's Divergence a few weeks ago on SYTYCD but check out this rehearsal picture from their upcoming season of Firebird. When did ballet dancers get so hot? 😉
Graeme Murphy will present a brand-new interpretation of the iconic Firebird, using the inimitable Stravinsky score as his base.It is Murphy's first outing for The Australian Ballet since 2002's smash hit Swan Lake. Against the colourful backdrop of a village fair Petrouchka follows the foibles and flirtations of a group of puppets who come to life. After a forty-year absence, it returns to The Australian Ballet's stages in its original form.
Completing the bill is Les Sylphides, a Romantic masterpiece replete with ethereal beauty, luminescent sprites and flowing white tutus.
In Firebird and other legends a magical evening of sylphs, living dolls and mystical birds awaits.
It still sounds like you're going to watch a ballet but I can see that it will be 'Oh so much more!'. Check out www.australianballet.com.au for more details.