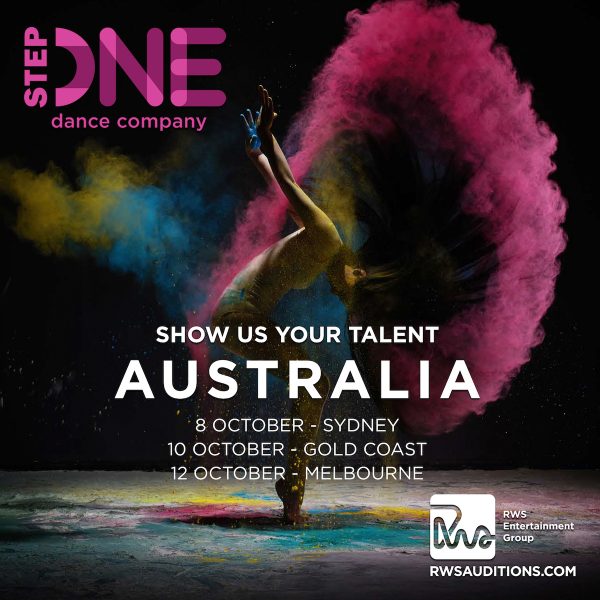 OPEN CALL AUDITIONS

STEP ONE DANCE COMPANY

* Sydney * Gold Coast * Melbourne *

RWS Entertainment Group is Seeking Male & Female Dancers for touring companies aboard international cruise ships performing as Guest Entertainers in their brand-new program called STEP ONE DANCE COMPANY. Rehearsals in New York.

SYDNEY | Oct 8




GOLD COAST | Oct 10




MELBOURNE | Oct 12
NYC-based RWS Entertainment Group is seeking the industry's top dance talent for a brand-new entertainment experience, STEP ONE DANCE COMPANY.  This will feature a creative team including Creative Director John Charron and Contributing Choreographers Ron Todorowski, Brooke Wendle and Melanie Lewis Yribar. 
STEP ONE DANCE COMPANY will include several touring dance companies at sea. Each contract will be around 16 weeks in length. The dance company will merge groundbreaking movement from renowned choreographers with cutting-edge interactive video.
Company members will enjoy 'Guest Entertainer' status onboard, complete with private cabinand full access to the ship when not performing, free from any duties or previous restrictions related to a 'Crew Member' status, creating the first-of-its-kind experience for dancers at sea!
Casting will be ongoing as several companies will be formed throughout 2019.
Rehearsals in NYC. Worldwide itineraries. 
Pay Rate: $1,000/week onboard. Travel and lodging provided.
SEEKING:
MALE & FEMALE DANCERS: 18 or older. Any ethnicity. Toned, athletic physiques. Dynamic, elite dancers with great attention to detail who are technically trained in contemporary, ballet, modern, hip hop, and jazz styles. Must have a strong stage presence and be able to tell a story through dance with soloist performance quality. Must be able to partner and lift.
OPEN CALLS for Male and Female Dancers will be held in the following locations:
SYDNEY – Monday, 8th October 2018
Village Nation Performing Arts
32 Bowden Street, Alexandra NSW 2015
GOLD COAST – Wednesday, 10th October 2018
Sheridan's Studio 1
18/359 Southport Nerang Road, Ashmore QLD 4214
MELBOURNE – Friday, 12th October 2018
Jason Coleman Ministry of Dance Studios
Level 1, 64 Sutton Street, North Melbourne, VIC 3051
Sign-in for all locations will begin at 10am. Be prepared to stay until 5pm at the latest if called back.
PREPARATION:
Be prepared to learn several dance combinations. Bring form-fitting dance attire.
Women: bring flats (ballet or jazz), heels, and sneakers. Men: bring a flat shoe (ballet or jazz) and sneakers. All bring headshot and resume stapled together.