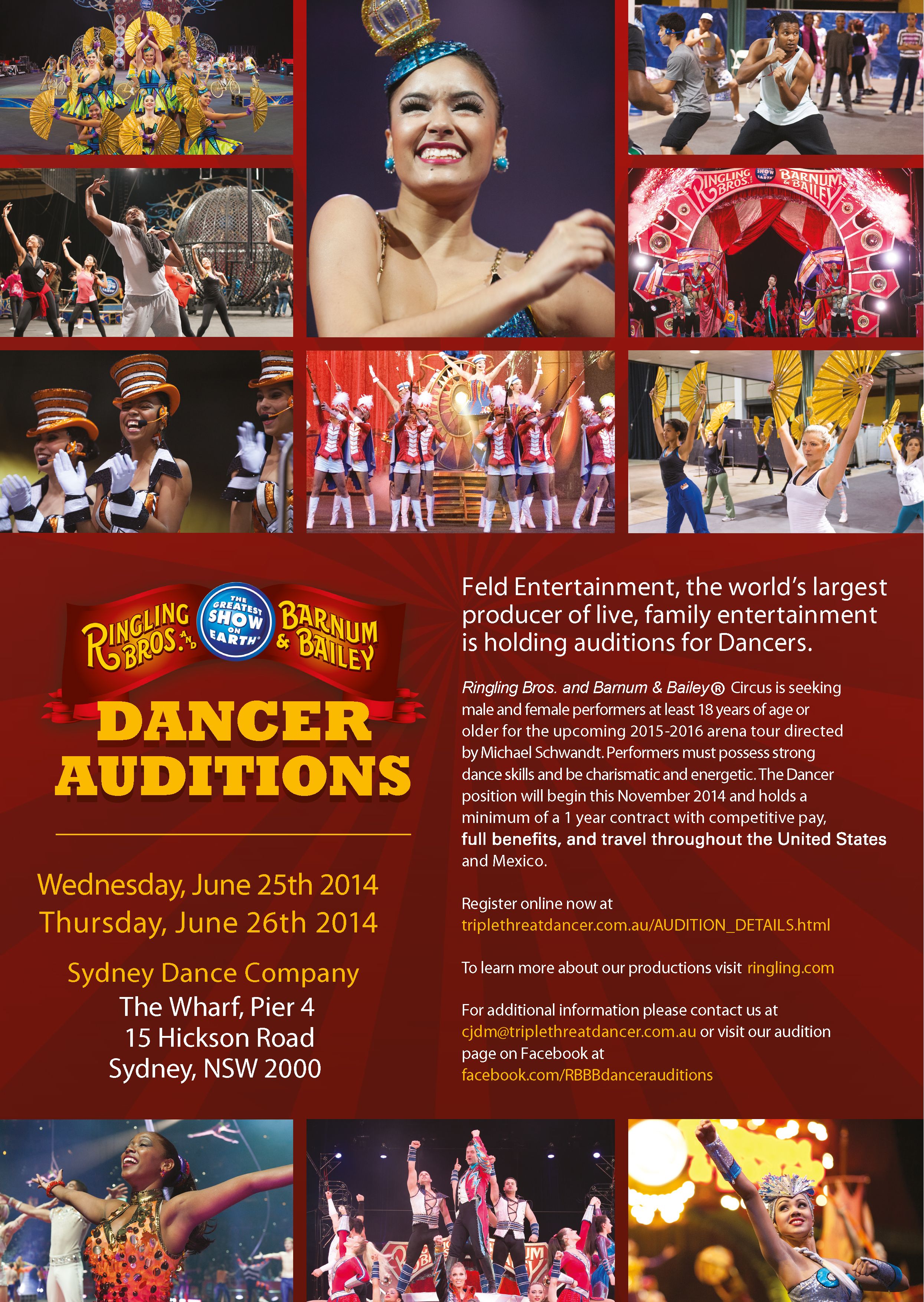 We are primarily looking for strong dancers – male & female – for a 12 month contract touring all across the USA with the RED TOUR of the Ringling Bros. and Barnum & Bailey Circus. However if you ALSO have Circus Arts, Aerial or other Skills, please indicate on your online registration form. Once you have Registered Online, we will send you a confirmation email with your Audition Time and further details. If you need to change your Audition Time it MUST be requested via email prior to Friday 13th June.
WEDNESDAY 25TH JUNE, 2014
Registrations & submission of CV's, Headshots from 9.15am for Group 'A' of dancers.
Groups 'B' & 'C' please arrive 45 mins before your audition time to register your arrival & submit CV & Headshot
10.00 – GROUP 'A' – DANCERS
1PM – GROUP 'B' – DANCERS
4PM – GROUP 'C' – DANCERS
What to bring: Dance Shoes (for Commercial Jazz style) AND Heels please for the Ladies! Please wear appropriate dance attire – no baggy clothing please – well groomed!
We need ONE good HEADSHOT and your updated CV submitted in hard copy on the day of your audition. Your headshot should be stapled back-to-back with your CV please.
THURSDAY 26TH JUNE, 2014
CALL BACKS & INTERVIEWS, COSTUME MEASUREMENTS ETC.
If you are successful in audition, you will be invited to a call back and interview session. We will be taking your measurements at this time also.
Call backs and interviews will take place between 10am & 5pm
TO REGISTER FOR THESE AUDITIONS, CLICK HERE
Any queries, please email cjdm@triplethreatdancer.com.au