Bonnie Lythgoe wants annual Panto in Sydney | Auditions in December | Discount Tickets through DanceLife!
Bonnie Lythgoe Productions, Australia's biggest Family Musical Panto producer is proud to announce the Australian premiere launch of Cinderella – The Greatest Family Musical Panto – at the State Theatre in Sydney in July 2016.
Following on from her success as judge and producer on season one of So You Think You Can Dance USA and a judge for three seasons on So You Think You Can Dance Australia, Bonnie Lythgoe will once again be showcasing her producing and directing skills Down Under.
Executive Producer and Director, Bonnie Lythgoe said: "I've been in dance and theatre all my life and I'm so thrilled to be able to combine both of these once more when I bring Cinderella – The Greatest Family Musical Panto to Australia. It will prove to be bigger and more spectacular than ever! The production will have its premiere in Sydney, a town close to my heart from my time on SYTYCDA."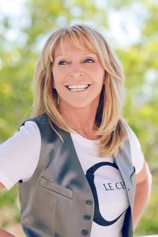 "I do want to make it an annual tradition," she says. "We have had incredible success and reviews from Snow White and Aladdin and his Wondrous Lamp. I want families to be able to come here to the State Theatre every year to see a production that kids and their grandparents and parents can all enjoy together."
Cinderella is an updated contemporary version of the classic fairytale, in the style of a traditional British family pantomime. A panto is known for its interactive style and humour that appeals to everyone from ages 3–103! Panto takes the familiar fairytale, injects music from contemporary artists such as One Direction, Bruno Mars, Katy Perry and Taylor Swift, as well as injecting current local newsworthy references into the script.
With a career spanning more than 30 years, Bonnie is an entertainment industry success story. She has worked with numerous well known entertainers throughout her career including Sir Cliff Richard, Ariana Grande, Neil Patrick Harris, Stevie Wonder, Michael Jackson, Diana Ross, Olivia Newton-John, Kylie Minogue, Ricky Martin, The Bee Gees, Black Eyed Peas, Pink and many more.
PLUS Look for the special dance offer when booking your tickets! … Get $10 off the ticket price by entering the Promo Code: 'danceworld' when purchasing tickets online through Ticketmaster. Offer expires 19th December.
Bonnie Lythgoe Productions is giving trained dancers a once in a lifetime opportunity to audition for their big break, with an online/open audition.
You will be sharing the stage with the best in the business, both international and Australian-based artists, and you will be seen by an array of world-class professionals.
"Our aim is to open up the auditions for every technical dancer and provide an open and fair platform for them to showcase their talents by making the audition process accessible, stress-free and relevant to the 21st century dancer."
This audition is open to anyone aged over 18, either professional or pre-professional full-timers.
฀
Chosen dancers will receive a contract for the Cinderella panto at the State Theatre next winter in June and July 2016.
And now, Bonnie Lythgoe is offering you your chance to work with her and get to perform in Cinderella at the beautiful and iconic 'palace of dreams' – the State Theatre in Sydney!
Auditions open on the 14th of November and run until the 14th of December.


All audition information can be found on www.danceeditorial.com


Follow @bonnielythgoepantos and @dance.editorial on Instagram to enter
On Sale Now at Ticketmaster
Look for the Special Dance Offer when booking!
Use Promo Code:
danceworld

to get $10 off
Offer expires 19th December