Central Dance Company 2019 Production
AUDITION
Sunday 14th April @ NAISDA Dance College, Kariong NSW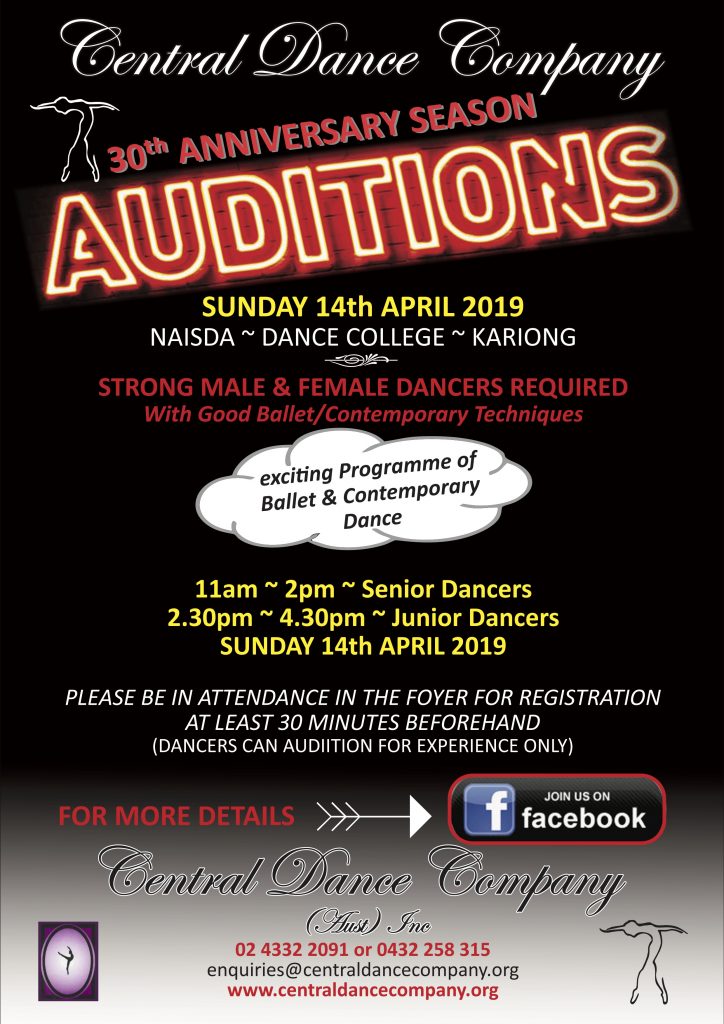 Central Dance Company, based on the NSW Central Coast, is celebrating its 30th anniversary season in 2019. Each year Central Dance Company selects a cast of talented dancers to participate as part of the company over six months in creating a performance show of contemporary and classical dance works to be presented in September.
▪️Seeking strong Classical/Contemporary Male & Female dancers
▪️Strong Pointe work required for those auditioning for the 'Swan Lake' ballet pieces
▪️Juniors need to be at RAD Grade 4 (or comparable) standard and upwards
▪️Dancers may Audition for 'experience only'
▪️Dancers can choose to participate in either/both the Classical and Contemporary Audition classes
▪️Fees: $20 for one Audition class / $30 for both Classical and Contemporary Audition classes
▪️Rehearsals will be held mostly on Sundays
The Company's 30th Anniversary Season will be at The Art House, Wyong,  for 2 performances only on Saturday 28th September 2019. The programme will include Swan Lake Act 2 and the big waltz from Act 1, plus some Contemporary and neo-classical  works.
There will also be a featured pas de deux from special professional Guest Artists from the Victorian State Ballet.
All relevant information is available on the Company's social media pages as well on the Audition day.
Being a member of Central Dance Company provides A MAGICAL – NON COMPETITIVE  – AND UNFORGETTABLE  –  JOURNEY IN A DANCE COMPANY ENVIRONMENT –  and a chance to experience working alongside and sharing the Stage with professionals.
TO REGISTER FOR AUDITION:
T: 02 4332 2091 / 0432 258 315
E: enquiries@centraldancecompany.org

@Central-Dance-Company-Australia