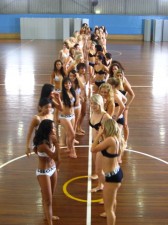 Hey There!
As you may or may not know I choreograph the BONDS commercials that have been airing lately – Kaleidoscope /Mash and now the new instalment Paddy Cake!
For this blog I wanted to give you an insight to the real world of casting and filming TVC's and I wanted to take this time to congratulate all of you who turned up to this casting in your underwear and gave it a go!
From my point of view there is nothing more cringe worthy than dancing in your underwear unless you're a stripper! But dancing in your underwear in front of a video camera and me could not be a definite high point in your career, but nevertheless you all came and you all danced and clapped your way through a great audition.
I must admit to you now that you really think you know who you are going to pick from the brief automatically, but the best part of that is the doubt I feel that I may see someone new and fresh and different, you never know YOU may be a new face to me or any casting agent and we may see a side of you on a different day that we have never seen before so it is always refreshing to have your great attitude in the room and I hope my good sense of fun on this casting especially!
During your castings I am emailing my notes and suggestions and conference calling James Brown (awesome, ginger, white guy) the director in the UK one day, South Africa the next.
So from 182 girls we chose 50, which was crazy hard!!!! I hated it every little minute of it and it made knowing you all on a personal level a little harder for the most part but a little easier, cause when we had to throw out 5 girls due to the "Henson" controversy it was a quick pick situation. So that was that, we had our 50 new bonds girls now it was time for some hardcore body slapping?? (With our hands!)
Bonds come up with such great and innovative concepts and I love the creative control they give me over most of it, it allows me to have fun with no boundaries and create the best possible vibe for the clip, I love it!!!
Our first rehearsal day was awesome!!! The girls were pumped and so focused,
As was I!! And we were in this little hall in Argyle place at 8am Saturday Morning?? Who calls that sort of rehearsal time for me on a Saturday??? HARD BEAUTY!!!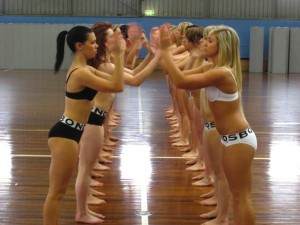 We arrived, the director/producer/50 girls and the sound guy who was all in his glory at 8am looking at lovely girls dancing in their underwear!! As weird as it may sound after a while you really forget they are dancing in their underwear and it really becomes about the energy and each girl nailing the rhythms and having fun! With that said the girls did a WIKID! Job getting all my thoughts out of my head and into their hands!
Second day of rehearsals was truly banging!!! We were at Brent Street , it was freezing cold and the girls got into their underwear and out into the lane way…CRAZY!!! Yes the public lane way that runs thru to the backlot. I started choreographing patterns and black and white messes that looked good in my head but average on my bodies, so it was back to the drawing board for James and me.
Coming back for our third and final rehearsal we were in a really great place James and I were so vibed about it the rehearsal was CRAZY GOOD! The girls worked hard and nailed everything I came up with and we truly brought it! It was like a paddy cake battle zone!!!! It was fierce!!
6am rolled around and out at Penrith basketball courts we arrived…too early too cold and just not right too put lovelies in their underwear. BUT we did!
The shots on the split looked fantastic right from the word go! James had nailed the lighting both natural and unnatural and the hall reflected some great visuals on its shiny floor. The girls lined it up and looked fabulous in their underwear and blacks and whites and gave great paddy cake that was tight and sounded like a drum line in the space it was a vibe! We all started off with great energy and slowly as the legs turned red slowly did our energy drop, but the girls still pounded out their claps and did their best to keep their energy levels paced up.
There is always stuffing around to get the right shot on a film set so there is a lot of waiting around, as glamorous as you think it would be its not really at all and after you have spoken to every single person on the whole set before lunch you really have nothing to talk about!!! Hehe!! Except how good the catering was, as it always is on film sets or are we just starving dancers!
After lunch with belly's full to the brim and feeling like NOT dancing in their underwear the girls power on for another 6 hours keeping in mind they have already powered through 6 hours of clapping and one of those being a bum examination?? Yes a bum examination to see if you have the bum for a close up! It's better to be straight with you rather than beat around the bush or bum should I say!! Yes, that's what we were doing for that menial hour of looking at the screen we were actually looking at your bum on the screen, hey it is an underwear commercial what do you expect?
As we drew to an end we had girls with blistering thighs, red hands, blood vessels rising to the surface and all in all total war wounds but all for a great cause and the perk of being a bonds girl!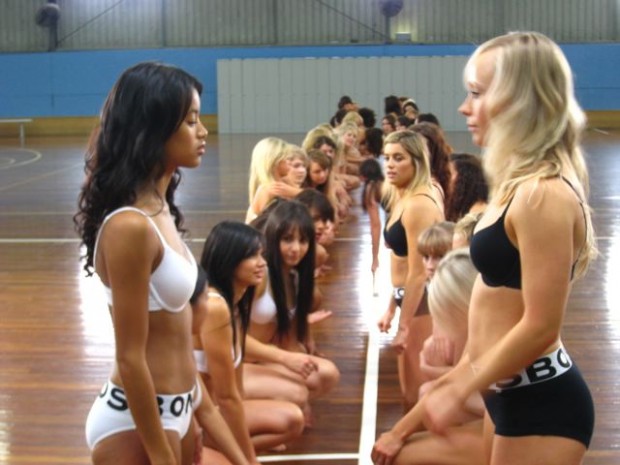 Thank you to all the girls on the gig, you all truly rocked it big time and I loved working with each and every one of you! Watch the PADDY CAKE Commercial below!
Till next blog,
Big Love
Rose (Leah Howard)
xxx
PHOTOS are thanks to ROBERT BRAY
[http://www.youtube.com/watch?v=wPzK9-Av31s]