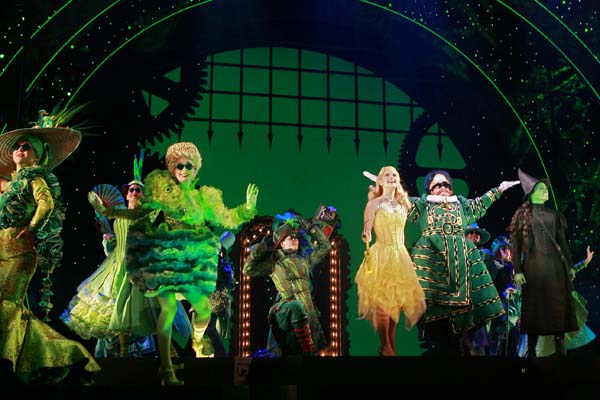 DanceLife was lucky enough to be in the audience for the WICKED Special that will be screening on the W Channel on Saturday @ 7.30pm on Foxtel.
What can I say… Melbourne is sure in for a surprise. If you are a fan of the musical already you have nothing to worry about. The aussies will certainly deliver in this show. Some of you may know of Amanda Harrison (Elphaba) and Lucy Durack (Galinda/Glinda). For those who don't, you soon will. These girls were made for playing the lead roles in Wicked. I don't want to give too much away… just watch the special! You will then understand where I'm coming from.
Rob Guest and Maggie Kilpatrick are the veterans of the cast. Two strong individuals that engage and entertain from the moment they hit the stage. Rob Guest still has an amazing voice. I look forward to seeing Maggie in the production. She will bring a new dimension to the character of Madame Morrible.
Now to the boys of the group… Rob Mills and Anthony Callea who first came into our homes through our television screens on Australian Idol. One, born for the theatre the other born to sing at the pub. Even though Rob Mills needs to be the centre of attention 99% of the time he has definitely grown since Idol. Last night he proved that he has working hard on his voice and has learnt some discipline over the years. I'm intersted to see what he will bring to the character of Fiyero. Anthony Callea is a true professional. His voice is amazing, his presence is strong and his overall attitude is genuine and grateful. If only his role as Boq was a larger one with more songs. I wouldn't be surprised if Anthony becomes the Boq of all time.
If you are not in Melbourne then plan a long weekend and head to Melbourne to see the show. Wicked will have it's opening night on Saturday 12 July. Go to www.ticketek.com.au to get your tickets!
BE WATCHING THE W CHANNEL ON SATURDAY AT 7.30PM FOR YOUR CHANCE TO WIN A WICKED EXPERIENCE.