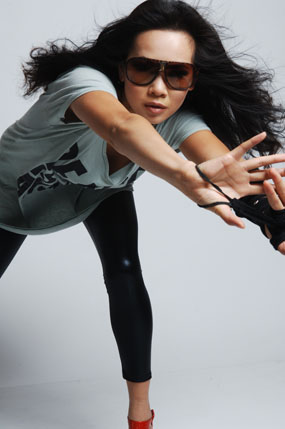 Amy Pow started performing at the age of two years old and is graduate of The McDonald College Performing Arts School as a scholarship student. At age 17 years old she was the youngest hip hop teacher employed at Sydney Dance Company.
Travelling overseas on a regular basis she has trained at Broadway Dance Centre (New York, USA), Alvin Ailey (New York, USA) and The Edge (Los Angeles, USA) and has assisted Shawnette Heard (Janet Jackson dancer/choreographer) Bethany 'Peanut' Strong (Janet Jackson) and Roger Lee (Justin Timberlake, Britney Spears) at the International Dancers Workshops. Performances include Disneyland (Los Angeles), Sydney Olympics Opening Ceremony (tap) and Closing, MTV, Channel V, Nickelodeon Kid's Choice Awards. She has performed with Guy Sebastian at the 2004 Aria Music Awards as well as touring with him around Australia. She has also been featured in video clips for Shakaya, Jimmy Barnes and Jade MacRae.
DanceLife caught up with Amy to chat about teaching, rejection, studying and choreographing!
1. There are so many young and talented choreographers emerging in Australia. You were only 17 when you started teaching at Sydney Dance Company. What advice do you have for young choreographers, especially those who are teaching?
Teaching can be really rewarding. Age is nothing but a number. I never thought I would teach nor get as much out of it as I did. The best teachers are the ones who give their all in every class. Be there because they want to be there, because they want to share and pass on some knowledge. Want their students to improve and get something more out of it then just 'steps'. I've been approached by students after class telling me that in that hour and half their life was changed. Whether it was a comment I made during class or the fact that they connected to the movement I realised at that moment that teaching is a privilege. I've had good teachers, okay teachers, bad teachers that have scared me and great teachers that have changed my life! Strive and be a great teacher!
2. You have taken classes all over the world by world renowned choreographers. Tell us about the choreographer that you will never forget and why.
Shawnette Heard. She danced for Janet Jackson in the Velvet Rope era, choreographed and directed some of Janet's shows and later tours. I only spent a brief amount of time around her but she had a strong presence. Sometimes people impact your life for a moment or for a lifetime but it's just as important to you. I guess her encouragement was something I needed at the time that gave me the confidence and reassurance that I was heading in the right direction.
3. Many Australian dancers are planning on going overseas to test the waters and see what opportunities are available outside of Australia. If you could give them one piece of advice on the move, what would it be?
Be prepared to start all over again!
4. As a dancer you deal with rejection. Has there ever been a time in your mind you thought, why do I continue to do this to myself? Why don't I just get a day job? If so how did you overcome this feeling and move on to become a stronger person?
I never really had those thoughts. I've been doing this since I was 2 yrs old and when I was 17 yrs old I realized I could make my passion into a career. Rejection isn't easy but the love of it gets you up another day to face it all again. If you're not driven and there's no passion, fun or love left then there's no point continuing and if that happened then I would probably change fields.
5. What would you say are the 5 key qualities that every professional, working dancer shares and why?
Passion, the fire, the love of it, the reason why you want to do it everyday. Determination, to bounce back from rejection. Discipline, to practice your craft. Being Humble, forever a student, continually growing. Inner Child, never forgetting that it should be fun!
6. When children that love dance are making the decision to go to high school they toss up whether to go to a performing arts school or not. Tell us about your experience at McDonald College?
I got a scholarship and decided to go there for my last two years of high school. It was the best and the hardest years of my school life. I loved hearing the bands playing over the courtyard at lunch time and the drama queens in class making up ridiculous stories on why their homework wasn't done! I loved being around creative people everyday but it also meant that it was very competitive and teachers obviously had their favourites. I guess I got to experience an insight into the industry. But I kept working hard on my craft and by the time i graduated I had got what I wanted out of the whole experience. I seem to get more out of hard experiences and the good experiences help with confidence.
7. As a choreographer where do you get your inspiration from?
I like to take different classes , various styles to broaden my spectrum and challenge myself. Watch live performances when I can and when I can't go on the net! I like just going to random everyday places and just sit and observe people and nature. Take it all in, let it settle then put some music on and freestyle. Be inspired by life. But it goes beyond that, I could see a photograph or an object and be inspired by its vibe. Is that a little crazy?!
8. You are working on your own material. Tell us a little bit about this.
Yeah I've been doing music for a while now but I've finally found my own sound, my producer and just having fun creating. I guess if I'm true to myself then the result can only be good!