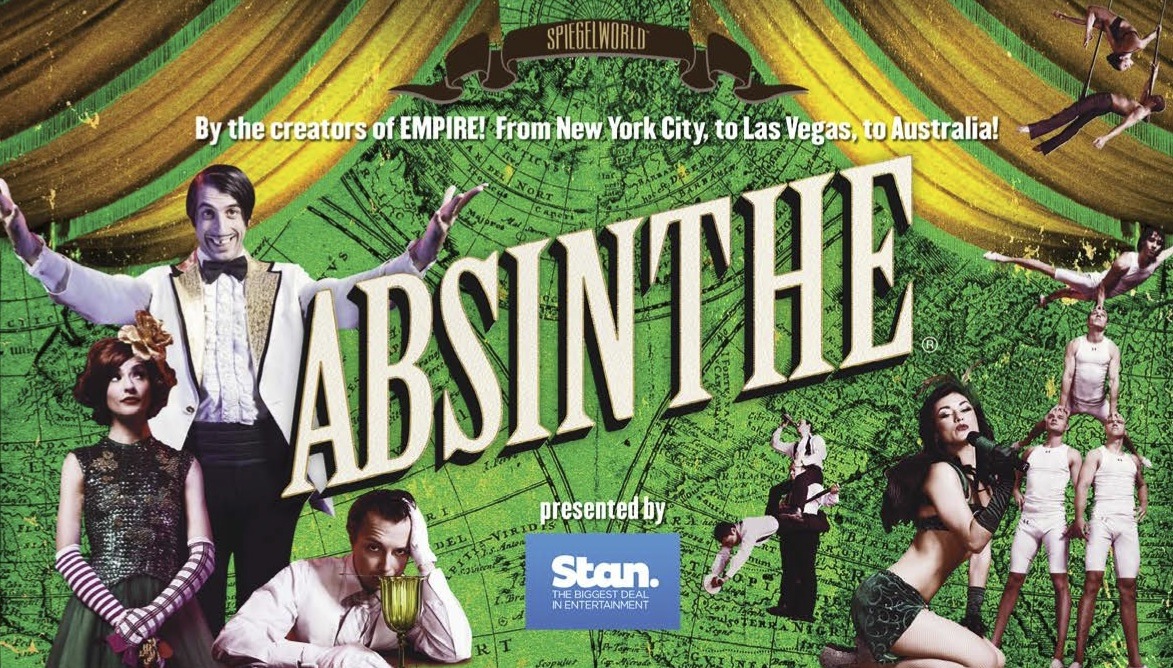 GAZILLIONAIRE DRUNK WITH EXCITEMENT TO BRING EXTREME
RIDICULOUSNESS & NAUGHTY SHENANIGANS TO AUSTRALIA
NATIONAL TOUR OF ABSINTHE OPENS NEXT WEEK!
"If you only see one show in your entire life, make it ABSINTHE"
Huffington Post, USA
Hit Las Vegas show ABSINTHE by Spiegelworld opens its Australian tour next week on February 17 2015!
Spiegelworld has arrived in Australia and the team is busy preparing for the opening of its smash-hit Las Vegas show ABSINTHE, a follow-up to its record-breaking show EMPIRE which was seen by an incredible 200,000 Australians.
The Australian tour of ABSINTHE, presented by Stan, will open in Newcastle on February 17 2015 under the beautiful spiegeltent at Wheeler Place, followed by seasons in Melbourne, Brisbane, Perth and Sydney with other dates to be announced.
Inspired by the absinthe-drenched cabarets of late 19th century Europe, ABSINTHE is an adult-themed cocktail of circus, comedy, burlesque and vaudeville for a 21st century audience. In Las Vegas, the show has been playing to sold-out audiences at the world's most famous casino, Caesars Palace, since 2011 and celebrates its fourth anniversary in April. Celebrities regularly flock to join the audience and have recently included Britney Spears, James Franco, Neil Patrick Harris and Olivia Newton-John.
ABSINTHE is hosted by the filthy rich and just plain filthy Gazillionaire and his loyal assistant Penny Pibbets who have become two of the most acclaimed and subversive comedy forces in Las Vegas in recent years. Intoxicating songs are performed live by the seductive sylph, The Green Fairy.
Australian audiences at ABSINTHE will be treated to three new international acts, specially hand-picked for this national tour, which will join the show's line-up of jaw-dropping acts which have been wowing Las Vegas crowds.
Angie Sylvia from Sweden will perform a dangerous Fire Burlesque act that has never before been performed in ABSINTHE. She will also present the famous Balloon Strip, handed down to her by New York burlesque legend, Julie Atlas Muz, a star of the original production of ABSINTHE. Last year Angie was a featured artist in Spiegelworld's acclaimed production Vegas Nocturne at The Cosmopolitan of Las Vegas.
The Birdcage Ladies, Laura von Bongard and Luka Clayburn from Germany, have created a breathtakingly sexy aerial hoop duet which will have its world premiere in Australia. Andrei Sizonenka and Aliasandra Yurkavets from Belarus will astound audiences with their heart-stopping Human Foosball routine. It is believed to be the first time a double Horizontal Bar act has been performed on the intimate spiegeltent stage where the audience are just inches away from the action.
Other acts include Oleksandr Volohdn (Ukraine) building an impossibly high chair mountain; The Lost Souls (Ukraine) with their stunning acrobatic Banquine Act; the sensuous Jacob Oberman and Maika Isogawa (USA) on the Duo Straps; Michael Nowosadko and Zbigniew Sobierakski (Poland) displaying extraordinary grace and strength with their Hand Balance; and The Frat Pack (USA) on the daring High Wire.
Spiegelword's Impresario Ross Mollison said, "ABSINTHE is a rare opportunity to see these kinds of extreme circus acts performed in an intimate environment by some of the world's most sexy and talented artists. The audience is so close to the action in the spiegeltent you can see the muscles rippling and hear the heavy breaths."
Nine Live CEO Geoff Jones said, "After experiencing the thrill of ABSINTHE in Las Vegas we knew we had to tour this hilarious and exciting show in Australia. I'm sure that local audiences are going to absolutely love ABSINTHE!"
Spiegelworld began creating its immersive live entertainment experiences in New York City in 2006. At the core of this seductive carnival world is a unique venue – a century-old Belgian spiegeltent beautifully crafted from teak, stained glass, mirrors and luxurious velvet. The tiny circular stage at the centre of the intimate spiegeltent has informed the creation of all of Spiegelworld's ground-breaking live shows.
For information on the ABSINTHE Australian tour please visit www.absintheaustralia.com
ABSINTHE by Spiegelworld:
– Newcastle: February 17 – March 1 2015, Wheeler Place
– Melbourne: From March 21 2015, Rooftop at Crown Melbourne
– Brisbane: From June 2 2015, King George Square
– Perth: From July 11 2015, Venue TBC
– Sydney: From September 15 2015, Venue TBC
Performance Schedule:
– Tuesday / Wednesday – 8:00pm
– Thursday / Friday / Saturday – 7:30pm and 9:30pm
– Sunday – 5:00pm & 7:00pm
Tickets:
– Tuesday/Wednesday/Thursday: $54.00-$134.00**
– Friday/Saturday/Sunday: $64.00- $154.00**
*VIP Ringside Tickets are available and include a seat in the front 2 rows, priority entry and a complimentary beverage.
**transaction fees and charges may apply
Bookings: www.ticketek.com.au Group Bookings are available to groups of 6 or more. Contact the Ticketek Group Bookings Department on 1300 364 001 or email groupbookings@ticketek.com.au
Show duration: 90 minutes with no interval

ABSINTHE is recommended for ages 15 and above. The performance features some nudity and strong language. For more information about Spiegelworld please visit www.spiegelworld.com