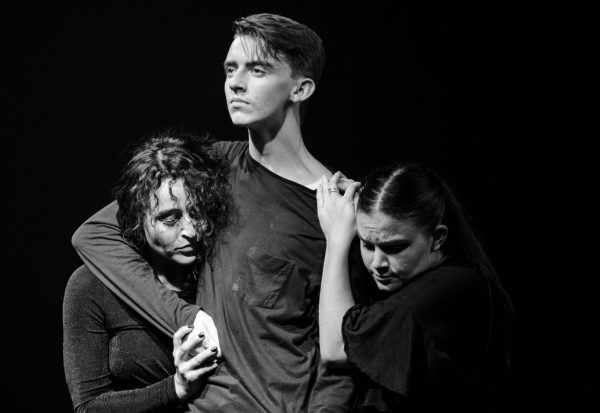 Vibe Creative's New Work Explores Mental Health Stigmas
Brisbane | Sept 27 – 29
Brisbane-based dance collective Vibe Creative will premiere their latest show Tidal Wave in Moorooka, Brisbane, for five shows only.
Inspired by the stigmas, taboos, and social injustices of mental illness, Tidal Wave explores the struggles faced by those dealing with anxiety, depression and other mental disorders and examines the social, economic and psychological conditions that impact sufferers, their friends and family.
Known for baring her soul, producer and choreographer Vanessa Friscia creates multimedia works that challenge our thinking and provoke change through dialogue. "The aim of Vibe Creative is to throw light on social issues that most of us would rather ignore, and what better way to do it than through dance," says Vanessa who established the Collective in 2016 following her own battle with depression and anxiety.
"My shows are usually borne out of me thinking: 'We don't talk about this enough', and when it comes to mental illness, shaming those who are already suffering is counterproductive on every level. My hope with this show is to give those dealing with depression a voice. I wanted to create a show that confronts these things but does so in a way that people can relate to, still laugh and have fun," she says.
Vanessa hopes her latest work will give those dealing with depression a voice. "I wanted to create a show that confronts these things but does it in a way that people can relate to, still laugh and have fun," said Vanessa who graduated from Raw Dance when she was 21. Dancing she claims, helped her handle her anxiety and boost her confidence – something she wants to share with her students.
In this, her fourth production, Vanessa and her cast leverage the traditions of hip hop and contemporary dance to explore themes that are seldom addressed in street culture and by combining movement with poetry – much of it inspired by cast members – the four men and seven women of the Collective deliver a deeply personal, innovative and exciting dance experience that is both uplifting and heart wrenching.
Audience members familiar with Vanessa's work will recognise the bold signature dance moves which alternate with lyrical passages that convey intimate emotions and interactions. Those who are new to hip hop and contemporary street styles will find the visual spectacle and emotional resonance of her work captivating.
Featured performers in Tidal Wave are: Kyle Wood, Bianca Coxeter, Saraphina Irvin, Kaitlin Palmer and Zach Horvat have trained in Contemporary while Sophie Kennedy, Jasmine Vanderbyl, Andrew Kanofski, Jaydan Brame, and Milena Lydzbinski founded their skills in Hip Hop. Individually and collectively, they bring years of experience and a remarkable level of professionalism to the production. Rounding out the full cast are: Abby Grant, Adelaide Lowis, Eva Locantro, Charlize Stimson, William Hodgins, Adam Charters, Chelsea Apps and Vanessa Friscia herself.
Tidal Wave will no doubt make you smile, and may move you to tears, but most importantly, it will leave you feeling empowered – confident that no matter what life throws at you – there is hope.
TIDAL WAVE by Vibe Creative
September 27 – 29
Raw Dance Studios, 46 evesham St, Moorooka, Brisbane
Bookings: www.vibecreativebrisbane.com