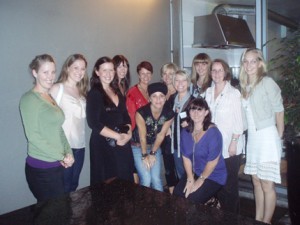 DanceLife hosted our first 'A Night With' event last night with the inspirational Kelley Abbey. Although the rain did stop us from enjoying the courtyard it didn't stop the conversation flowing well into the evening. We had a great mixture of dance teachers from different backgrounds and areas of Sydney, one even travelled from Newcastle…
Now that's commitment. We spoke about a number of topics including choreography, agents, advice for students, improving the systems at your dance studio as well as Kelley talking about her experiences on Happy Feet. SYTYCD, the musicals she has worked on and what she has planned for the future.
Make sure you keep your eyes on the newsletter for our next 'A Night With…' event. Thank you to everyone who came and I hope you all enjoyed the night as much as Kelley and I did.