"This lavish show, featuring the company's trademark spectacular acrobatics and stunning visuals, is not all that different from the theatrical extravaganzas of
today's arena concerts." New York Post
The Estate of Michael Jackson and Cirque du Soleil have announced that Michael Jackson THE IMMORTAL World Tour will arrive in Australia in September this year.
This once–‐in–‐a–‐lifetime electrifying production uses Cirque du Soleil creativity to give fans worldwide a unique view into the spirit, passion and heart of the artistic genius who forever transformed global pop culture. Written and directed by Jamie King, the show includes 49 international dancers, musicians and acrobats. Since its world premiere in Montreal in October 2011, the enormously successful arena production has thrilled audiences across North America, Europe, and Asia.
The four week Australian Tour will include strictly limited engagements at Perth Arena (18-22 September), Sydney Allphones Arena (26-29 September), Brisbane Entertainment Centre (2-6 October), Melbourne's Rod Laver Arena (9-13 October) and Adelaide Entertainment Centre (15-17 October).
Tickets are on sale now at www.ticketek.com.au or by calling 132849. Tickets range from $89 to $189 each.
Michael Jackson THE IMMORTAL World Tour is a riveting fusion of visual, dance, music and fantasy that immerses audiences in Michael's creative world. Aimed at life-long fans as well as those experiencing Michael's genius for the first time, the show captures the essence, soul and inspiration of the King of Pop, celebrating a legacy that continues to transcend generations.
The IMMORTAL World Tour takes place in a fantastical realm where we discover Michael's inspiration and the well-spring of his creativity. The secrets of Michael's inner world are unlocked – his love of music and dance, fairy-tale and magic, and the fragile beauty of nature.
The underpinnings of THE IMMORTAL World Tour are Michael Jackson's powerful, inspirational music and lyrics – the driving force behind the show – brought to life the extraordinary power and breathtaking intensity. Through unforgettable performances Michael Jackson THE IMMORTAL World Tour underscores Michael's global message of love, peace and unity.
Writer and director Jamie King is a multiple Emmy Award and MTV Video Music Award nominee and has choreographed some of the most popular music videos and directed some of the highest grossing concert tours of all time. For the past 12 years, he has served as Madonna's creative director and most recently directed world tours for Rihanna, Celine Dion, Spice Girls and Britney Spears. King has worked with an array of superstars including Ricky Martin, Christina Aguilera, Mariah Carey, Shakira, George Michael, Elton John, Diana Ross and Jennifer Lopez. This is Jamie's first show with Cirque Du Soleil.
The Show features the diverse talents of many creative minds such as Guy Laliberte – Creative Guide; Gilles Ste-Croix – Creative Guide; Chantal Tremblay – Director of Creation; Jamie King – Writer & Director … and many more!
For tour schedule and ticket information, please visit www.cirquedusoleil.com/michaeljackson
'A thriller of a show' – USA Today

'If you love Michael Jackson,or razor-sharp choreography, or '80s and '90s nostalgia in any way, you will love this show' – LA Weekly

'The show-stopping tribute fans have been awaiting since the King of Pop's passing. The show is an unapologetic love letter to Michael Jackson and his fans, using the stunning talents of Cirque Du Soleil to bring Jackson's final wishes for his world tour to life' – Edge Boston

'Michael Jackson would have loved his show. It's big and bright and outrageous. Some of it doesn't even seem possible' – Huffington Post.
About Cirque Du Soleil
From a group so f20 street performers at its beginnings in 1984, Cirque du Soleil is a major Quebec-based organisation providing high-quality artistic entertainment. The company has 5,000 employees, including more than 1,300 artists from more than 50 different countries. Cirque du Soleil has brought wonder and delight to more than 100 million spectators in more than 300 cities and over 40 countries on 6 continents. In 2013, Cirque du Soleil will present simultaneously 20 different shows around the world. For more information about Cirque du Soleil visit www.cirquedusoleil.com.
Sponsors: Cirque du Soleil gratefully acknowledges the official sponsor of the Michael Jackson THE IMMORTAL World Tour 2013 Australian Tour: Infiniti
Tour Schedule:
Perth – Perth Arena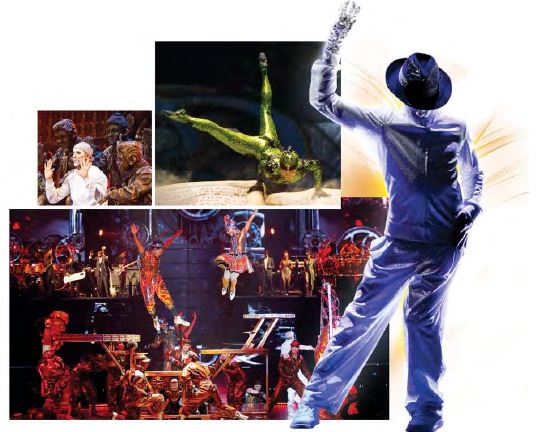 Wednesday 18th Sept, Thursday 19th Sept, Friday 20th Sept –  8pm
Sat 21st Sept – 4pm & 8pm, Sunday 22nd Sept 5pm
Sydney – Allphones Arena
Thursday 26th Sept, Friday 29th Sept – 8pm
Sat 28th Sept – 4pm & 8pm, Sunday 29th Sept –  4pm & 8pm
Brisbane – Brisbane Entertainment Centre
Wed 2nd Oct, Thurs 3rd Oct, Friday 4th Oct – 8pm
Sat 5th Oct – 4pm & 8pm; Sunday 6th Oct – 8pm
Melbourne – Rod Laver Arena
Wed 9th Oct, Thur 10th, Fri 11th – 8pm
Sat 12th, Sun 13th – 4pm & 8pm
Adelaide – Adelaide Entertainment Centre
Tues 15th Oct, Wed 16th Oct – 8pm
Thurs 17th – 4pm & 8pm
Book tickets at ticketek.com.au or 132849
Premium tickets, VIP experiences and Official Travel Packages – www.showbiz.com.au/michaeljackson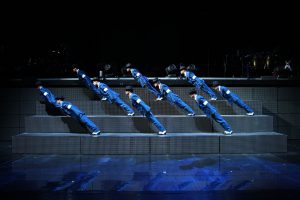 OSA Images / Costumes: Zaldy Goco / ©2012 Cirque-°©‐Jackson I.P., LLC