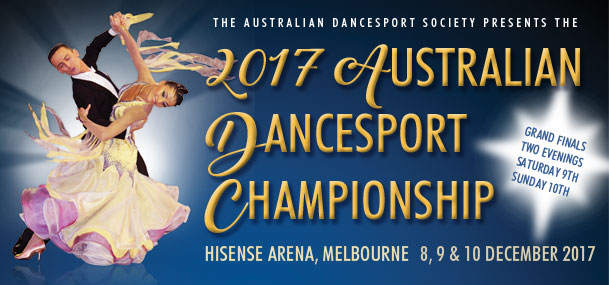 Win Tickets to Watch the 72nd Australian DanceSport Championships
Catch All the Glitz & Glamour of Premier Competition Ballroom | Dec 8, 9 & 10
PLUS! … Featuring an exciting floorshow by World Standard Champions Benedetto Ferruggia & Claudia Koehler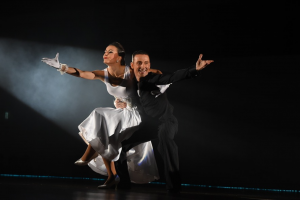 The internationally prestigious Australian DanceSport Championship will be held this year from the December 8-10 at Hisense Arena in Melbourne.
Entering its 72nd year is a milestone achievement for 'The Aussies' – as the event is affectionately labelled – a new era has begun for an event with an exceptional history which commenced in 1945 at Melbourne Town Hall.
The 'Australian' is not only the premier DanceSport event in Australia but remains one of the key events on the international circuit. This year athletes from over 20 countries will travel to Australia to take part in this annual event. This provides Australian athletes with the opportunity to compete against some of the world's best on home soil and for Australian audiences to witness the skill, glamour and athleticism of World class DanceSport.

This year's stunning DanceSport Showcase will feature World Standard Champions Benedetto Ferruggia & Claudia Koehler. Who last wowed Australian audiences when they were successful in winning the WDSF World Championship in Standard at Hisense Arena, Melbouren in 2012.
The 2017 program will incorporate TWO feature nights with Benedetto & Claudia in demonstration both Saturday and Sunday evening. Other feature events include the Australian Closed Latin & Standard which selects Australia's World representative and the World Class WDSF Open Standard and Latin.
Featuring Grand finals Showcase over two feature nights featuring a spectacular opening's set to thrill as well as an exciting program incorporating the Junior Open, Youth Open, Professional Open, Masters 1 Open, Australian Adult and the WDSF Open events.
Experience the Glitz and Glamour as the stars of DanceSport kick up their heels at the annual 72nd Australian DanceSport Championship.
The competition will be fierce and the dancing HOT! As couples compete to take out the 2017 Australian titles & dance against the World's best.
WIN!
We have tickets to give away to attend the finals of the Australian DanceSport Championship. To enter please send in your name and mobile number to win@dancelife.com.au with the subject title 'DanceSport 2017'. Winners chosen at random. Entries close Nov 27.
72

nd
 Australian Dance Sport Championship
Hisense Arena, Melbourne, 8-10 December 2017